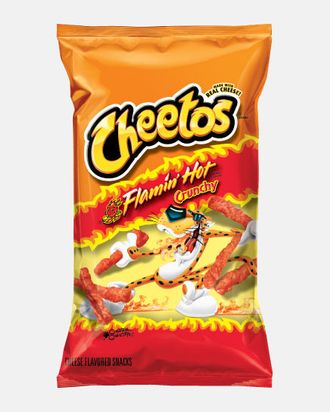 "Dangerously cheesy" gets a whole new meaning.
Photo: Frito Lay
Cheetos are headed to the big screen, and it's not an animated movie starring Chester Cheetah. In what Variety terms a "highly competitive sale" in which "multiple studios [were] vying for the project," Fox Searchlight has gotten the rights to produce a film called Flamin' Hot, about the eponymous Cheetos flavor's true-life creation story.
The name alone will engender plenty of eye rolls, but it's actually a serious biopic: It's about Robert Montañez, the janitor who invented Flamin' Hot Cheetos by mistake, then convinced Frito-Lay to make them. The Mexican-born immigrant moved to California as a kid, struggled to learn English, and eventually dropped out of school. He picked grapes on SoCal farms for a while, before winding up at Frito-Lay's Rancho Cucamonga plant in 1976.
In 2012, Montañez recounted to Fox News Latino how a production snafu one day left a batch of Cheetos sans cheese dust. The corn puffs were bound for the trash — he apparently looked down, said, "Why not?" and took them home. He made his own seasoning mix based on elotes, the Mexican street food that consists of a cob of corn topped with various combinations of salt, lime juice, chile powder, and mayo, butter, or cotija cheese. "I see the corn man adding butter, cheese, and chile to the corn," he told Fox, "and thought, what if I add chile to a Cheeto?"
He did, and everybody — family, friends, even co-workers — said he'd vastly improved normal Cheetos. Enough people were raving that he scored a sitdown with Frito-Lay's president, who gave him two weeks to prep a presentation for company execs. Montañez copied a marketing strategy he and his wife found in a library book, bought a $3 tie his neighbor had to knot, and even constructed a bag mock-up, because he's "a little bit of an artist." That was pretty much that — Frito-Lay had a ready-made billion-dollar snack.
Frito-Lay promoted Montañez up the corporate ladder, and today he's executive vice-president of multicultural sales at parent company PepsiCo, and seems to have received the nickname "godfather of Hispanic branding." So, a biopic with a happy ending where delicious Mexican street food meets immigrant success story sounds pretty good — almost as good as a bag of spicy, dusty Flamin' Hot Cheetos.