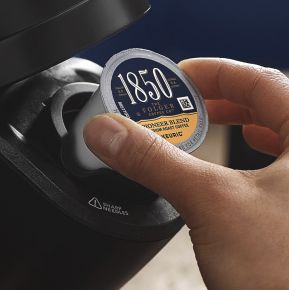 No pour-over even needed!
Photo: Folgers
It was inevitable: Folgers — the best part of waking up in, like, 1984 — is finally embarking on a quest to improve its coffee. Company execs are slowly grasping the business they've lost by not hitching themselves to the single-serve-pod trend or giving a flying chaff about coffee snob's single-origins, a story in today's Wall Street Journal reveals.
In other words, they realize Folgers is the opposite of what people want in their coffee, since it is neither quick nor delicious. To solve this problem, they've rolled out "1850 by Folgers," a new, ostensibly higher-end coffee that they believe will win over picky drinkers. It hits shelves in April, and abandons many long-standing Folgers traditions: It's made from all-arabica coffee, and is apparently "steel-cut" instead of "pulverized" (hooray?), then put into roasters with perforated drums — a style that pros like Blue Bottle's James Freeman swear by. It'll of course be sold in 12-ounce bags that look third wave–esque, as well as … single-serve K-Cup pods.
Meanwhile, there's that 1850 name. It attempts to "tell a story," something that impresses millennials these days, executives tell the Journal. The extremely vintage connotation is no doubt a perk for things like, say, fine wine and artwork, but it's not really apparent how it helps sell fresh, upscale coffee. It just reminds consumers how long Folgers has been making subpar coffee.