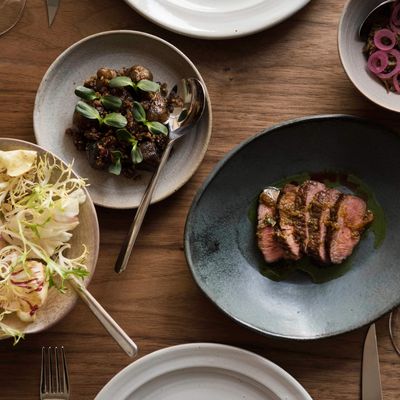 The lamb feast course.
Photo: Liz Clayman
Flynn McGarry is 19, and he's opening his first restaurant, Gem, on the Lower East Side. The teen chef, for those unfamiliar with his story, has been in the public eye since he was just 11, when he began hosting dinner tastings at his parents' Los Angeles home. His young age and precociousness earned him lots of attention — including a New York Times Magazine cover story and, more recently, a documentary that premiered at Sundance — as well as criticisms. It's not every kid with a talent for Bolognese that gets a kitchen in his bedroom and stages at Eleven Madison Park. But McGarry is also, clearly, ambitious and driven.
Like a lot of hot spots that have opened lately, Gem will have an all-day component. The café, called the Living Room, opened on February 12 with a few baked goods and snacks like sweet-potato bread and blueberry-violet muffins. The main show won't start until February 27, when McGarry will start serving dinner in (to keep the domestic theme going) the Dining Room. The only option will be a $155 set menu of 12 to 15 courses, with seatings at 6 p.m. and 9 p.m. for 18 people. That price makes it one of the city's more expensive restaurants.
"I think everyone always says as you grow as a cook or artist you learn to take things away," he says. "I went to Italy for the summer, and I spent some time there last summer, too. Going there and seeing how the food is so elegant but so simple at the same time really influenced the way I think about the dishes I do and season things."
At Gem, he says, the tasting menu won't be a one of everything format with "very delicate and nuanced dishes that are one bite that might get lost completely." There are a few snacks to start, served in the cafè; some bigger, heartier dishes some which are served family-style; and a pair of desserts. Pasta will be a permanent presence, and the current menu includes a "lamb feast" with grilled lamb loin as well as apple cider-braised lamb shank. Asked about how his style has evolved, McGarry talks about going rustic and thinking simpler. He's also, he says, become more comfortable skin as the world's most famous teen chef, saying "you can be confident about having a dish that's just two things." But he still feels like he has to make the case for himself.
"I feel like I have more to prove. But because of that I want it to come off like I'm just sort of doing it — phrasing it this way of 'we're just making dinner,' takes away a lot of pressure," he says. "Your mind with tasting menu goes to overload people, but people want to be full but they just want the food to be delicious."
Here, a look at everything on the menu.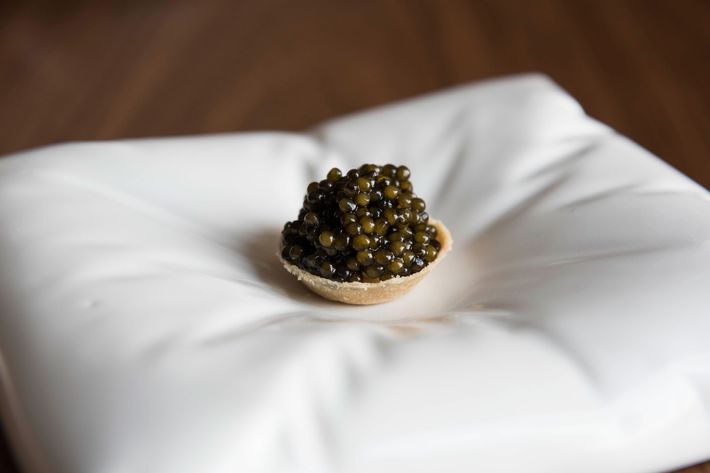 "The first thing you get is a tiny little tart filled with caramelized sour cream, a technique that I learned when I worked at Restaurant Maimo in Norway. It's a porridge made of sour cream, so we make that but caramelize it and put it in a little tart. It's kind of more earthy way of doing the traditional caviar and crème fraîche."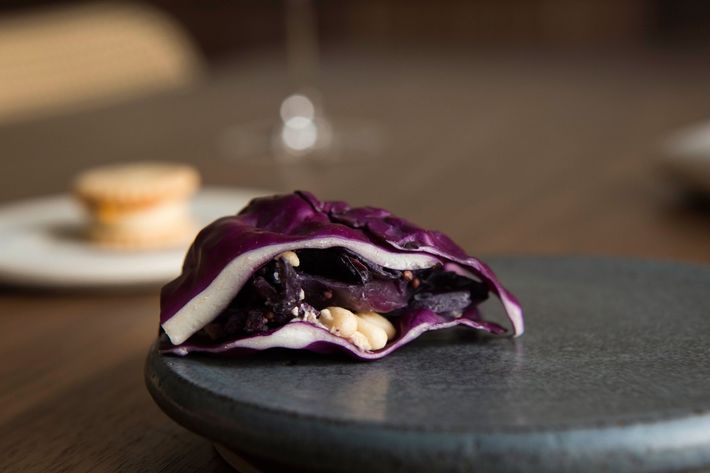 "There's then a little sandwich made from cabbage. Roasted cabbage on the inside, pine nuts, mustard seeds, and raw slices of cabbage on the outside."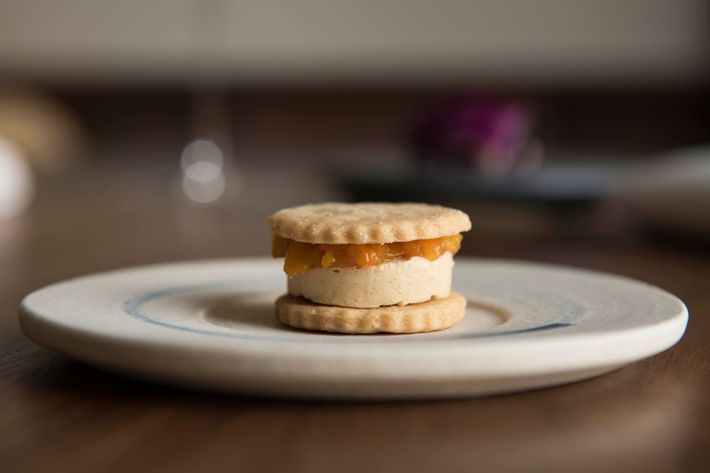 "I've been doing this for a long time, the ritz cracker sandwich with foie gras, and at this point it's just something everyone likes to have. It's a nice way to end the snacks, it's a little richer and bigger."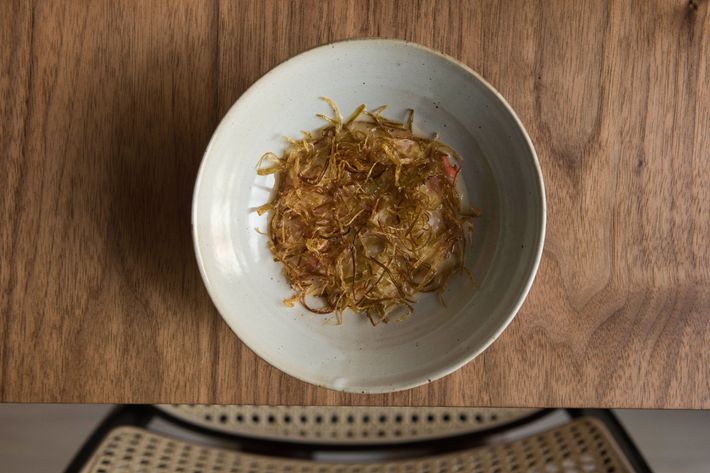 "You go into the Dining Room, and the first course is a stew of crabs, leeks, rose, and grapefruit. The strands of Norwegian king crab look like julienned leeks, there's actually braised julienned leeks, a bunch of little grapefruit cells that looks like crab skin folded in for acidity, a rose beurre blanc that gives it a brighter note, and fried leeks."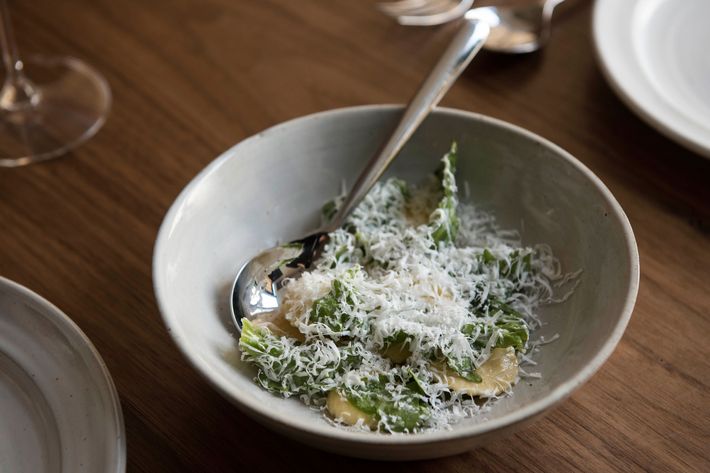 "After that we have our first family-style portion. It's a little ravioli filled with grilled bitter greens and ricotta. It's glazed in brown butter, with some bitter greens in there two."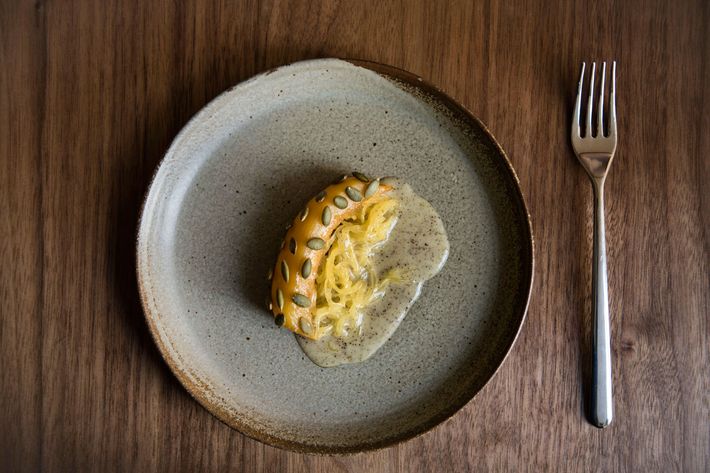 "For the squash, we make a char siu glaze but instead of ketchup we use squash puree. Then there's some squash puree and spaghetti squash, the way we cut it, we make it mimic the guts of the squash. And we make a sauce from whey, koji to give it some richness, and lime zest."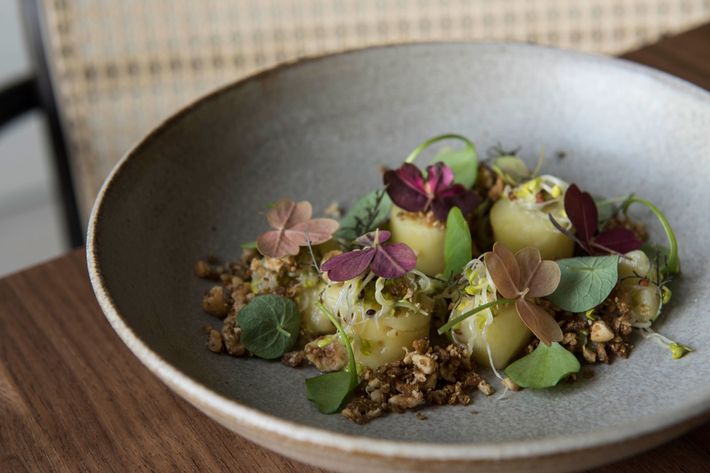 "We braise new potatoes in yogurt. It seperates and creates this kind of crust so it's almost like salt-baking it; it really intensifies the potatoes and gives them a slightly acidic flavor. We glaze it in a sauce made from mussel stock and sprouted grains that thicken it. There's sorrel and sour greens on top and a crumble made from the potato skins that are peeled and then fried."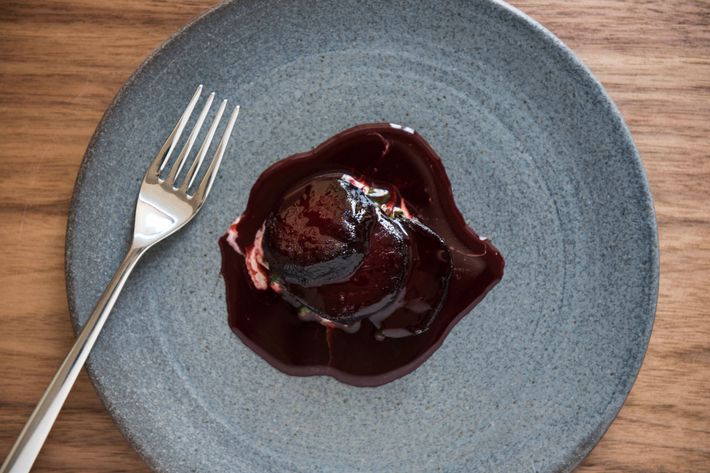 "After that is the beet. It's smoked and braised and dried and grilled and rehydrated and roasted and grilled again. We take the beet greens and cook them down in a little bit of cream and lemon, then make a sauce from all the trimmings. It's done the exact same way you would make a meat sauce, but everywhere you would add steak or meat we add beet."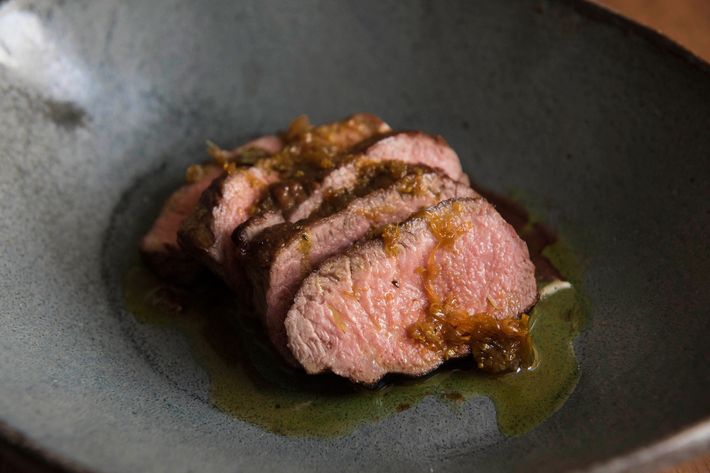 "For the lamb feast, there's grilled lamb loin, some tenderloin too, that we season with the French curry powder Vadouvan …"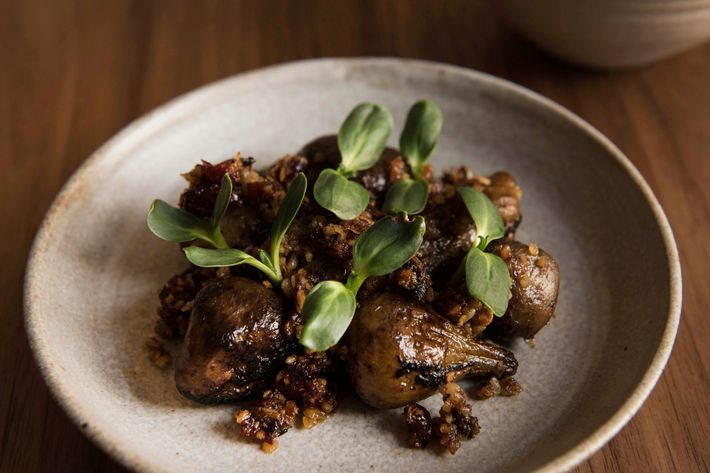 "… Then there's a little plate of roasted, grilled sunchokes tossed in sunflower seed, dried cranberry, and dried chili salsa. With sunflower seed oil, some lime…"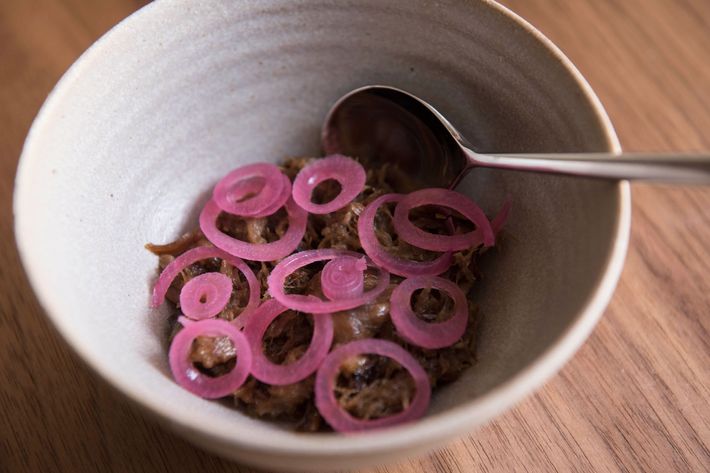 "… And, finally, braised lamb shank, cooked in apple cider and mulling spices, served with some braising liquid, onion stock, and pickled onion."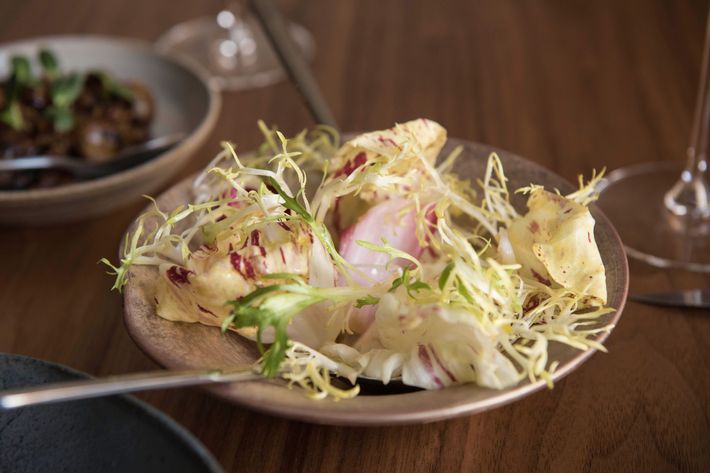 "To cleanse your palate after eating all that meat, we bring out the most simple salad one could make with bitter greens, olive oil, vinegar, and salt."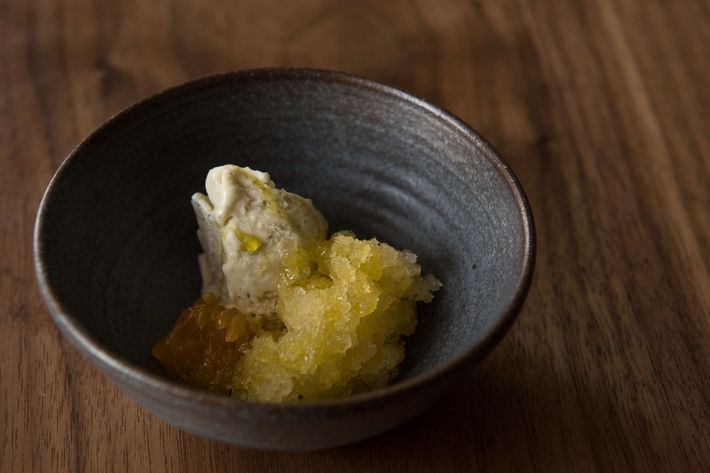 "We have semifreddo with a citrus granita. We mix kumquats, Mandarin, yuzu, bergamot, oranges, and tangerines all together for the granita. Make a jam from the peels. The jam is on the bottom and there's also a little bit of really citrusy, spicy olive oil."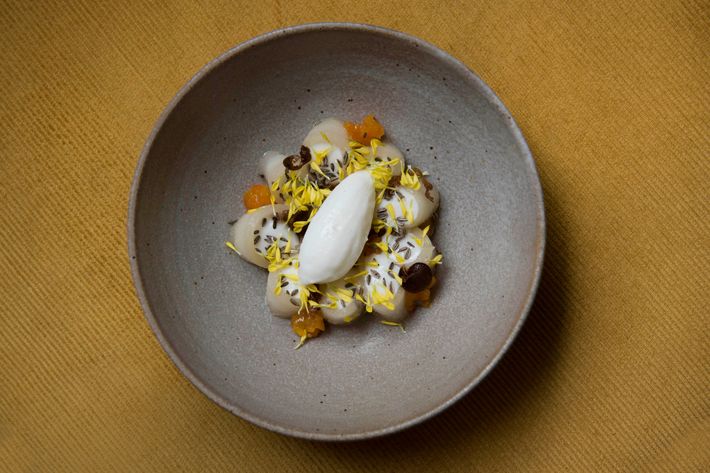 "The second dessert is pears poached in an elderflower caramel. They get sliced and turned into rings. They're served with candied parsnip, turmeric, and ginger; a parsnip foam that's a creamy element; parsnip chips, candied wild fennel seeds, and a kaffir-lime frozen yogurt on top."