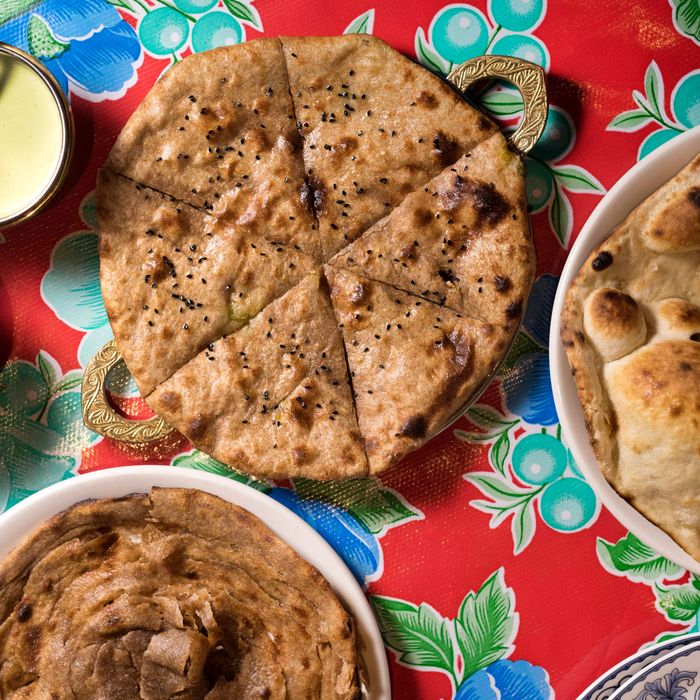 Chicken-chickpea kulcha, laccha paratha, and naan.
Photo: Liz Clayman
When Floyd Cardoz opened Paowalla in 2016, he told Grub that he felt Indian food remained narrowly defined in the United States. It was his goal at the Soho restaurant, as at his first restaurant Tabla, to expand Americans' ideas about his native country's many cuisines. The restaurant was met with warm reviews but, after opening, Cardoz himself says he detected a disconnect, saying the restaurant was "turning out to be more of an expense-account thing" than he had originally anticipated. As he tells Grub, "It wasn't a party like I wanted it to be."
With that in mind, Cardoz hit pause, shuttered the restaurant on February 17, and revamped it as Bombay Bread Bar (a.k.a., Triple B). Reopening today, the new restaurant is a festive frenzy of colors. Wes Anderson collaborator and film production designer Kris Moran redesigned the space, creating vivid green walls painted with white flowers, and adding an illustrated tiger's face to the restaurant's centerpiece bread oven. The most eye-catching addition, though, is the wall-spanning mural painted by pop artist Maria Qamar; it looks like something out of an Indian graphic novel. It's all meant to capture, Cardoz says, the festive side of Indian culture.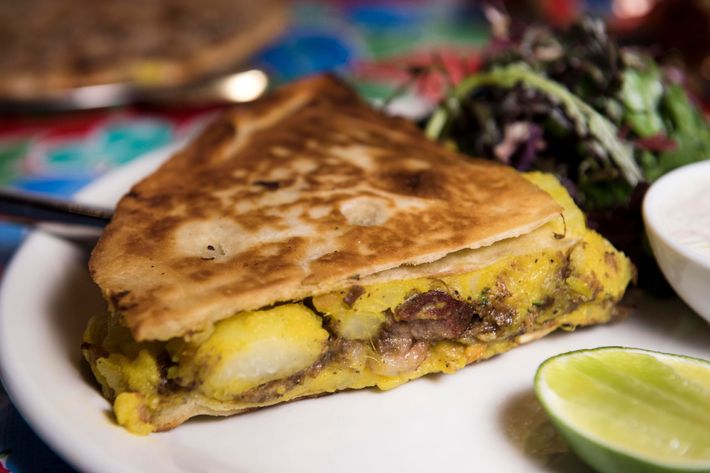 "Indians are known for partying, entertaining, eating, and drinking. That's what we do," the chef explains. "You don't get an Indian restaurant here that does that. We're doing everything we can to change that."
Cardoz has always had a way with bread (his fans still talk about Tabla's bread bar, seven years after its closing), and carbs are, it goes without saying, a focus. There are a couple of new kulchas — chicken-chickpea; leek and potato — and laccha paratha, a whole-wheat flatbread layered with ghee.
The bulk of the menu (see here) is made up of small plates, like Bombay bhelpuri, the puffed rice chaat (or savory street snack); chickpea-battered onion rings; and a South Indian beef samosa with cucumber-coconut raita. There's also a saag-paneer pizza that's a riff on a Punjabi dish called makki di roti, mustard greens with corn paratha and white butter. "It's a playful way of eating that," he says, but also a comment on the perceived (but false) ubiquitousness of saag paneer.
The few entrées he's serving include holdovers from Paowalla, like the Goan pork vindaloo, but also a new monkfish curry and lamb sandwich "naanini." The mustardy potatoes and braised-lamb sandwich is something he served at Tabla and first discovered as a kid in Bombay, when he and his friends broke from binge-studying to eat. To wash down the food, there are cocktails like the Tequila Walla (tequila, coriander, Campari, and calamansi), a few beers, and plenty of wine.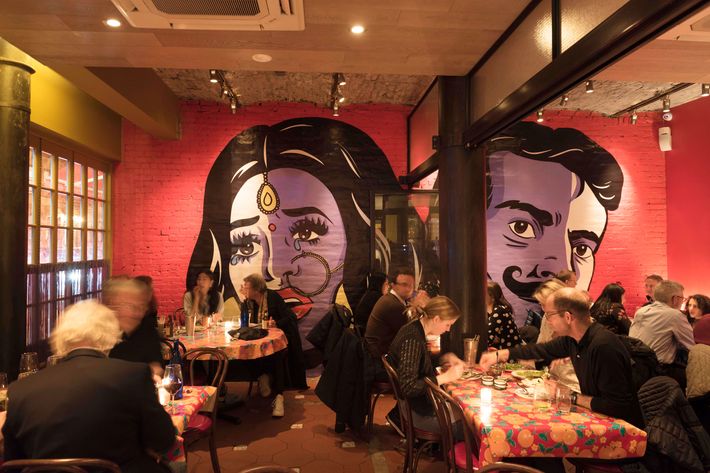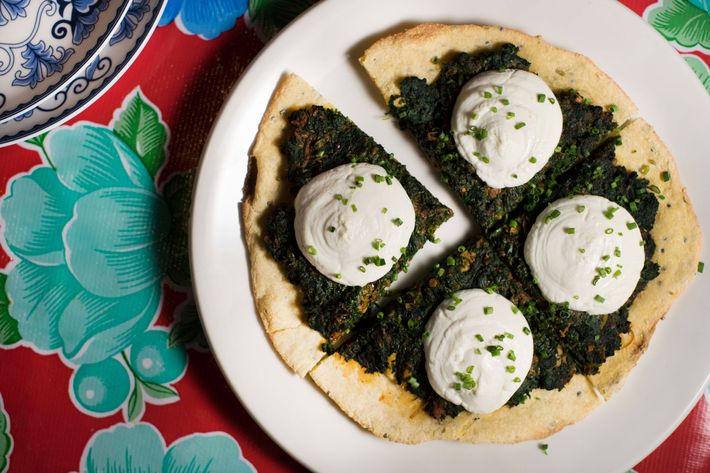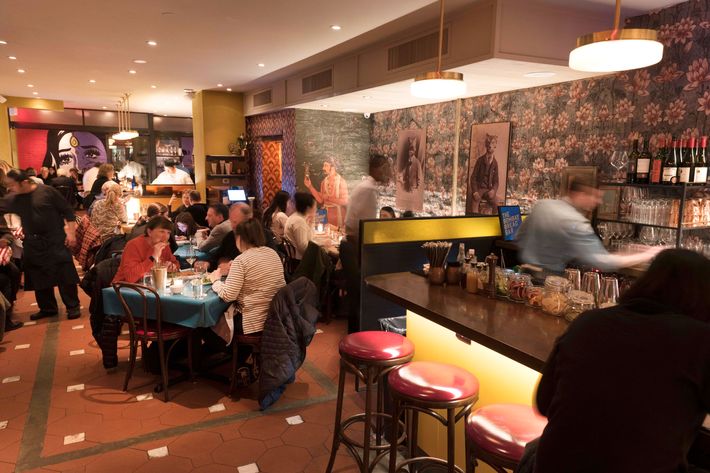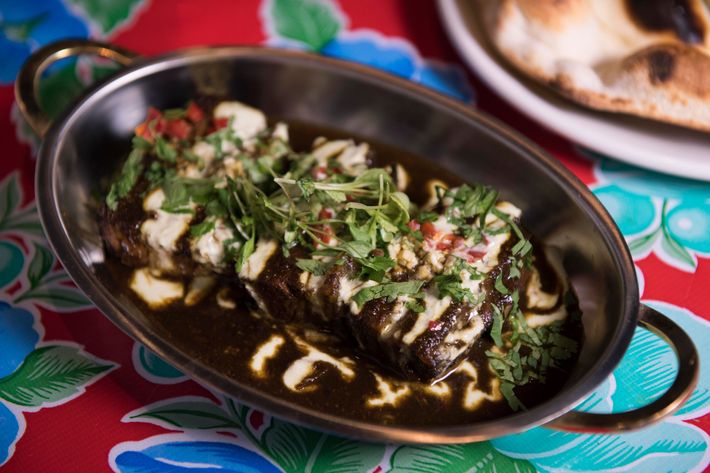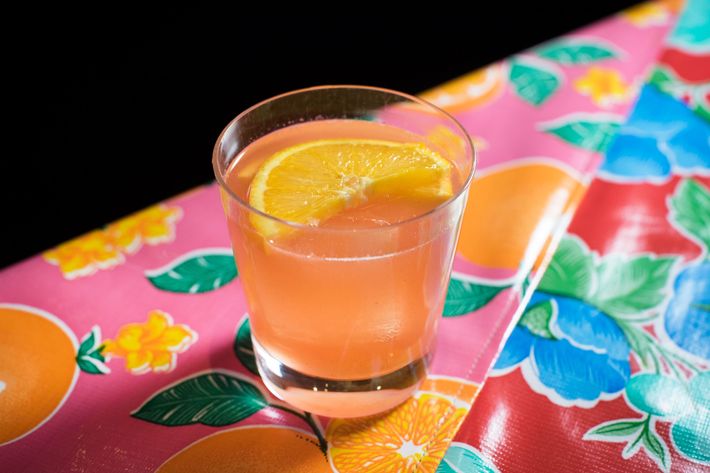 Bombay Bread Bar, 195 Spring St., at Sullivan St.; 212-235-1098