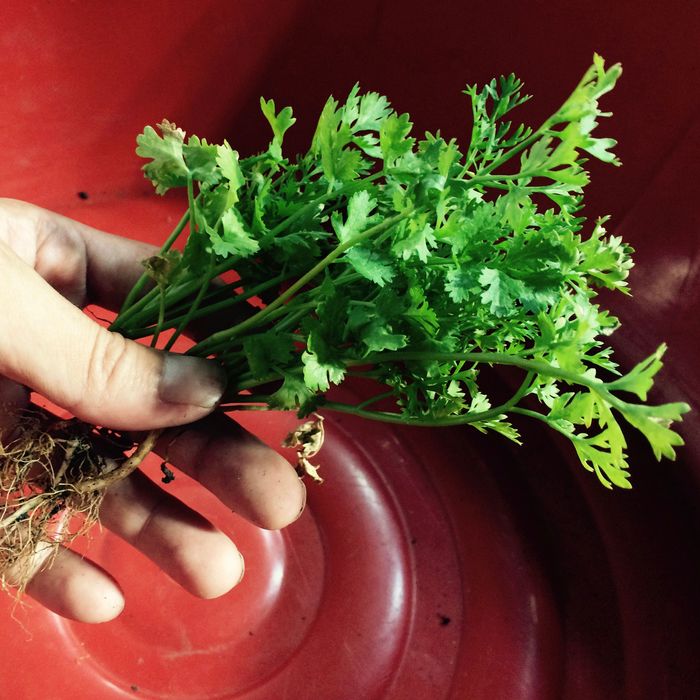 Where's the bleach?
Photo: Thanatham Piriyakarnjanakul/Getty Images/EyeEm
Here is some very useful information: The FDA began testing fresh herbs last fall to assess their "rates of bacterial contamination." The plan, according to the agency, was to collect 1,600 samples of cilantro, basil, parsley, and also processed guacamole — items at risk because they're often eaten raw, and (in avocados' case) their moisture content and pH levels help to grow harmful bacteria.
Testing is supposed to continue into 2019, but the agency just got round one back, and the results weren't reassuring: A team studied 139 samples of fresh herbs; 4 tested positive for salmonella, and 3 had E. coli. (For what it's worth, all seven of the tainted samples were imported from outside of the U.S.) Of the 107 avocado and guacamole samples, 4 contained listeria. (Three of these four came from domestic suppliers.)
Since 1996, these herbs and avocados have been officially linked to more than 2,700 illnesses, though the actual number is undoubtedly higher, and since they're almost always eaten in dishes with other ingredients, it's impossible to nail down what, exactly, causes the illness.
Really, the entire study is just another reminder to do something that we should all do: Wash your food carefully, especially if you aren't going to cook it before you eat it. It's simple, it helps to eliminate most of the microbes that could make you ill, and — again, it's super simple.