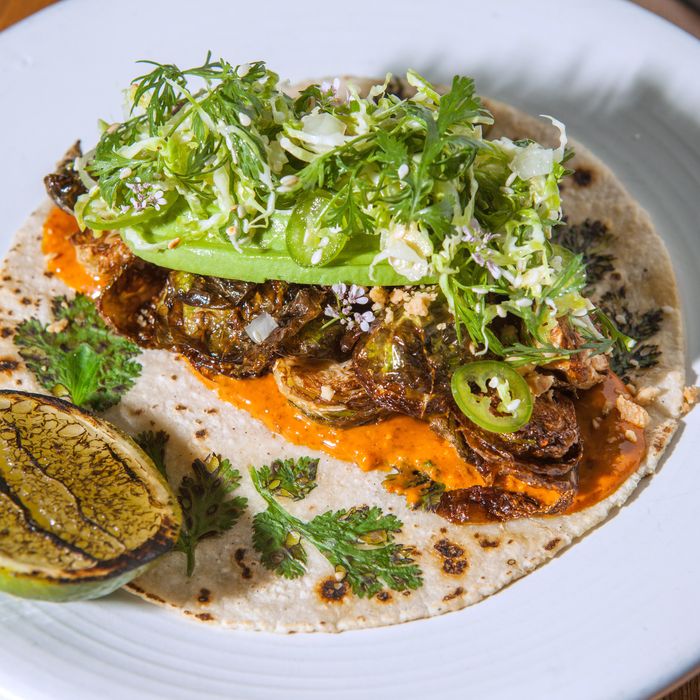 Atla's new Brussels-sprout taco.
Photo: Jed Egan
Until recently, if you wanted a taco designed by Enrique Olvera and his right-hand woman, Daniela Soto-Innes, and you wanted it in New York, you were on your own. You had to order something like the $94 duck carnitas at Cosme, or Atla's $24 fish Milanese, both of which arrive at the table accompanied by fresh salsa, housemade tortillas, and the unspoken message that if it's tacos you can't live without, then make them yourself.
Well, folks, those days are over. Atla has added two full-fledged, no-assembly-required tacos to its menu, and the Underground Gourmet, for one, is pretty ecstatic about the whole thing. Despite the long and venerable tradition of DIY taco construction, dividing roast duck or fried fish into bite-size pieces then swaddling them in tortillas is just the type of exhausting work we do our best to avoid by going out to dinner. Not to mention, of course, that when chefs of Olvera and Soto-Innes's superb caliber turn their attention to the humble street food, they see the tortilla as a blank canvas for unique compositions, not a generic vehicle for the usual mix-and-match suspects.
Atla's two new tacos demonstrate different approaches to the hand-held staple: The suckling-pig rendition, with its super-tender, crisp-edged hunk of meat garnished simply with onion, avocado, and an hoja-santa leaf, is a succulent study in minimalism. But for sheer bravura and inventiveness, the maximalist Brussels-sprout taco can't be beat. At its core is the caramelized and piquant combo of deep-fried Brussels and fish sauce that David Chang popularized at Ssäm Bar in the mid-aughts. But there's much more going on here than that game-changing flavor profile, namely a specialized tortilla with cilantro leaves pressed into the dough; a salsa that Soto-Innes characterizes as an Aleppo-pepper-spiked peanut butter of sorts; a vegetal thatch of shaved raw Brussels and cilantro, plus toasted sesame seeds, crushed peanuts, a wedge of avocado, and Atla's signature barrage of paper-thin serrano-pepper slices.
All in all, it's sweet, sour, funky, spicy, creamy, nutty, and rich, a dish so wholly conceived that all it demands from the diner is to be picked up and eaten. If you decide that a squeeze of the charred lime that comes on the side is required, well, you'll have to do that yourself.