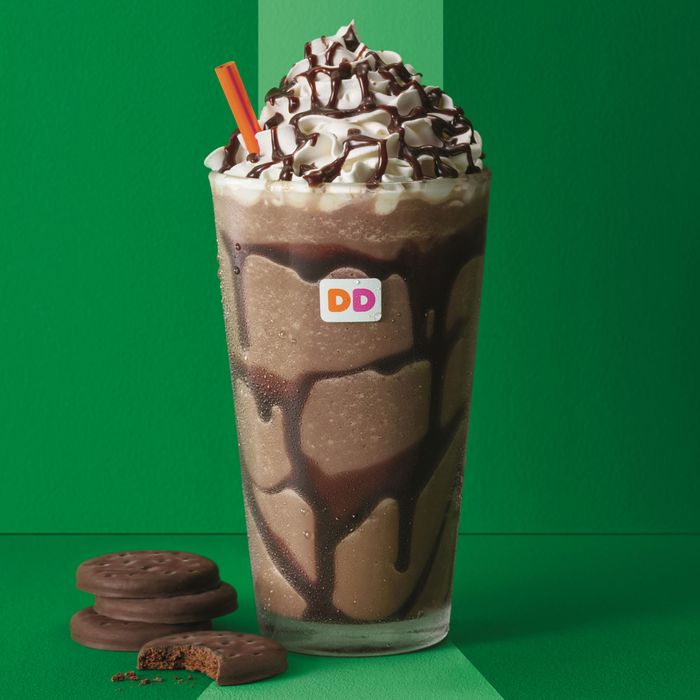 The Thin Mints flavor in a chocolate milkshake.
Photo: Dunkin Donuts
It's Girl Scout Cookie season, and now you can get your fix in caffeinated form: Dunkin' Donuts announced it will put "the delicious taste of Girl Scout Cookies® in its signature coffee and beverages for the first time." You have read this correctly: Girl Scout Cookie coffee. It comes in three flavors: Thin Mints, Coconut Caramel, and Peanut Butter Cookie.
"Coconut Caramel" is apparently Dunkin'-ese for Samoas, and "Peanut Butter Cookie" is the way the chain hopes to win over Do-si-do and Tagalong fanatics. The flavors can be added to any espresso drink, chocolate milkshake, or hot, iced, or frozen coffee, and they roll out this Monday, February 26, until the end of May. Girl Scouts will also be allowed to colonize certain Dunkin' locations for the next four weekends, although industrious troops may prefer to co-opt the strategy of the 13-year-old business mastermind who put her cookie table outside a San Francisco weed dispensary.