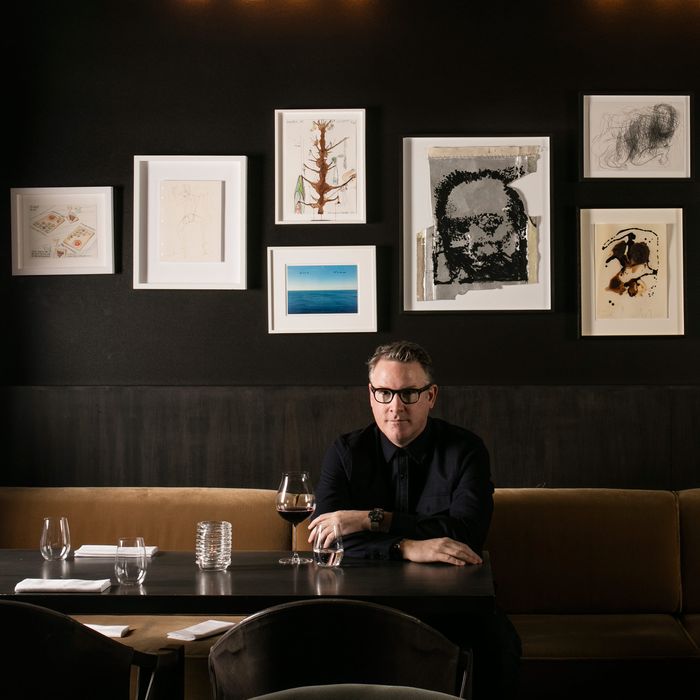 Snyder at Eleven Madison Park, where he designed the servers' uniforms.
Photo: Melissa Hom
Todd Snyder launched his namesake menswear label in 2011 and has been on an upward trajectory ever since. (GQ recently called him "the most influential menswear designer of his generation.") He's also something of a fixture in the New York restaurant scene, working on projects for Fedora, Loring Place, and Eleven Madison Park, as well as trying to combine work with eating whenever possible. "I learned it when I was working a lot in Italy," he says of the approach. "There's a certain threshold you cross when you, essentially, break bread with somebody — when you have a drink with someone or dinner, it means something more." This week, Snyder's company presented its latest collection, which meant Snyder himself was able to relax for the first time in a while. Read all about it in this week's Grub Street Diet.
Thursday, February 8
I try to eat something quick and light in the mornings, maybe a little bit of granola and yogurt, but I was too rushed. I ended up going to work, and there's a really awesome deli, so I had a breakfast burrito.
For lunch, we got a spread from Café China in the office. Someone told me it has a Michelin star — it has really authentic Chinese food, which I love. I travel to Asia a lot, and have developed quite a taste for that. Normally, with Chinese restaurants in New York, you get the Americanized version of dishes, and that's not the case here. It's really awesome.
Dinner was at Keens Steakhouse. It's funny, I'm from Iowa, and when I moved to New York I kept hearing about all the great steakhouses, but I couldn't get it out of my head that they weren't like Iowa, which is definitely a red-meat state. But Keens is now, probably, my favorite steakhouse in the world. You have to sit downstairs, and I love sitting at a table against the wall so you can sit back and take in the whole experience. Really, if I could, I'd only sit in the pub room they have next to the bar, but it's first come, first serve in that room, so you can't reserve a table.
I had friends in town who had never been there before. I'm typically not the person who dictates "We're going to eat this, this, and this" to the whole table, but I did the ordering this time. We shared everything, including the mutton, and the porterhouse, which is the way to do it. We had a salad, but it was a wedge, so it wasn't really a salad.
Friday, February 9
I'm not a coffee guy, oddly. I'm pretty easy in the day — it doesn't take much coaxing. But the first part of my routine is, I make coffee for my girlfriend. She had to teach me how to do it. So I don't drink it, but I'm the one who gets up to make it. It helps me to get out of bed and get something done.
For our runway shows, we cater for the models. Our show had been on Monday, and we got the catering from Made Nice, which was amazing. We had a great week, and by Friday the team was pretty spent. I wanted to treat everyone, so I got Made Nice again, and it was, once again, amazing. I ordered a chicken schnitzel sandwich, and a salad, so it felt a little healthy. Since I was in charge of ordering, I really just got everything I wanted and we all shared.
I try to do beer Fridays or order lunch for everyone to bring everyone together. It kind of pauses what they're doing, and they can sit down and have that moment together. It's always been a big part of our way of working. We do a lot over food and drink, just to celebrate.
Dinner was at Loring Place. People always ask me what my favorite restaurant is, and it's hard to answer because it's like asking somebody's favorite band — it depends on your mood, your date, so many things. But Loring Place is definitely one of my favorite places, and I'm close with Dan Kluger, the chef and owner. When we were voted a Vogue Fashion Fund finalist, part of it meant presenting our collection to people like Anna Wintour, Diane von Furstenberg. To break the ice a little bit, I asked Dan to serve them a dessert because I wanted to get them on my side immediately. I didn't win, but it worked at breaking the ice.
It's so perfect when you get to know a restaurant and it gets to know you. By now, we've been to Loring Place probably a million times. We just ask what's new and they know us so well that they can give us everything that matches our taste. Dan is so generous, and he brings out such good food. We had some pasta, raw scallops, the grandma pizza, and a burger.
The wine was fantastic, too, a Bandol. I love wine, but I only really drink it when I'm out. If I set bottles aside at home, I feel like I need to wait until the right moment, but then I think, Isn't every day the right moment?
Saturday, February 10
I was in a food coma, and I slept in. The last two weekends I'd been working, and this was a day where I could relax. I woke up at 10, made myself eggs, and then I went to the gym.
I felt like I'd been a little overindulgent, and I wanted something super clean and healthy for dinner. I cooked a chicken recipe that I like, peppered chicken with lemon. And I love broccoli, just plain steamed broccoli. I don't know what it is, I hated it as a kid, but now it's my favorite food. My mom told me I was going to love it someday; I guess she was right. I had some quinoa with that — super simple.
I try to cook twice a week. I think it's one reason that I have a big appreciation for chefs and restaurants. There's a creative process that's similar between design and cooking. I always say, the ingredients are known. What makes things feel new is how you put everything together. For me, I'm finding out with fabrics. Each mill presents what it thinks is relevant for the season, and then I pick it and noodle it and play with it in different ways. Chefs do that with farmers and ingredients. You look at things, and you think about how to make something unique and different. I could never do what chefs do, but I definitely have an appreciation for what they do — that process is attractive to me.
Sunday, February 11
Slept in again, and this time I skipped breakfast completely. I had lunch at Fresh & Co. I guess I was still feeling guilty, so I had a salad.
I had dinner with my kids. They're 14 and 17. We went to an Italian place in Mamaroneck called Frankie & Fanucci's. Looking back on it now, I must have been feeling really guilty because I had another salad. They had pasta, and I ate some of their pizza, too, so it isn't like I was completely innocent.
Monday, February 12
I actually had a coffee this morning, and I got eggs at Eisenberg's. We had a store walk-through, and it's close. I love Eisenberg's — it's my show ritual. When we have a show, I go there and have whatever the hell I want. Putting a show together probably takes two to three months, and the last two to three weeks get really intense. The final week, I don't return phone calls, I don't reply to emails, my friends wonder what happened to me. The day of the show is actually a bit more relaxed, so Eisenberg's is like my mini-celebration — there's nothing you can do at that point, everything's cooked, it's done, so enjoy it.
I was flying to Paris that night. Allard is my favorite restaurant. It's a very unassuming bistro and it's amazing. As I thought about it, I already couldn't wait to order. It has excellent fish, like turbot, and I usually get the pâté. It's legit, like a grandma made it. It feels homemade, which is what I love about it.