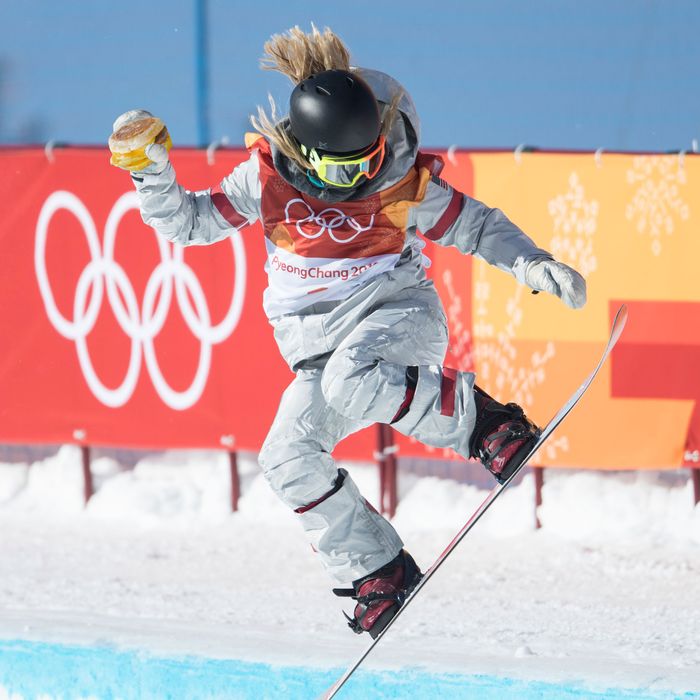 Actual photo of Chloe Kim snowboarding with breakfast sandwich.
Photo: Xin Li/Getty Images
Chloe Kim: Olympic gold medalist, snack aficionado, and the living embodiment of America's food id. As you have no doubt heard by now, before embarking on her stunning victory lap in the women's snowboarding half-pipe event, Kim faced an all too familiar predicament. She was coming down with a bad case of the hangrys, the unfortunate result of not finishing her breakfast sandwich. It's well-known, of course, that breakfast sandwiches are essential for good nutrition, and Grub knows all too well that it can be difficult to complete even basic tasks before downing a bacon-egg-and-cheese on a roll.
Despite not eating a whole breakfast sandwich, Kim nailed back-to-back 1080s on her way to becoming the youngest-ever gold medalist in the half-pipe event. And this story has an even happier ending, since Kim was not left hangry for too long.
The snowboarder ate ice cream while being interviewed and tweeted about a well-known cure for nerves (churros). After that, Momofuku's own David Chang — a man who understands the perils of hangriness — surprised Kim with a churro ice-cream sandwich. It's hard to imagine a better day.