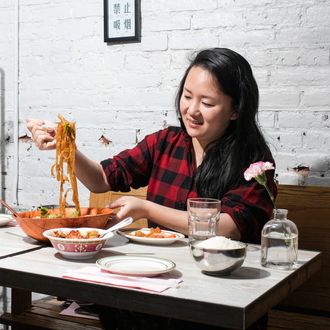 Tong, at MáLà Project.
Photo: Melissa Hom
It's been 11 months since Simone Tong opened her restaurant Little Tong Noodle Shop in the East Village to overwhelmingly positive reviews. Born in Chengdu, Tong says she was inspired to cook by Daniel Boulud — specifically an episode of his old show After Hours With Daniel Boulud, when the French chef visited Wylie Dufresne. "They were talking about ramps and an 'egg' dish made of carrots and coconut, and I was mesmerized," she says. "I was like, Holy shit, if this is what cooking is like, if this is what chef stuff is, I am in." Tong moved to New York City — with some winnings from online poker — for culinary school, got an externship at Dufresne's restaurant ("The first job was peeling eggs; I spent three months peeling eggs"), and took it from there. Now, she is a true chefs' chef, balancing the responsibilities of her still-young restaurant with her clear love of New York's restaurant scene. Read all about it in this week's Grub Street Diet.
Friday, February 16
I have to say, this was a very busy week. Usually, Chinese people celebrate the first 5 days of Chinese New Year, but it actually lasts 15 days. Some restaurants will do tasting menus, but I run a noodle shop, and we can't do too many different things — the menu is pretty set. Instead, we decided we'll do one new dish each day because each day of the Chinese New Year celebrates a different thing. The first day was chicken, another day was pork. So, I made different dishes inspired by these celebrations. As I said, it was very busy this week, and I didn't have anything until 2:30. I had a Vitasoy. It's basically soy milk, and I've been drinking it since I was a kid. It has sugar and I was really starving, so I just had to get that.
The day celebrated chicken, so for the menu of course I thought, Everyone across all cultures loves wings, so let me do fiery, amazing wings for everybody. We marinated them, fried them, sautéed them, and dressed them. We were tasting those. And around 4:30, I went across the street to a juice shop and got this thing, the Kale Shopper; it's like a purée of bananas, kale, Swiss chard, parsley, pineapple — something healthy before service.
That night, we had a customer who comes in all the time. He brought a bottle of beautiful wine, and I got a glass. Then he left me the rest of the bottle, so I drank that! The wine was really profound and such a nice gesture.
Around midnight, I made skinny udon with pea shoots and squid — I made it for myself to celebrate the New Year, at home. I always try to prep something for myself because I know when I get home, I'm going to get hungry. I live on the top floor of a building, and if I don't have anything, I have to walk back down to get a bag of ramen. Then it's like, I cook noodles all the time and I'm eating instant ramen?! I do do that sometimes, and it drives me crazy.
Saturday, February 17
For lunch, a friend of mine and I went to Rai Rai Ken, next door to my restaurant. I had the karaage, the fried chicken. It's my favorite thing there, the best thing. And then some mapo ramen, like a mapo-tofu ramen.
Back at the restaurant, my sous-chef cooked me shrimp with Chinese scrambled eggs and Chinese broccoli — three of my favorite things that are just so good together. It was really nice.
After, I had a bowl of laksa, which is a Southeast Asia speciality, with a very aromatic broth. It's literally my favorite thing to eat, but it's impossible to find it here, so I make it. The broth is like 28 different ingredients. It's a total flavor bomb. It just makes me feel so — together. Being a chef is so rewarding, but you're burning so many candles. You're putting your energy into giving other people energy. You're giving to your service staff, your cooks, your dishwashers, and you're giving to your customers. At the end of the night, I need something to make me feel whole again, and that's laksa.
Sunday, February 18
First thing, straight away, the Kale Shopper. I needed some supposedly healthy sugar in my system. Usually by Sundays, we're all burned out, but we're happy because we know we're closed Mondays. This week, because of the special menu, we're open on Monday — so the marathon continues.
I made an early family meal after lunch service for everyone. I love quinoa. At another job, we had a green bowl, so to make that green bowl I probably cooked 20 different batches of quinoa each day: quinoa and barley, quinoa and barley. When we finally got it right, we realized we loved it because it's so nutty. So for family, I made quinoa with chicken broth and king oyster mushrooms that I seared, roasted, and sliced. When you cook the mushrooms like that, they're like the texture of abalone. Everyone really liked it.
It was a very stressful day because it was pork-belly day. Red-cooked pork belly was our special for dinner. We only had two hours to make it after lunch, and the whole process is, you blanch it, you braise it, then you re-caramelize it. It was a rush to get it done, but we made it. Obviously, I ate some of that. I talk about it the most because it's a childhood memory. Every Chinese New Year, it was on our table.
Toward the end of the night, I had some sake, Kikusui. I realized I'm kind of addicted to it, and I think that's because it's 19 percent alcohol. Once you have it, you're done, but it's also, Okay, I can do this again. It, like, gives you some energy. There's probably a lot of sugar in it.
At the end of the night, I had some leftover dashi and udon and got some dandan from the restaurant. I made udon-dandan-dashi broth with spicy mentaiko — a friend from Japan got me a jar. It's spicy chili oil, and it has the fish roe inside. Umami. Bomb. I ate that and I was happy.
Monday, February 19
This day was like holy shit. Since we're usually closed on Mondays, I decided to let everyone sleep in a while, and we only opened for dinner. My high-school best friend from Singapore was also here, so I woke up early and said, "Wherever you want to go, I'll take you." She picked Shake Shack.
At 11 o'clock, we met at Madison Square Park. I had a hot dog. It was surprisingly good. She had a burger, and we shared the cheese fries. It was all really good, I will say.
We were close to Eataly, so we walked through. We didn't eat much, just looked at things, and I took some sea beans. They're so cute. Sea beans are special to me because when I worked at wd~50, I used them for an amuse-bouche I made. The person in charge of the amuse was always stressed out because it had to be something new each week, and it had to be in the style of wd~50. Then you would have, like, 12 people hammering you down, being like, "This is shit." It was the best learning experience because you had to figure out what to do. Making the amuse was really the first time I realized, Oh, I have the talent to create. So I took the sea beans because I wanted to show my friend how savory they are.
We kept walking around. I thought she wasn't going to be hungry, which was too bad because I wanted to take her to 15 East, my favorite sushi restaurant. But she wanted to try, so we went! 15 East is really special to me, too, because I staged there.
It was really exciting because I love sushi, and I never imagined a woman could stand behind the sushi counter. We still have this idea that only men, Japanese men, make sushi. But chef Masato was very modern, and he accepted me. I would go there in the morning and butcher shellfish and fish, and learned what I could. During service, he asked me to stand behind him. I wasn't doing much, but I was standing up really straight and doing whatever he asked me to do. Like a humble student again!
For our lunch, we had the octopus — it is profoundly good. We had some edamame, and the sushi and sashimi omakase to share. And they gave us some mochi ice cream — green tea and tiramisu. I don't like green tea, but I ate it to be polite.
Then I had to go back to the restaurant, and had another Kale Shopper, and we ordered pizza for a family meal, so I had three bites of eggplant-parm pizza.
That night at the restaurant, we were making a broth for the next day's special dish and there was so much bone marrow — veal bone marrow, these giant knuckles of veal from D'Artagnan. We would just take the bone marrow out of the knuckle and add some spicy soy that we make in-house. And it was like, Holy shit, mind exploded.
One of my servers said, "Oh my god, chef, it changed my life." She's always so sweet.