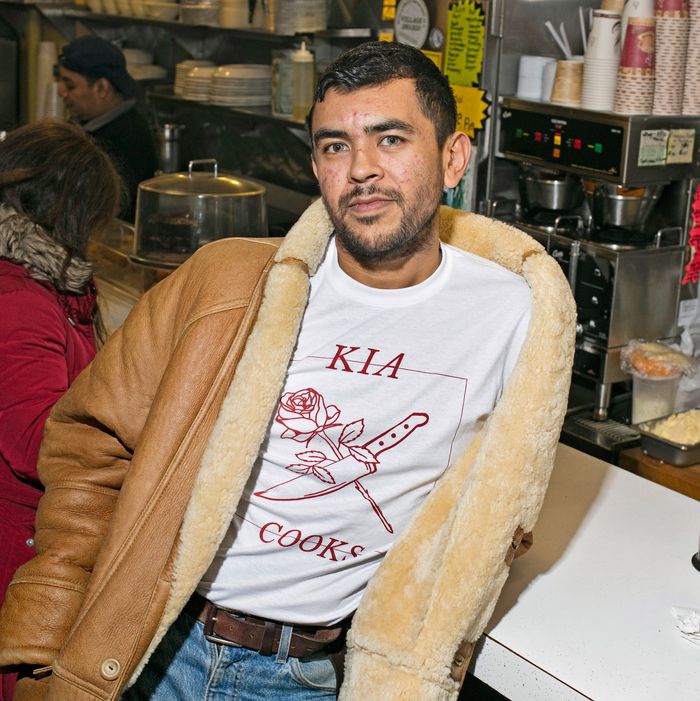 At B&H Dairy.
Photo: Melissa Hom
Chef Gerardo Gonzalez first made a name for himself at El Rey, where he earned a glowing review for his work in a 350-square-foot space. A little over a year ago, he opened the very cool Lalito in Chinatown — despite that, Gonzalez says he has "old man" tendencies, and in his free time, frequents New York Jewish institutions like B&H Dairy and Russ & Daughters. Read all about his routine in this week's Grub Street Diet.
Thursday, January 25
For all intents and purposes, Thursday is what I can muster up as the start of my workweek, in the most traditional sense I could label. I've always had poor sleep habits and keep pretty erratic productive hours, so I half assume that what really got me into this industry had more to do with covering up these facts. This past summer, I managed to get into a pretty good routine of working out, eating healthy, and prioritizing personal relationships. You know, the good ol', optimistic, energizing jump into what we call self-care. Well, I've always considered December a "throwaway" month, and January can just be a real prick, so the next thing you know, you get adult acne for the first time, weather curbs exercise, and your energy levels are all over the place.
Luckily, this is all part of the process, so onward I move and actually consider this week the transition to getting back toward routine. I forget what kept me up so late the previous night by the time I am walking the two-block commute from my apartment to the restaurant. Before all else, I grab a cup of coffee and start thinking about desserts. Not for personal consumption, but for the restaurant. Fun fact, I love baking. I didn't realize that until midway into my foray of professional cooking, but it's actually a really nice way to sanction purpose-driven alone time in a kitchen. You also feel accomplished by anything you make at the end of it because you just spent numerous hours in a cold, low-ceiling Manhattan basement. In today's case, it's cake with candied papaya. I think I prefer a pineapple version that I tested the previous week, but I am committed to the self-imposed moratorium to stop using that fruit in everything. Also, I may be slightly allergic.
While the cake's in the oven, I sneak upstairs and make myself what I make myself five days of the week for lunch: trash salad! Trash salad isn't really made of garbage; it's more a state of mind. First, I make our vegan Caesar salad as my base — a dressing that I can actually say is my proudest creation of all time: cashews blended with spirulina, capers, brine, nutritional yeast, garlic, etc. On top of that, baby gem canvas, then anything can be thrown in — olives, fried shallots, raw onion, celery, cubed tuna, pecans, jalapeño, whatever's lying around, really. Some might say this is just a "kitchen sink" salad, or just "salad," but I like to reinforce my given title of said salad by eating it in a metal bowl, standing up, eyes darting and surveying each new flavor combination, all rapidly consumed within two minutes, max. Even though I like to categorize this under the "you know, food is just sustenance" argument, I actually crave this above anything else because it's so damn delicious.
I take off early and head over to Dimes Deli to cook with my good friend DeVonn Francis, the talented cook and founder of Yardy. DeVonn is holding the last night of a series of dinners at Dimes Deli, exploring his Jamaican roots and donating proceeds to East New York Farms. For the evening, DeVonn has tasked me with making Jamaican black cake and vegan coconut toto (yay more desserts!), sherry sabayon, roasted cod, burned cabbage, and numerous other Caribbean-inspired components, all of which I consume continuously throughout the evening. I really love it, have such a great time cooking, and am constantly blown away by his natural talent.
Friday, January 26
I forgo waking up early and treat this as a "day off" from leaving the house, and instead stay in to work on outlines and projects. This is where things get a little fuzzy. When I say I sleep in, I really sleep in. My room gets really bright and I am not afraid to resort to an eye mask a dear friend gave me.
Keeping things light today, I stop by the restaurant to pick up a CBD tincture that was left for me to sample. It is a water-soluble extract of the marijuana-derived compound cannabidiol. On Monday, the restaurant will close to host a private dinner for Gossamer revolving around the stuff. After reading into its benefits, all of which are not the psychoactive effects caused by the THC in weed, but rather just the body high, I am pretty excited to taste it for flavor and see if it can calm me the hell down. I drop about 2.5 mg under my tongue. It's a little pungent, earthy, floral, dirty, bitter, grassy, and spicy all in one overpowering go. Or, rather, it tastes "dank," which is, quite possibly, the new umami.
By 3 p.m., I realize that I haven't eaten and head toward B&H Dairy, one of my all-time favorite spots, to have a midafternoon date. We make the very nice stroll to the East Village, stopping off at Café Integral for some coffee and a very nice little canelé. We also need a little break from the cold, and Café Integral is a beautiful spot among the craziness of Kenmare. One thing I always look forward to is walking to whatever destination I have, so I can always manage to stop off somewhere to say hello. In this case, I make a long-overdue stop to Miscelanea on 4th Street. It is a great little shop selling amazing Mexican products and really delicious food and beverages, like locally made moles and imported Mexican candies.
Once we arrive at B&H, I am pleasantly surprised to see we've missed the lunch crowd, giving us the entire counter to ourselves. I have been coming to B&H for years, and it has been very inspiring to how I cook and create space for the dining experience, even though you'd never be able to tell, considering it is a completely different cuisine. The people who work there are quite honestly the best of New York. And because of that, they attract a real slice of city life. They always remember you and anyone else you come with. Bringing people here always feels like handing down a special treasure. My go-to is always the tuna melt on housemade challah, split-pea soup, and kasha varnishkes. Every single time. We split everything, along with the spinach and cheese pierogi, and agree that we are pretty much good on food for the remainder of the day.
Saturday, January 27
I actually like cooking brunch and prefer the disposition of glazed eyes and dazed people. Maybe it's easier to exceed expectations. I also am naturally more goofy and lighthearted in the morning, so it all plays to my love of making people food first thing in the morning.
Because I live so close, I usually hop out of bed and snack on something at work. This glorious and chilly morning, I have to stop by the Russ & Daughters retail shop on Houston to pick up smoked sable. We make a really soupy, soft scramble with the sable at Lalito, and honestly, I don't even know why people fuck with salmon. Sable is that damn good! I love these jaunts to Russ & Daughters because they are like a second family to me. Everyone there, owners and workers, are lovely, lovely people. I'm a little hungry, and gladly snack on some cold latkes and orange juice while talking shop with Johanna, one of the store managers.
Once I'm back at the shop, I go straight to making quick breads and ricotta. Brunch is funny for me. I will literally eat little bites of everything the entire time I'm working. This will include, but is not limited to, olive-oil cake, French-toast corners, pinches of white cheddar, a pound of fresh corn chips, chilaquiles, spoonfuls of yogurt coated with granola, handfuls of toasted nuts, remaining papas bravas, overcooked flour tortillas, scraps of sable, persimmon, figs, and pickled veg. No one's mise en place is safe on the line.
For dinner, I meet up with a friend to talk about future projects and the upcoming year. He lives nearby in Nolita and I stop by to check out his amazingly remodeled apartment before we head to Cafe Himalaya. Much like B&H and Russ & Daughters, I love this institutional East Village spot because it's homey, affordable, and delicious. I come to terms that maybe my tastes in restaurants are old-fashioned. I'm okay with that. We order the avocado salad (always a must), beef momo, dal, and the insanely good chilli chicken, which is stewed fried chicken over rice. The total comes out to $30 for two people, which only reinforces my "viejito"(old man) tendencies.
Sunday, January 28
Brunch, round two!
I get more proactive and decide to jump back on the health train. I make myself a protein shake first thing in the morning with cocao, spirulina, cashews, parsley, and MCT oil. Lately, my life seems to be based on three-letter compounds. Bless the wellness movement and the tremendous number of trends it produces. I'm a sucker for feeling things, so I openly embrace these things. I like the progression of it all, too. First, I hear it muttered by a friend — in this scenario, my trainer and good friend describes the benefits of MCT — and then I instantly dismiss it like a Drake song, maybe because I know it will be everywhere within a few weeks. Then, a couple more friends mention it, I try it, I become obsessed and spend way too much money on it, then I start mentioning it, and so the cycle begins.
In this case, MCT is a compound derived from coconut oil that gives you intense mental clarity and energy. It's really something else, and it isn't until my co-cooks on the brunch line try it out for themselves that they begin to understand why I'm displaying the intensity and concentration of an assassin. I feel like a hummingbird and I just won't stop, which is great, because brunch is busy as hell while I am simultaneously prepping for a special dinner.
Sometimes I feel homesick and miss my family. Sundays were kinda slowing down at the restaurant, so we decided to close down for regular service and just create nice "one-off" nights. I make sure they are as cheap as possible, and fun and accessible. This night, I make carne asada with achiote-rubbed short-rib steaks, vegan chicharrones locos, "baby shower" potato salad, and piña colada cake. I also make sure to play all of the oldies I grew up listening to in Southern California, an integral part of my upbringing and Chicano culture. Genres of music such as "Oldies But Goodies," "Between the Sheets," and "The Quiet Storm." At a $20 All U Can Eat, the greatest compliment I ever received was a friend saying that she instantly felt like she was "at the swap meet." For those raised in the Southwest along the border, no greater place exists for food than these weekly market bazaars.
Monday, January 29
Coming off the high of the previous night, I double down on SoCal nostalgia. I meet up with Sean Froedtert at Chelsea Market for an introduction course into Baja seafood cuisine. Sean is the new chef we hired to helm the kitchen at Lalito, and we have begun to hold our weekly creative meetings at places I find inspiring, either personally or for the restaurant. Los Mariscos is one of my favorite places in Manhattan and instantly transports me to the trips we would take to Ensenada, Rosarito, and Baja Norte. Everything is a must-have — the fish tacos, shrimp cocktail, scallop aguachile, and ceviche tostadas. Make sure to hunt down the peanut salsa 'cause it's kinda worth the trip alone.
We head back to Lalito. It's time for the CBD-infused dinner. It's an intimate affair with only 18 people attending, and the entire restaurant is closed down. I'm so excited about cooking like this and really go for it. First course is a raw-chayote-squash salad. I love the taste of raw chayote, which is normally always cooked into a tasteless filler, 'cause it tastes exactly like eating freshly cut lawn (which I am not above doing). I describe it as notes of "Grass" by Calvin Klein — a scent and idea that I can't explain why it stands out, from growing up in Mall Culture. It's mixed with a mojo vinaigrette, fried ciabatta, raw onion, cucumbers, sumac, and Aleppo, and dusted with algae (habits die hard). I garnish it with the pungent flavor of the CBD tincture, highlighting the fresh spring flavor of the dish.
Next is one of my favorites, mushroom pastelón, a vegetarian play off of a Dominican dish that I like to describe as plantain lasagna. Mushrooms are roasted and blended with pecans to replicate picadillo. CBD oil is used to round out the dish in the mushroom sauce and goat cheese.
For the main, I cook hake en papier with onions sweated in the most amazing turmeric gifted to me by the equally amazing folks at Diaspora Co., a queer-, woman-of-color-run trade company focused on social justice based out of Oakland. The buttery, nutty pungent flavor of the CBD oil really adds to the dish served with an infused kasha and hibiscus chutney on the side.
Dessert is a Brie-steeped flan with a spicy CBD-infused Sicilian olive oil, tarragon, and citrus. Despite giving up booze eight months ago, I'm also pretty damn proud of the cocktail I create for the evening with our great bartender, Stuart. Using the whey left over from the brunch ricotta, I make a simple syrup with star anise, tarragon, and fennel stalks, and blend it with fennel juice. Stuart adds orange bitters, vodka, and a full dose of CBD before the cocktail's shaken and poured over ice. The guests seem to love it, which is all the enjoyment I need, not having drunk it myself. By the end of it, I can't really say CBD has gone full effect, but everyone leaves hugging. I mean, like, really hugging, with eye contact and huge, wide smiles, and I dance to the entirety of Beyoncé's 4 album in the strobe-lit, empty room while the crew tries to clean around me.
Tuesday, January 30
Finally, it's my Friday! TGIT! I meet up with Carla Holguin, the incredible manager of Lalito, at the restaurant. We both show up exactly 25 minutes later than we agreed to, after taking the MTA and brown-people time into consideration (which, by normal B.P.T. guidelines, is actually on time). We are headed to Bushwick to record a segment of "Recommended Reading" with the lovely folks of the Food Book Fair. I pretend that this is Carla's first outing to Brooklyn, as she is die-hard born and raised in the Bronx. Though she claims to have been out here previously, I joke that I'll leave her behind to start a new life. Heritage Radio is situated at Roberta's, which always means pizza, pizza, pizza. By miracle, we actually arrive early. Too early, even.
I grab some snacks from the bakery, like an amazing almond croissant, blueberry muffin, and a garlic knot. We each take small bites, knowing that some pizza will soon greet us in the booth. Carla claims to be nervous, but kills it once we are in there. Amanda Dell and Kim Chou, the gracious hosts, share with us padrón peppers and a margherita pie. We talk about music, dismantling the capitalist system through dancing, Pan-Latin food, "baby shower" as a type of cuisine (the buffet food for all family functions), being stupid on Instagram, and moving past monetary transactions as participants in the restaurant industry. I am happy to have been invited, but am even more proud to do it with Carla.
Afterward, we head over to Bunna on Flushing Avenue for Ethiopian food. I love this place, and we agree that it is the classic date spot when you're tryna get it with that special person. The food is always great, and the service is some of the nicest. We always opt for the "feast" portion of the menu, which includes injera and a variety of stews and veg. It's all vegetarian, and you eat everything by tearing the injera and pinching the food off of the plate, which, incidentally, is the exact method of eating that I am accustomed to, using tortillas as my utensils whenever eating the food at my relatives' house.
Some of the standouts are the pumpkin, spicy lentils, marinated kale, split peas, and sautéed beets. Carla really loves it, as we're joined by Kim, DeVonn, and Charlie, a cook over at Lalito. We talk more shit over food, have a nice time, and prolong us reentering the cold. Eventually, I make it home by early evening, and although I had originally intended to go out for one more meal, I find myself completely content by everything I've eaten this week, all of the places I've visited, and above all, really happy and proud of all of the food I was lucky enough to make.
Sometimes you get stuck in routines and get burdened by the day-to-day rigor of this city. And sometimes the spontaneity of everything really allows you to absorb and observe, and then share that with the people you love. Either way, I take a double dose of some of the remaining CBD oil left over from last night's dinner and bid the skyline a satisfied "peace out."