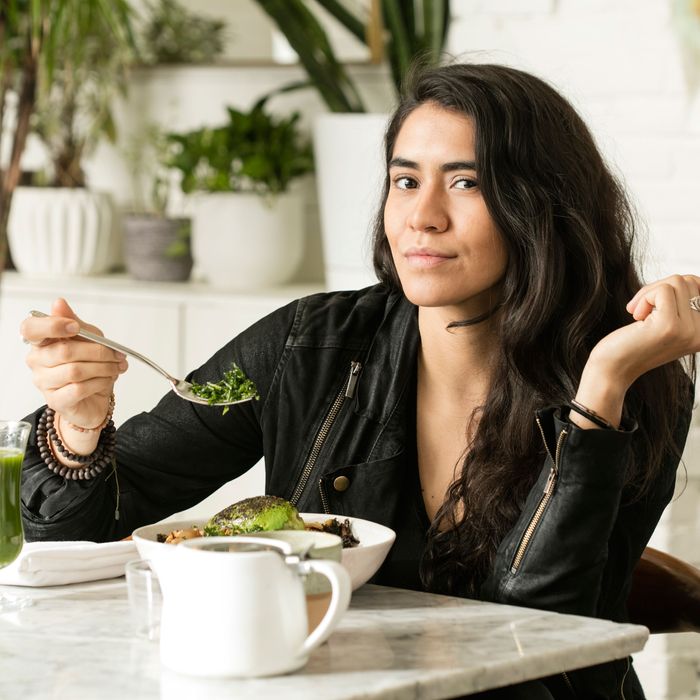 At Sunday in Brooklyn.
Photo: Melissa Hom
Daniela Soto-Innes, the very talented and relentlessly energetic chef-partner behind Enrique Olvera's Cosme and Atla, never stops moving. She was tapped to run Cosme at the age of 24, and won a James Beard Award for Rising Star Chef the following year. Atla, of course, opened in 2017, to universal raves, and now she's found something like a regular rhythm. In between working and then working some more, Soto-Innes finds time to exercise a whole lot, eat as many mushrooms and raw fish as possible, and hit her favorite Sunday brunch spot. Read all about it in this week's Grub Street Diet.
Thursday, February 1
I wake up around 7 a.m., and always start my day with apple-cider vinegar mixed with hot water. I like Bragg. It's organic, raw, unfiltered, and more appley than other brands. It gives me so much energy and makes me feel like I just drank ten Gatorades. And I just have a lot more balance. I don't crave as many sweets, and I have the biggest sweet tooth ever.
Truthfully, I don't have control over my sweet tooth. I get nervous around sweets! If I could control myself, I would totally be a pastry chef because I love making pastries. But I do have a crazy cheat day where I just go all-out and eat all the sweets.
After the apple-cider vinegar, I just drink hot water. I think it calms me down. I feel a lot more Zen. I also drink coffee at home, which I make with a Chemex. Right now, I'm brewing Oaxacan coffee at home. I just came back from there, and every time I travel, I bring back three kilos of coffee from the city's best coffee shop or roaster, so I have a stock of Garildo Espana Castra from La Mixteca, Oaxaca.
Then I went to spinning class. I do that three times a week, run two or three times a week, and try to practice yoga five times a week. It's because I eat a lot! I just taste so many things. Sometimes during the day, I forget I ate all those things. Typically, chefs are munching at like 2 in the morning, or 7 a.m.
After class, I went to work and made breakfast at Cosme. Huevos al comal, with mushrooms and guacamole. There's always guacamole — I eat, like, two or three avocados a day. It's ridiculous. So much fat in my life! I also tasted the abalone tostada that we make with a peanut salsa. It's just so much fun; it's so crispy. I — you guessed it — always eat that with guacamole. I wasn't joking.
I ate a handful of pine nuts and spinach, and drank some green tea. Yana [Volfson, Atla and Cosme's beverage director] changes the selection all the time. The other thing I snacked on was green mango with cumin. We've been working on a lamb-belly dish with green mango. Green mango is huge in Oaxaca, and the chef of the house I was in kept doing these super green-mango salads with cumin. It was just the most delicious thing. And, yeah, I also had some almonds and an ounce of François Pralus 100 percent dark chocolate.
I'm always snacking, but I do sit down and eat something twice a day like I'm supposed to. Speaking of meals, I also ate broccoli with pipián-pistachio mole. It's just so healthy: broccolini, pistachio, a lot of olive oil. I almost drink olive oil. I put it on everything, and coconut oil.
Thursday was a 13-hour workday. Usually, we drink some wine after service, but I've been good! I didn't have anything after work because I stopped drinking for a month, just to cleanse myself. I did have more green tea and ashwagandha tea. My sister is a yoga instructor and she recommended it to me maybe a year ago. It makes you a lot calmer, and reduces blood-sugar levels, stress, and anxiety. Not that I have anxiety, but sometimes in the kitchen, you're a little extra crazy.
Friday, February 2
I go through my liquid routine: apple-cider vinegar with hot water, more hot water, coffee made with my Chemex, and a Four Sigmatic 10 Mushroom Blend. It's insane how good mushrooms are for you. One of my sous-chefs is allergic to them, and I feel so bad!
Today, I went to Modo Yoga for my hot-yoga class. After that, I went home and had a Vibrant Health green shake. I also snacked on a couple tablespoons of almond butter, and ate broccoli, a hard-boiled egg, and pistachios. I have eggs every other day, but I try to make them differently so that I don't get bored.
Every day I work, I go to both restaurants. With Atla, I'm there mostly overseeing things. I also have my coconut cortados there; today, I had one with pecan and coconut milk. I'm so obsessed that when I'm at Cosme and really need a coffee, I go to Atla.
For lunch, I had Atla's arctic-char crudo with olive oil and, surprise, half an avocado. I eat raw fish every day. Sometimes I have it with the tostada, but I had it without this time.
Once a day, around 5:45 p.m., when I know my pastry chef is somewhere running around, I always open her little drawer of sorbets in her service freezer. I kind of act like I'm tasting for quality, but I'm really just trying to get my sweets time in. My favorite flavor right now is pistachio, and then she has this coconut-avocado sorbet; it's insanely good. Obviously, I did this.
During work, I drink green tea, more green tea, and also chamomile tea from Puerh Brooklyn. At some point during work, I snack on spinach with olive oil and Feta. I make sure to drink my 10 Mushroom Blend. My workday was about 12 hours long, and I ended it chatting with Yana about a late-night idea we're launching at Atla.
Saturday, February 3
I try to have routines. Especially when you have two restaurants, you have to have something to keep you grounded, so the same morning routine: apple-cider vinegar with hot water, more hot water, coffee, the mushroom blend, a sports drink that makes me feel like a Viking, and watermelon water.
I went for an eight-mile run. That was a little bit too much. Usually, I run three to five miles, but I just had extra energy built up — or extra stress, I don't know which one.
Breakfast at home was an egg with half a small sweet potato, spinach, and bacon. I also made a shake with spirulina and coconut milk.
Again, went to Atla first and then Cosme. Throughout the day, I drank green tea, more green tea, and chamomile tea. (Once I started writing everything down for a day, I realized, Oh my God, I drink a lot of liquids, and I still feel dehydrated sometimes! It's a constant battle in kitchens.) My raw-fish lunch was aguachile with turmeric, lemongrass, and ginger. It's very acidic, but it has all of the good stuff for you.
Later on, I snacked on pine nuts and more green mango with cumin, lime, and Thai chili.
We were working on some new dishes. One is kanpachi with sea buckthorn, julienne cucumber, and red onions. Another is beef with a dry-rub that has activated charcoal — it's served with nixtamalized celery root and an herb mojo. The last is a lamb belly with mango. I tried every one of those!
By the end of the day, I'd been at the restaurants for 14 hours. We run the kitchen with four cooks per service — for 350 people a night. It's a very, very active kitchen. I like that because you learn more than you do if you just pick herbs all day and wait six years to do your first dish. Maybe it's because I trained in Texas, and you either go big or go home in Texas, but I just feel like that's a waste of time, no?
Sunday, February 4
Today was my day off! But I still started with my routine, which I think you know by now. After I had all of my liquids, I went to Modo Yoga for a hot-yoga class. Then, I had my eggs — but on Sundays, I get to have them out!
I spend all of my Sundays in New York at Sunday in Brooklyn. The chefs are very nice; everyone there is very, very genuine; it's a very beautiful space. You can see right away that they care. I went with my boyfriend and a really good friend of mine from Texas. I always get anything that looks delicious. This time, it was scrambled eggs with bacon and oatmeal. I drank coffee, of course.
I also had an ounce of François Pralus 100 percent dark chocolate, some sprouted almonds, hot water, and more water — do you see a trend here? For dinner, we went to Uncle Boons. I love that place — I think it's so much fun and so delicious. I got my typical order: jasmine tea, green-papaya salad, grilled chicken, pork sausage, fermented ribs, and coconut gelato.
Did you think I was done with hot water? Before I called it a day, I had three more glasses, plus my mushroom blend.
Monday, February 5
Back to work. After my liquid routine, I went to spin class and then had breakfast at Sunday in Brooklyn, again, on a Monday in Brooklyn. I had a grain bowl with barley and quinoa, plus some vegetables, kale, soft-boiled egg, avocado, of course, and sambal. I washed it down with a green juice, which they make with kale, red apple, cucumber, pineapple, ginger, and lemon.
At Atla, I drank my green tea and my daily coconut cortado. I also had an avocado taco with sea salt. It's so simple, but such a good snack. More green tea, and by the time I was ready for lunch, I was at Cosme. So I had broccoli with pistachio mole.
I had an apple, but we weren't working on any new dishes, so not that much happened. At home later, I had almonds, spinach, and an egg. The almonds are always sprouted. I had more hot water with oregano oil, and more of that ashwagandha tea before the day was done.
Tuesday, February 6
Woke up and drank all of my beverages. After that, I doubled down and went to both spinning class and boot camp.
I went to work later, and made an exception to my raw-fish-for-lunch rule. I went to the Shake Shack at Madison Square Park, where my friend Rosio Sanchez was doing one of those one-day collaborations. She has a restaurant in Copenhagen, so I couldn't miss her while she was here. I had her breakfast taco with pork belly, shaved cured egg, and some other stuff, and a little bit of her chicken burger.
At Cosme, it was a really hard service because it was all new dishes on the menu, and maybe I forgot to eat. Along with the new dishes, we introduced a new dessert. It's a guava tart with a crémeux of pink guava, which is my favorite, and ten-year cheddar. The tart itself is made of almonds. Oh my God, it's the best thing ever. It was so dangerously delicious that even after a day, I knew it was a problem already!