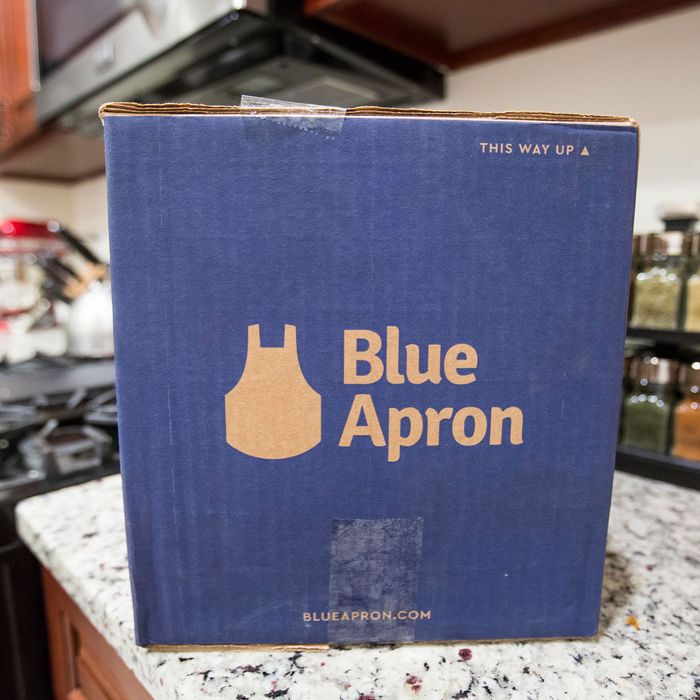 Uh-oh.
Photo: Scott Eisen/Getty Images
Once Blue Apron's stock started trading last summer for less money than one of its meal kits, it was clear that the company had problems. To keep in Wall Street's good graces after its IPO, the start-up cut costs, announced a new East Coast distribution center, and laid off hundreds of workers. But the biggest problem facing the company appears to be a big drop in subscribers: Per the company's latest earnings report, Blue Apron has, in just one year, lost over a quarter-million customers — there are 746,000 right now, and that's down from a million-plus at the company's 2017 high point.
Blue Apron had bragged that the IPO, which was the meal-kit industry's first, could value it at $3 billion. But unlucky stuff happened — Amazon swallowed up Whole Foods, investors dug into Blue Apron's financials, shares debuted at a cut-rate $10 a pop — and customers started running away. According to The Wall Street Journal, 13 percent of them fled in 2017's final three months. The paper says that this is bad enough to "jeopardize its rank as the largest meal-kit company in the U.S.," but yesterday, CEO Brad Dickerson urged people not to be petty by "focus[ing] on who has the number one share of customers or revenues at this point in time."
Here's a quick outline of how Blue Apron hopes to woo customers back: more beef in meal kits, apparently, plus special boxes that play off trends like the Whole30 elimination diet, and more ads. Blue Apron also says that its big goal for 2018 is to break even on the year. Yesterday's earnings report showed a loss of $39 million last quarter, and a 13 percent drop in revenue.