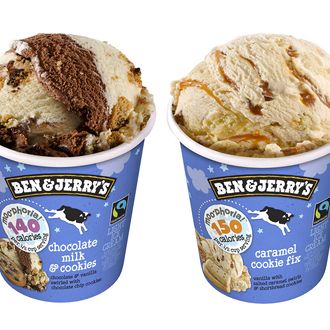 For fans who "can't be trusted with a pint of Ben & Jerry's in their freezers."
Photo: Ben & Jerry's
Until Halo Top came along, low-cal ice cream was greatly maligned. But that brand, started in 2012, has become a juggernaut: Sales of its waistline-friendlier pints soared by 2,500 percent in 2016, and last summer, it became America's top-selling ice cream. The established players in the ice-cream game have noticed. And today, Ben & Jerry's unveiled a copycat line of its own called Moo-Phoria.
The line includes three different light flavors that don't sound light at all: Chocolate Milk & Cookies, Caramel Cookie Fix, and P.B. Dough. The flavors have 560, 600, and 640 calories per pint, respectively, or 140, 150, and 160 for each half-cup serving. For those who keep track of such things, that is fewer than other Ben & Jerry's flavors — a pint of Chubby Hubby is 1,360 calories — but not as low as Halo Top's.
Ben & Jerry's hit this slimmed-down sweet spot by cutting fat and sugar, but leaving dough swirls and cookie pieces, ensuring that these flavors have the "crunch" B&J's customers apparently demand. The idea here seems to be offering a kind of Goldilocks option: Halo Top's flavors clock in under 400 calories, but some people who eat them still say things like, "It's definitely not ice cream, but it'll do the trick."
Also, exactly like Halo Top, the Moo-Phoria ice creams slap a calorie count right on the front of the label. (Ben & Jerry's suggests that this is to remind fans not to eat the whole pint in one sitting, which is sound advice.) All three flavors debut in grocery stores this week.