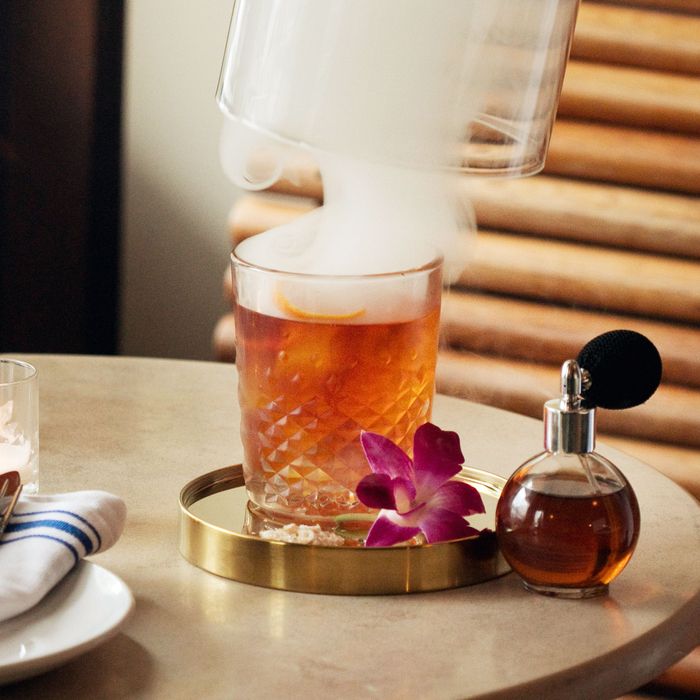 A Saffron Sazerac with saffron elixir, bitters, and sugarcane extract flambéed with housemade absinthe.
Photo: Melissa Hom
'Tis the season, apparently, for revamping restaurants into more casual operations: As Paowalla becomes Bombay Bread Bar, Freud reopens as Bar Freud today. But chef-owner Eduard Frauneder didn't simply turn his Austrian restaurant into, like, a sausage emporium. He's brought on his fellow Austrians and bartending brothers Albert and Jakob Trummer. Albert is, likely, New York's most flamboyant bartender this side of Austin Rogers. He's been arrested for lighting his bar on fire, he ran a string of pharmaceutically themed bars and bar programs (Apothéke, Sanatorium, Three Pillars), and he served shots in syringes and a seasonal cocktail "omakase" at S'Zen. At Bar Freud, the Trummers are, no surprise, also taking a theatrical approach.
"Apothéke became known for the cool pharmaceutical concept, but with Freud, we want to take it a step higher — to really explore, I would say, the hallucination — in a good way," Albert says.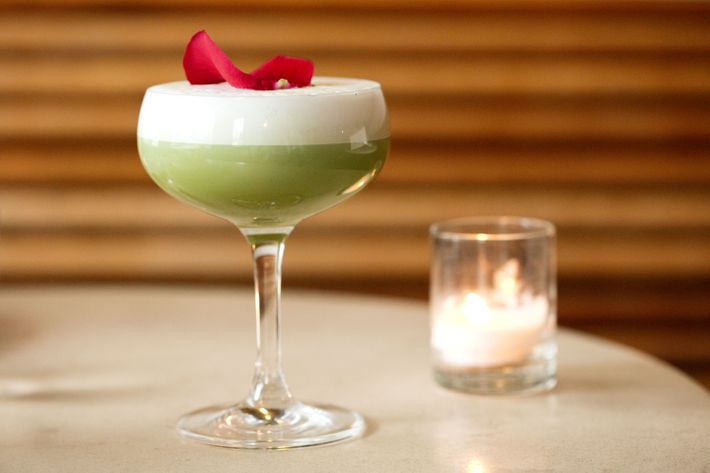 The revamped restaurant's menu takes "Vienna during the Sigmund Freud era" as its point of inspiration, and the cocktail menu's title and sections reference Freud's The Interpretation of Dreams. Still, that may not prepare you for the drinks you'll see. The Eau de Cologne, which is smoked with cherrywood, features Disaronno, black-pepper elixir, and strawberry-basil reduction. Sazeracs get spiked with saffron elixir, and a drink called the Love Affair features Kahlúa, tequila, coconut milk, and white truffle.
"You can drink four or five of them without getting knocked out," Albert says of his drinks. "It's more culinary, like Eduard's cooking style reflecting in the bar. This doesn't mean we put, like, a garnish or salad bar behind the bar."
Frauneder, meanwhile, is less abstract in his approach to the food menu, which features a few Freud essentials, like the Wiener schnitzel, tarte flambé, burger, and spätzle. The chef will also add Käsekrainer, a smoked sausage that's a staple of Austrian cuisine; tea-smoke brook trout; and homemade dill tofu.
Capping things off is a painting ("the size of four minivans," Frauneder says) from Hermann Nitsch, the Vienna-born artist and Freud lecturer. "He is," Frauneder says, "a big supporter."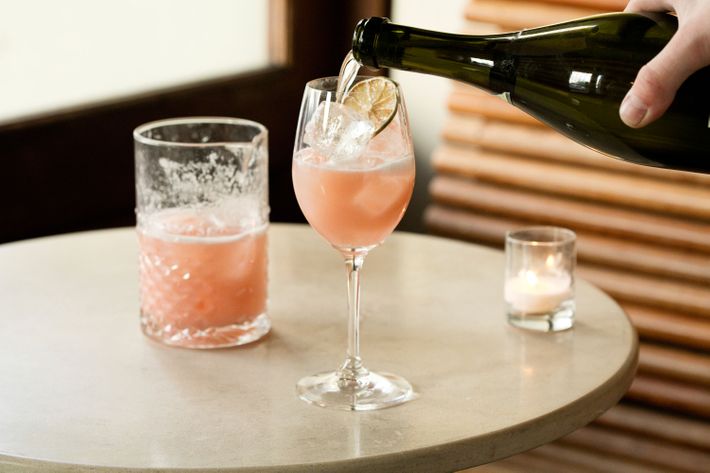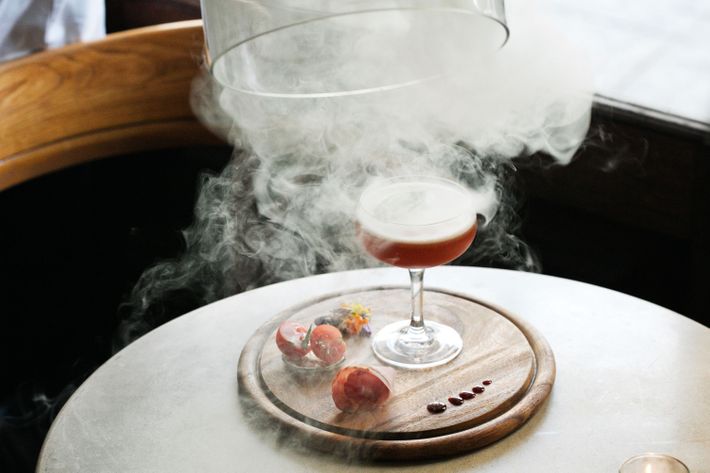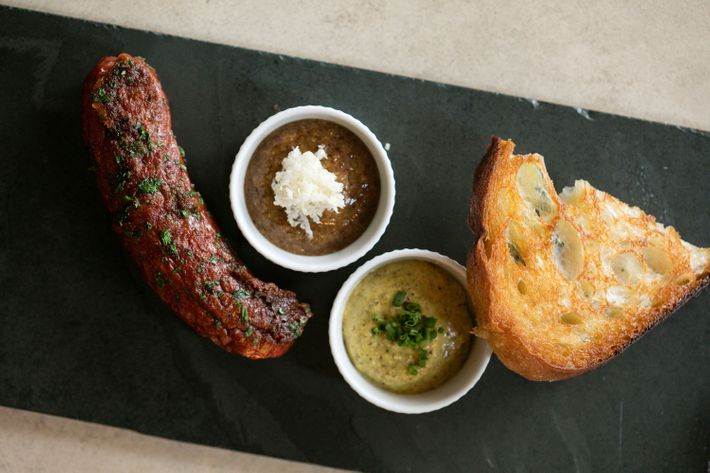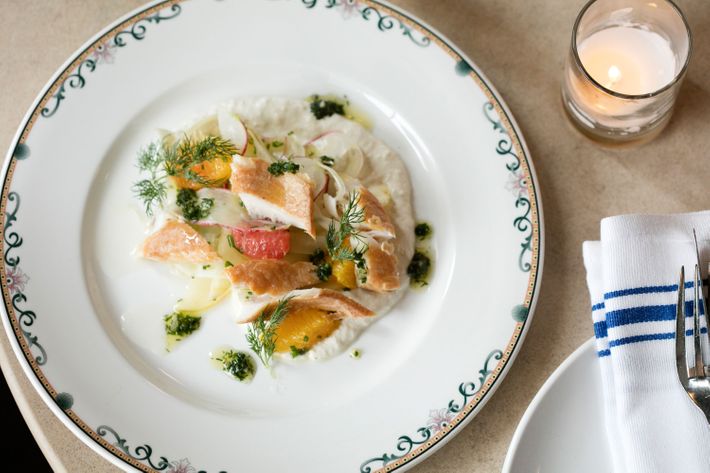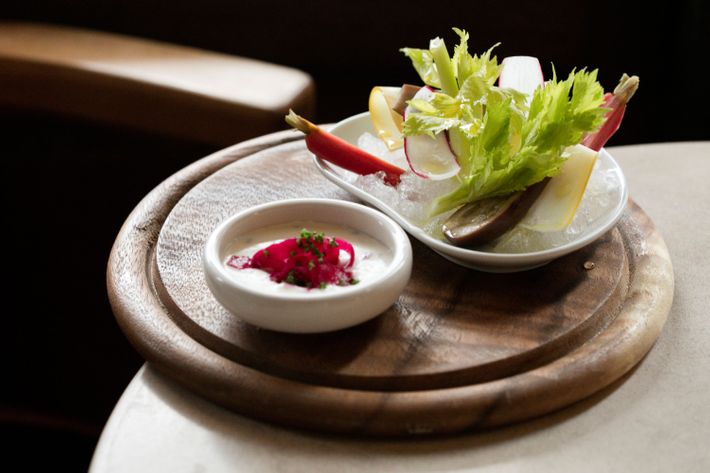 Bar Freud, 506 La Guardia Pl., nr. Bleecker St.,; 212-777-0237