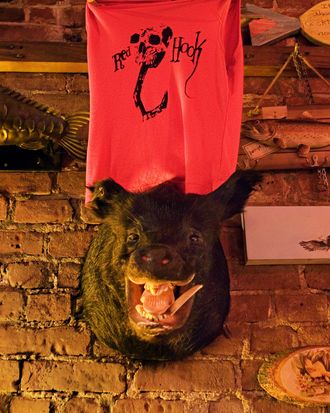 "There were a hundred people in the bar dancing and drinking. Everyone had lost everything. But the room was full of love."
Photo: Evan Sung
The Bait & Tackle opened in 2004, when opening something in Red Hook seemed both insane and revolutionary. It was the brilliantly bad brainchild of Barry O'Meara, who owned it until last call on January 27, and his friends Edie Stone, and Derrick Van Duzer. They simply wanted somewhere to congregate and drink. "We signed the lease in 2003 after having a conversation over an eight ball," O'Meara says. And so the Bait & Tackle was born.
Late at night, the neon signs from the Old Pioneer and the Bait & Tackle were the only indication that anyone was awake on the once-desolate stretch of Van Brunt street in the heart of Red Hook. Both bars often stayed open far later than the city allowed, their roll gates down to keep the not-so-secret. From time to time, they didn't close at all, and the last drinkers were greeted by the cleaners lifting the gates and rudely revealing the morning sun.
The Pioneer served pulled pork and burgers. The Bait & Tackle, only drinks. It wasn't hard to score drugs in either, although a good many regulars stuck to the legal stuff. When Jimmy, who managed the Pioneer, married Lisa, the fortune-teller who was often kicked out for telling terrible fortunes, and they both disappeared to Nova Scotia, it was the beginning of the end for the Pioneer. That bar closed in 2007, leaving the Bait & Tackle to break dawn alone.
This was back before many people in New York had even heard of Red Hook — or, if they had, they knew it as a place somewhere in the far-off end of Brooklyn, inaccessible by public transportation, where the cobblestone streets ran off into the bay and the bay runs out to sea. This was back when it seemed like Red Hook, with its salty charms, would escape the tidal wave of gentrification sweeping the rest of the borough. This was back before Ikea and the Fairway, before Citi Bikes, before small-batch chocolate-makers and high-end whiskey distillers, before art galleries and day-trippers in SUVs. This was back when, if you were foolish enough to wander into the Bait & Tackle and order a Martini, you would be told to get the fuck out.
I moved to Red Hook in 2005 and lived directly across from the bar. Those were what O'Meara and others call "the crazy years": the Bait & Tackle at its wildest, an ongoing party that always gained momentum, never burning out, nights rolling into days into nights. In the middle of this, I decided that I wanted to write a novel about the bar. I wanted to capture the way a place this deranged could still function as a connection point for a whole community. Because everyone was there — salty old-timers who wouldn't believe me when I told them I'd grown up in Cobble Hill only ten minutes away; a dapper gentleman from the projects who taught me how to care for fine leather shoes; a successful local drug dealer who urged his crew to get jobs at Fairway when it opened so they'd have health insurance; an alcoholic who would perform the laying on of hands. I knew this improbable combination of people and thought they should not be allowed to slip away.
By now you are probably thinking that this is yet another eulogy for a bunch of hard-partying drinkers with bad attitudes and possible drug problems. The closing of a beloved local bar is an unfortunately familiar event, almost a rite of passage for those who prefer their New York a little rough around the edges. I've had friends heartbroken over the end of Max Fish, Mars Bar, Kokie's, or Subway Inn. I respected their distress, but I didn't quite understand it. Yet the closer the Bait & Tackle drew to closing, the more I got their pain, and it's worse than I imagined. As longtime Bait & Tackle bartender and Red Hook soul stirrer Erin Norris, who now owns Grindhaus nearby, told me, "It's not like losing a loved one. It's like losing a pile of loved ones all at once."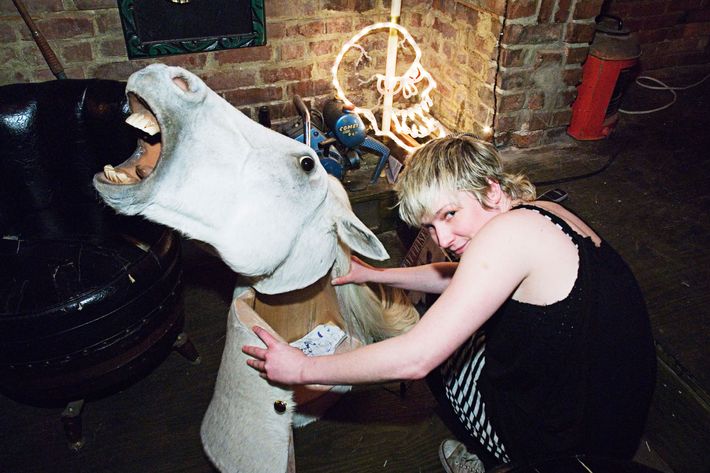 The Bait & Tackle looked like a deranged rec room, but not deliberately so. Over the years, the taxidermy accumulated — a bear, deer heads, a collection of rodents and other ephemera to rival a Victorian cabinet of curiosities. There were fish trophies, too, and at one time, even a large white horse head named Sarah Jessica with an improbably lustrous mane. There were ship's figureheads and duck decoys. A tangle of Christmas lights, ornaments, and antlers dangled from the ceiling. Posters of wild game were there, too, as were paintings that occupy a space somewhere between outsider art and thrifted junk. Then there were the two infamous signs that sum up the Bait & Tackle's overall attitude: "Suck It" and "Douchebag." The latter was made into a wrought-iron tabletop, a peace offering, created for the bar by a collective of ironworkers up the street who'd thrown a party and invited too many artsy folks (douchebags) from Manhattan who spilled into the B&T and damaged several pieces of furniture. The "Suck It" sign, which was found on the street, was auctioned off at the closing party.
Barry O'Meara comes from the tiny Irish town of Killimor near Galway, where his great grandfather ran the Killimor pub. He is someone who absolutely doesn't give a fuck, and someone who cares deeply about the people who work in his bar, drink in his bar, and the community around his bar. When the president of an international talent agency wanted to treat his staff to some local color at the bar, O'Meara told him, "We don't have pool. We don't have games. We have drinks and sometimes cocaine."
Under O'Meara's wild, jovial reign, the Bait & Tackle became Red Hook's de facto living room — a place where everyone (that is, everyone whom Barry didn't dispatch to the Pioneer for being too weird or too sketchy) congregated from happy hour until dawn, and where everyone knew everyone else's business, but didn't get into it. It was a place where you might be lucky enough to be given a nickname, and if you weren't, you knew you were okay when you could tell Old Steve from New Steve, and knew who Sniff, Handjob, Guitar Matt, Whiskey Dave, and Thieving Jen were — and why. It was a place where you understood that if you were labeled a "practice" person, it meant that you bore some resemblance to a long-standing local, but the jury was still out on you.
Between the late nights, the early mornings, the lockups, and the serve-yourself free-for-alls, the Bait & Tackle anchored a community, artistic and otherwise, that has flourished, survived, endured, and supported its denizens. "There have been so many glorious celebratory nights over the years," says Ben Schneider, a former bartender and current owner of Red Hook's the Good Fork restaurant. "But if I had to pick one — it's when the Hot 8 played there after Katrina. They were displaced from New Orleans and touring and wound up in Red Hook. It was so loud and joyful — they paraded through the bar and out onto the street." I can second Schneider's account; I lived across the street at the time, and the tuba shook my walls and floor.
But it was a different hurricane that really cemented the Bait & Tackle's role. Superstorm Sandy turned Van Brunt into a roaring river, destroying nearly every business and many homes. "The night after the storm, my friend Julia brought two generators, and we plugged in the lights and turned on the fucking music and had a dance party," O'Meara remembers. "There were a hundred people in the bar dancing and drinking. Everyone had lost everything. But the room was full of love."
When the rain stopped, the water receded and the clouds cleared. And that, according to O'Meara, is when the real trouble started. "Suddenly, there's a thousand joggers coming down the street to see the damage. People read about how awesome this community was and what they were doing for each other without any help from anybody or any government. An apartment that was $1,600 went up to $2,400 five months after Sandy."
O'Meara thinks that Red Hook has now cleaned up its act a little too much for the sort of fun the Bait & Tackle offered. "In the month of April, I had 22 noise complaints in 28 days," he once told me. When newcomers ventured into the bar, they either ordered craft cocktails or tried to pay with credit cards. "Come on," O'Meara says, maybe only partly sarcastically, "the only time we took cards out in here was to do fucking lines."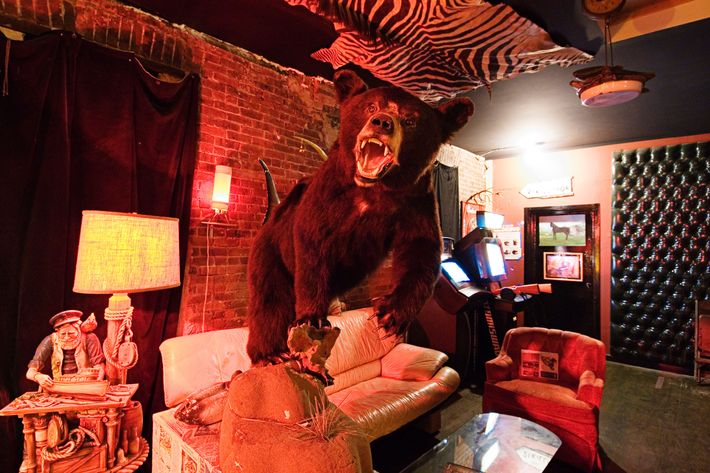 What you have to understand is that the regulars at the Bait & Tackle weren't necessarily hostile to newcomers. They're simply proud of who and what they are. It's a pioneering crew who stuck it out in Red Hook, who built a community at the end of the world in the face of isolation and natural disasters. Long ago, they chose to live in a place where a giant snowfall would strand you for days. They have hundreds of stories to tell, perhaps thousands.
If you come out to Red Hook maybe you'll find what's left of this community gathered in the back of the Good Fork where Schneider has hung the Bait & Tackle's sign, or in Grindhaus where Norris will build a refuge for those unmoored drinkers from across the street. And if you find us, maybe Sniff or Handy Francis will tell you about that time when a van crashed through the front door nearly killing Whiskey Dave. Or when the bartenders locked us in the bar until 7 a.m., so Anthony Bourdain could film us at our worst for the Travel Channel. Or about hitting golf balls down Pioneer to the cruise terminal, or drunkenly greeting the Queen Mary on her first docking. Or about the pillow of magic mushrooms or the month of green ecstasy.
Or maybe we'll tell you about how everyone came together when we learned that the Bait & Tackle's most cherished bartender, Chris Piscitelli, — who had been the glue of the community before Sandy — had cancer. Maybe you'll hear about how O'Meara and his crew organized offbeat fundraisers to pay for Chris's surgery. And about how it was too late. But how they kept on organizing so that camaraderie might triumph over despair. You might hear that Chris's funeral made the city papers, and that the enormous memorial service reduced people who hadn't known him to tears, and that the neighborhood felt as inalterably changed when Chris was gone as it had after Sandy.
When I finished the first draft of my novel about Red Hook that wound up being titled Visitation Street, the story had grown well beyond the Bait & Tackle, though the bar — renamed, for my purposes, the Dockyard — was still very central to the book, much as it was to the neighborhood. (The Bait & Tackle also makes a cameo in a New York novel by a friend of mine, though in that book it's renamed the Bait & Switch.) When I initially wrote about my fictionalized version of the Bait & Tackle, it wasn't because I worried that the bar and the people who brought it to life were fleeting and that I needed to capture them before they vanished. I wrote about it to bring that scene closer to me, to make those people mine, to cement my place in a moment that I wanted to celebrate. Now it is gone — a world I did my best to re-create, the soundtrack to my afternoons and nights (and sometimes even my mornings), all playing out as I sat and struggled to write about it from across the street, wishing I was part of the action instead of at my desk, writing about the action. I never imagined that it needed to be preserved — it would last forever, right? But now it's gone, and all that's left are the stories.
Ivy Pochoda is the author of the novels Visitation Street and Wonder Valley.