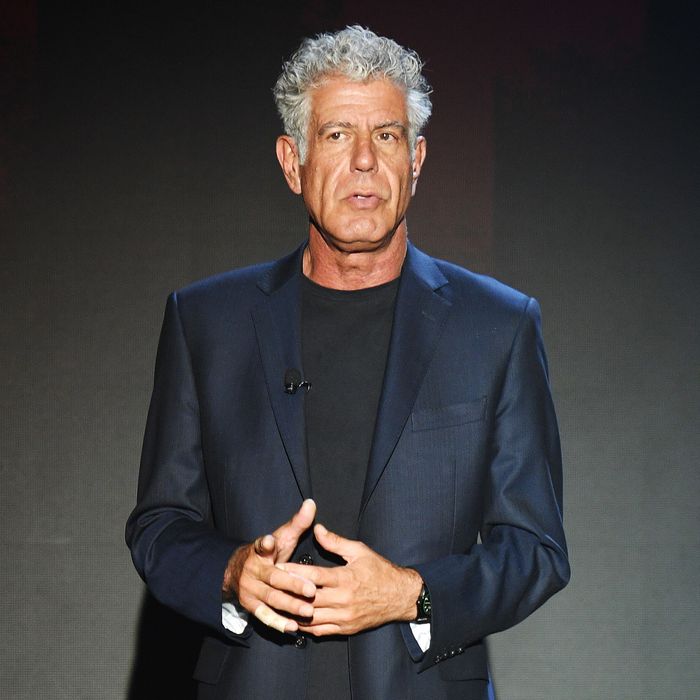 Anthony Bourdain.
Photo: Dimitrios Kambouris/Getty Images
In the current reckoning over sexism, gender inequality, sexual assault, and harassment, no industry is more deserving of scrutiny than restaurants. Hospitality workers file more sexual-harassment claims than workers in any other industry, and the question now facing critics is how to address these long-simmering issues in their reviews. Recently, the Washington Post published an article by Tim Carman addressing this topic, and in it, Carman quoted several restaurant critics, as well as Anthony Bourdain, whose critical comments about restaurant reviewers provoked a response from the New York Times critic Pete Wells — which, in turn, caused a virtual food fight of its own.
In a tweet, seen above, Wells posted a screenshot of Bourdain's comments to Carman along with a response of his own, writing, "Actually, not one food critic I know gives a flying sunchoke about 'access.'" Bourdain replied that he considers the Times an exception, but could "name a slew of 'access' or freebie-hungry critics off top of head,'' and that those "doing double duty as observers of the scene" are more likely to be culprits. Wells, however, took issue with the fact that Bourdain was making a blanket statement about all of his colleagues.
"Well, I just thought [the comments] were factually wrong," Wells tells Grub. (Bourdain declined to comment any further.) "And I also thought Anthony Bourdain is in no position to know what's factually right or wrong in the restaurant business these days … How do critics work? What do we do? What's our job? Do we need access? That was the thing that set me off, because critics spend all their time trying to avoid access."
Other critics and writers chimed in to agree with Wells, including Houston Chronicle critic Alison Cook, who was also quoted in the article, and New Orleans writer Todd A. Price. (Another Twitter user pointed out that the individual who broke the story of serial harassment at John Besh's restaurants was New Orleans Times-Picayune critic Brett Anderson. Others, however, offered support for Bourdain's point, including chef and writer Richie Nakano, who pointed to longtime San Francisco Chronicle critic Michael Bauer. For his part, Wells says he isn't arguing about the suppression of unflattering stories to preserve access to notable subjects; he was arguing that it's a leap to make assumptions about what critics may or may not know: "I don't think it goes without saying that anyone who has come within 50 yards of these people has seen something," he says.
He continues, "I think there have been a lot of things assumed that should not have been. A lot of people who believe themselves to be in the know, or who would like to appear that way, have been saying a lot of seemingly sophisticated and completely off-base things. And that's the category I put Bourdain's quote in."