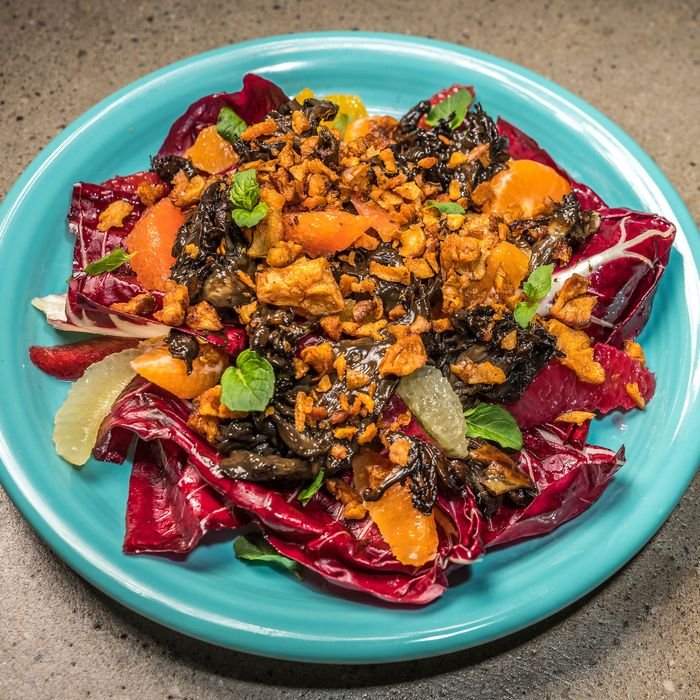 Winter citruses with black garlic, grilled mushrooms, crispy sunchoke, and radicchio.
Photo: Noah Fecks
It seems that the owners of Annicka took a page out of the Burger King playbook — "have it your way" — for their new Greenpoint bar and restaurant. Opened by the people behind Greenpoint Beer and Ale Co. and North Brooklyn Farms, it's described as a place where there's something for everyone, with a collaborative menu inspired both by "wellness cuisine" and "whole-animal butchery."
"Our approach is making the diner feel like they're in an inclusive space," says Emma Jane Gonzalez, a vegan and one of the restaurant's three chefs. "We wanted this to be a restaurant a lot of people could participate in, and to create a menu of food that people feel good eating. We just want people to be able to eat together, you know?"
Along with Gonzalez, the kitchen is run by Kenneth Monroe and Christian Perkins, a butcher who worked at Marlow & Daughters and Diner. They describe their approach, in marketing terms, as "New Age New American." Which, no, doesn't mean it's guided by crystals and energy fields, but, Gonzalez explains, has "influences from old-school health food … but also incorporates wellness cuisine."
The result of that "inclusive" approach to cooking (menu here) is a restaurant where you can eat your grains (with little gems, mustard, and garden-goddess dressing) and butcher's steak (with black garlic), too. Along with entrée-size proteins like housemade sausages with white kimchee, there's green-chile stew with cultured cashew cream and charred cauliflower with pickled beet pâté. Drinks — the alcoholic ones, anyway — will exclusively be New York–made, as Annicka is opening under Governor Andrew Cuomo's farm-brewery license.
As for the design, the owners wanted to make it feel "like a casual hangout at a friends' home," says Emma Orlow, who created some original art for the space. Hence the dresser in the back, as well as the vintage cookbooks ("I just love the aesthetic of the '70s, cookbooks especially," she says) and yellow and orange still lifes contributed by Orlow. For those photos, she used vintage miniature dollhouses in the photos. Annicka will serve a limited menu until next Wednesday, when it will kick things into high gear.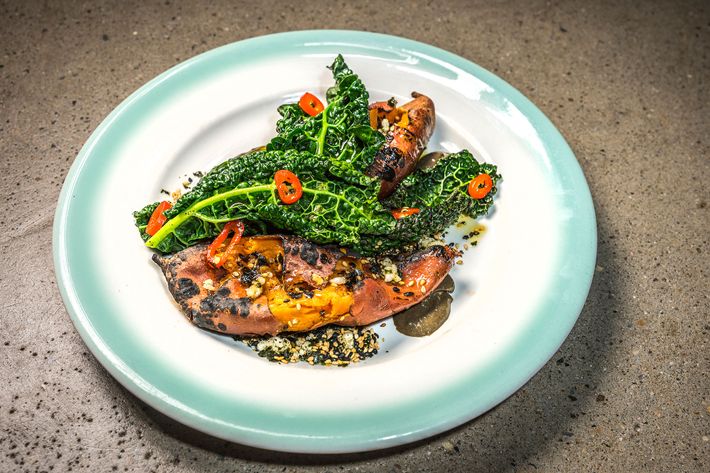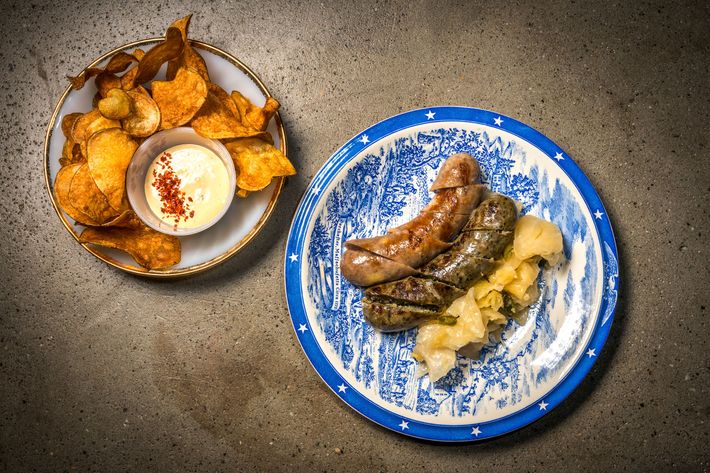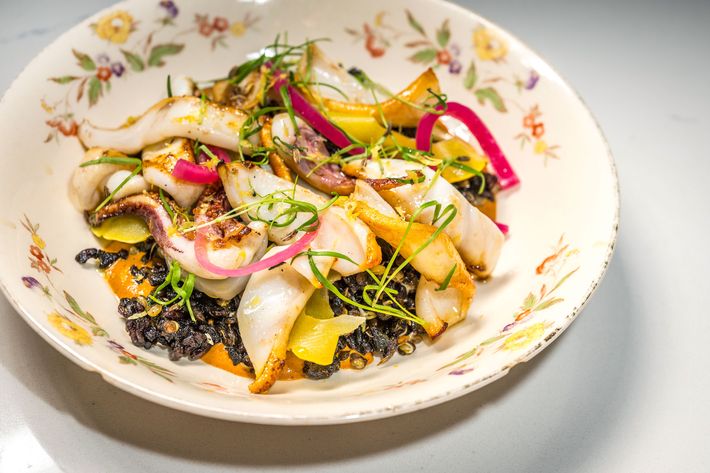 Annicka, 544 Manhattan Ave., nr. Driggs Ave; 718-599-1556