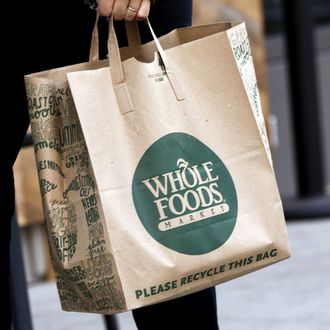 Amazon says it's already working on expanding.
Photo: Patrick T. Fallon/Bloomberg via Getty Images
Amazon is testing a service that provides two-hour deliveries directly from Whole Foods stores, the tech giant's latest push toward selling groceries in a way that allows customers to avoid physical stores altogether. According to the Seattle Times, Prime account holders in Austin, Dallas, Cincinnati, and Virginia Beach can order items online and an employee will go and remove them from the shelves at his or her Whole Foods. (You thought Whole Foods employees had a lot to cry about right now …) A Prime courier will then collect and deliver the items in the one- or two-hour time window, the website promises.
In keeping with Amazon's M.O., this perk is exclusive to Prime members, and orders must be at least $35. Not every Whole Foods item qualifies, either, a rep tells the paper. Amazon hasn't specified which things will or won't be available, but expect most of the grocery chain's produce, meat and seafood, dairy products, and baked goods, plus "the vast majority" of other staples that people buy frequently. Amazon says the plan is to expand the program to more cities later this year.