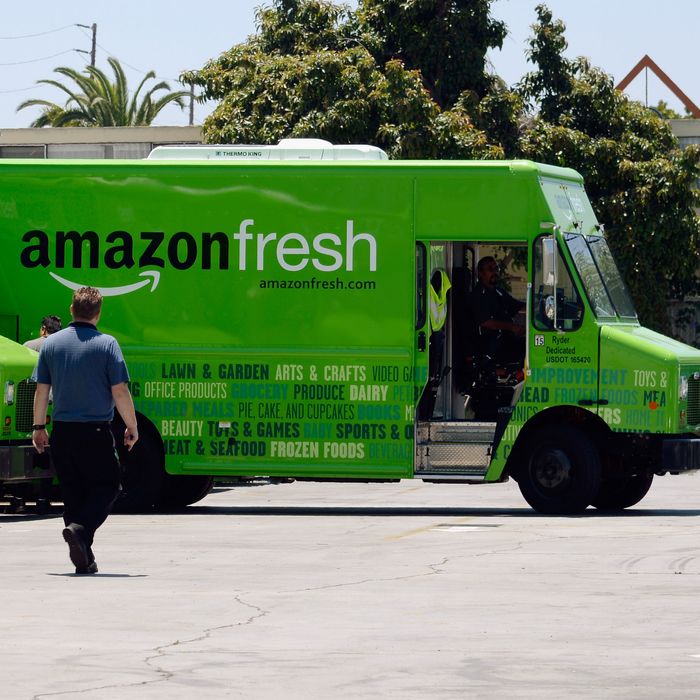 Soon to be collector's items.
Photo: Kevork Djansezian/Getty Images
What grocery-disrupting move is Amazon making this week, you may wonder. Yahoo Finance hears that some corporate layoffs reported on Monday are part of a move to eliminate a very specific kind of redundancy: The company is supposedly folding AmazonFresh — the decade-old $14.99-a-month grocery-delivery service — into its Prime Now program. This is said to affect "several hundred" employees who've all been given 60 days to find another job within the company, or split for greener pastures.
In an interview with Yahoo, a rep characterizes these layoffs as simply a "headcount adjustment" that they made during "our annual planning process," but it's clearly in service of a larger plan: AmazonFresh has myriad competitors — FreshDirect, Instacart, and smaller start-ups that other supermarket chains are suddenly racing to acquire — and costs Prime account holders an additional monthly fee. The Fresh service also, it stands to reason, became somewhat unnecessary when Amazon bought Whole Foods.
Last week, Amazon announced it was, for the first time, testing out one- and two-hour Prime Now deliveries of Whole Foods products. That's probably a sign that Amazon's need for AmazonFresh — very exciting when it debuted same-day delivery in 2007, but relatively slow now — has largely vanished. Customers are also gravitating toward Prime Now for food delivery. A recent Morgan Stanley survey found that about half of Prime Now's users already rely on it for groceries.
The other thing worth noting is that after the Whole Foods takeover last year, Amazon quietly but quickly started scaling back AmazonFresh's reach — it took a hit in more than ten states. Yahoo says the AmazonFresh–Prime Now merger should be complete by year's end. So for now, just assume that in the near future all of your groceries will come from an AmazonPrimeWholeFoodsNowFresh app.