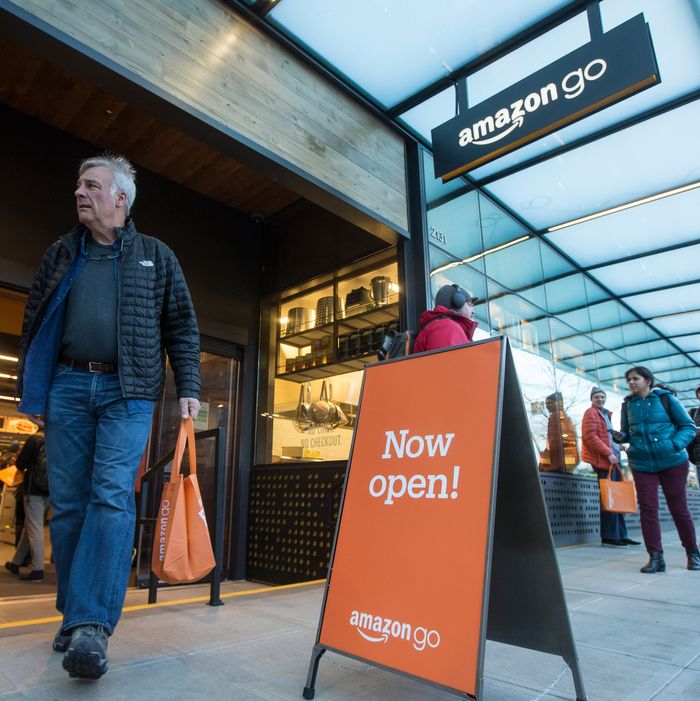 A new no-cashier wonder could be headed your way.
Photo: Stephen Brashear/Getty Images
Amazon Go, the store of the future where you may or may not be able to shoplift, is already in expansion mode. The first location opened exactly one month ago, safely ensconced in a storefront connected to Amazon's Seattle headquarters, but now sources tell tech site Recode there are already plans to open as many as six additional Go locations before the end of the year.
At least three more locations in Seattle have been identified. Amazon's people are reportedly also eyeing a huge Los Angeles shopping center for another. Per Recode, Go stores popping up soon in other U.S. cities aren't out of the question, either. The original — which has a definite Whole Foods–Lite vibe — has drawn long lines of shoppers since opening. They enter by scanning the Amazon Go app at the high-tech turnstiles, then shop and leave without formally paying, thanks to a proprietary technology called Just Walk Out. The only workers inside a Go are the food-prep people who assemble sandwiches and Amazon-brand meal kits in the back, and the sole individual stationed in the beer/wine section, whose job is to demand shoppers' IDs. Cameras scan every inch of every aisle, but that hasn't stopped clever shoppers from trying to scam Amazon.
Soon Angelenos may be able to give it a try, too. Recode says Amazon is in "serious talks" with billion-dollar real-estate developer Caruso Affiliated about bringing a Go to the Grove, the massive outdoor retail-and-entertainment complex. Neither Amazon nor Caruso will comment on the discussions, but as Recode points out, Amazon has a history of using L.A. as something of a barometer for its tech-broiest ideas. It's where Amazon first expanded AmazonFresh after keeping the grocery-delivery service quarantined in Seattle for five years. And it's the city the e-giant selected for Shipping With Amazon, a new delivery service that will try to put UPS and FedEx out of business.