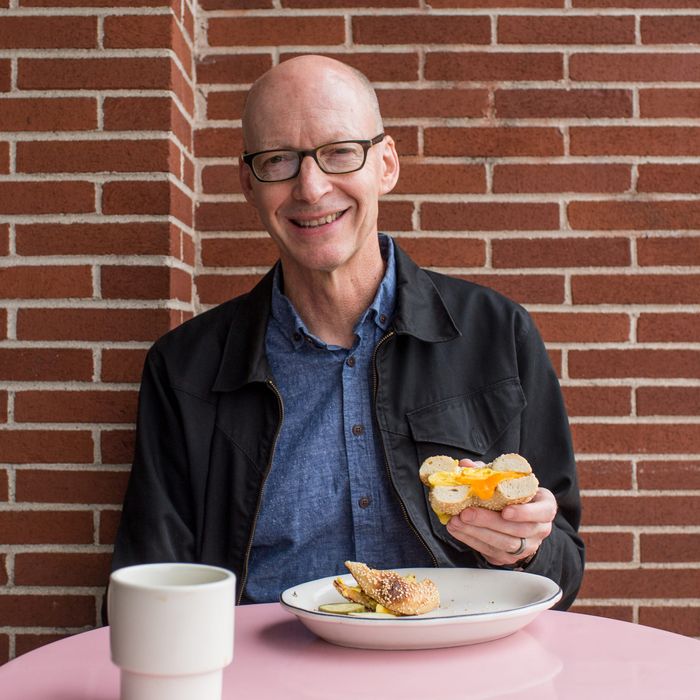 At Beauty's Bagel Shop in Oakland.
Photo: Natalie So
If you care at all about food culture in America, you have probably read a story by John Birdsall. A former cook for 17 years, the James Beard Award–winning writer and Bay Area native is now the co-author of Hawker Fare, a cookbook that he co-wrote with chef James Syhabout. This week, Birdsall found time for a burrito run, ate what is frankly a remarkable amount of bread, and fried some chicken in an effort to, uh, aromatize his house. (You'll see.) Read it all in this week's Grub Street Diet.
Thursday, January 18
Any diary has to reckon with time. This one begins in the dark, my eyes scanning the cracked, old clock radio on the sill above the bed: 5:58 a.m. My husband's sleeping; the dog yawns; she's sensed me stirring. I feel her stretch on the bed, hear the KA-thump of paws hitting the floor, front pair, back pair: We're up. My feet guess where the cat is, so I don't stomp her as we, all three walk to the kitchen without the lights on.
Since the late 1980s, the Acme Bread Company's pain au levain has been among my life's constants. The white bag, soft like cheap notepad paper, is one of the first things I feel most mornings. The drag of the round loaf leaving the bag and thunk of it landing on the cutting board; the grind of the knife as I saw two thick slices; the squeak of the toaster-oven door as I open it to slide them onto the wire shelf — I've heard them so many times, they register as ambient, barely heard under NPR's burble and jingles from the radio on the counter, and the echoing scrabble of scarfed kibble, as the dog noses her metal bowl across the floor.
Acme is not stylish bread; it's not even semi-cool bread, but it's good bread, and easy to buy here. It satisfies what is, for me, a loaf's prime directive, which is that it should be available: affordable daily food, not a precious treat.
I grew up just south of San Francisco, at a time when the big bakeries still delivered warm sourdough loaves twice a day, even to supermarkets in the burbs. I can buy a loaf of Acme from one of three markets within a half-mile of our house. If I think about it, which I never do, Acme's heirloom levain is an amazing legacy, still living, but as with a lot of food in the Bay Area, things begin to look ridiculous when you step back far enough to see your diet — see yourself — in the wide-view reflection of a nation that mostly shrugs about the idea of food as an access tunnel to meaning.
This morning, I paste my hot toast with butter from a jar next to the range, and sprinkle it with crunchy flakes of Maldon salt (bought two years ago for a recipe-testing). My AeroPress coffee's done — today, it's a mix of beans from Blue Bottle and Ritual, an uneasy blend for sure. I drink it black and munch the toast, and scan the paper version of the San Francisco Chronicle, spread out on our countertop of shiny indigo tiles.
I spend the morning at a table facing the back of my husband's computer monitor (he's a graphic designer and works from home, too). I study rail service to the Oregon coast, circa 1910 — I'm writing a new biography of James Beard, who grew up in Portland and the family cottage in Gearhart, on the beach south of Astoria, near the mouth of the Columbia River.
I say I'll go get us burritos for lunch, and make the quick drive to Berkeley. I park as the rain starts to make shop awnings drip. Thank God the line at Gordo isn't out the door. The burritos here do not showboat. They're smaller than most across the bay in the Mission, and less bombastic. Gordo excels at tiny things. The pollo asado is chicken thighs, marinated and cooked on a gas grill cranked high enough to lay a carbon shadow on the meat. The pico de gallo has acidity and freshness from properly firm tomatoes. We eat standing in the kitchen.
In the afternoon, I take a break from work to wrestle a turkey breast. At Christmas, we bought ourselves an immersion circulator from Nomiku. It's green and has a handsome readout and a frictionless dial for adjusting numerals on a screen, all of which only heighten my sense of desperation. I have no idea what the hell I am doing in this new field of sous-vide abstraction. It reminds me of high-school math, except that adjusting variables in two fields — time and temperature — has real consequences in dinner. Sous-vide seems a denial of sensory wisdom, gathered over years of kitchen fuck-ups and triumphs: the smells and sizzling, the degree of sear in a pan and the firmness of a hunk of muscle. I am determined to try. I am determined not to be my dad, circa 1983, exasperated over trying to record The A-Team on his RCA VCR.
I strip the skin off and bone the thing. I wonder why the hell I even bought turkey breast from the Berkeley Bowl butcher counter: What is it I crave from bland proteins? I crunch up the breast carcass, cover it with water, and set it on a flame for stock. I salt the two breast halves, sandwich and tie them into a reasonably tidy roll, and leave it for my husband to seal in plastic, and drop in a water-filled Cambro. Online, we've each separately found the same instructions by J. Kenji López-Alt. I adjust the readout to say two-and-a-half hours, set the temp to 150 degrees, and go back to work. We're in Kenji's hands now. What could go wrong?
Hours later, it sits there, freed from its bag: a thing like a scalded white forearm, unlovely, frightening. I make a buttery sauce with the strained stock, steam Brussels sprouts (it's slightly too late in the season — the leaves have relaxed from the cores; they're tough, not crisp). My husband's made brown rice in the cooker. We examine the turkey slices: pale-pink fibers that have stiffened without totally losing their terrifying slackness. We look at each other.
"Fry those up," my husband says. We do. They're better, browned and coated with sauce.
That night, I see a retweet by Lisa Q. Fetterman, a founder of Nomiku and a woman I adore. "It's easy to scapegoat technology. It's much harder to deal with the things technology is revealing inside of you — that you would rather not admit." I feel the rebuke.
Friday, January 19
We're up; the pets are eating;, I make oatmeal: Bob's Red Mill organic steel-cut. They take 20 minutes. I think, as they cook, about the oats my husband bought for me, a year or two ago — delicious, sweet-tasting oats, but I can't remember the name on the box. I think, were they really that good? Weren't they German? Maybe Swiss? Will he ever remember where he bought them? Is this a metaphor? I feel stupid. (It's early.)
I lean on the AeroPress — God, I hope we use up these beans soon, I'm sick of the odds and ends from random bags. I pour milk over my oatmeal; slice a banana on top. I leave the rest of the pot for my husband, on the griddle plate on our beast of a range, made in Oakland in 1947, impossible to keep clean.
Lunchtime and we're bored with the options. We scroll Yelp on separate phones. There's a place — new to us — in Berkeley, in the Highwire café: Mister Bolenca. The menu labels it "a FUNKY EATERY." We sit at the bar, where the chef and owner moves around the line, plating orders. His name is Sincere Justice, and he's originally from Baldwin Park in the San Gabriel Valley, east of L.A. I think Bolen is the locals' argot for "Baldwin," with -ca, for California, tacked on.
We split the Korean chicken salad, which has watermelon radish, sesame, big hunks of charred meat and a dressing that immolates, in a good way. And we share a Bolenca, Justice's name for an open-faced sandwich built on a raft of toasted focaccia, the Chino-Latino Pollo Chifa (turns out it's chicken day), with charred scallions and jalapeños and nearly as much burn as the salad. The food's good: vivid and frank and rooted in Justice's experience, or anyway his personality. He puts it over.
Afterward, we cross San Pablo to pick up a few things for dinner at Mi Tierra, a kind of legacy Mexican market here, in a neighborhood that probably used to be working-class Latino. We're determined to transform our bland slab of leftover turkey into something of succulence. I grab tortillas and chips from La Finca, the East Oakland tortilleria, avocados, canned frijoles de la olla, and Mi Tierra's tomatillo salsa. We're set.
And we end up being good. My husband pulls the rest of the turkey into hunks and heats it with the salsa, which is fierce and bracing. There's a lesson here, which I think is that the Mexican market can save a fearsome load of aspirational tech protein from blandness and, ultimately, despair. We heat tortillas in a skillet, warm the beans, slice the avocados, and make tacos at the table. We drink shitty North Coast Pinot (I know) because I was too lazy to get to the good wine shop. But sometimes, if not all the time, you have to forgive yourself.
Saturday, January 20
I wanted to leave the house before 8 (my husband's not exactly awake yet), but it's 8:15, which means trouble. I drive to Fournée in Berkeley, at the fancy-house fringe of town, under the hill on which the Claremont Hotel rises in West Coast Edwardian splendor. The bakery opens at 8. Now, there's a line that stretches down the sidewalk. I take my place behind a woman and her boyfriend (he keeps saying how many pastries he plans to eat) because Fournée bakes my favorite bread on this side of the bay: the farmer's loaf.
You can buy a half-farmer's, which I have done, but the full loaf — 15 inches long and six across at the widest point — keeps for days. It has a blackened crust. It has an elastic crumb shot through with extravagant looping holes, complex sweetness, bitterness from the crust, and refreshing sourness.
Back home, my husband boils eggs in the shell. I eat thick, buttered slices of bread with halves of soft-yolked egg and salt flakes smashed on top. I sip my usual: black coffee.
We head to Alameda. We check out a bookshop, spend time in vintage stores and thrifts (I buy a Saveur from 2000 with "San Francisco's Chinese Spirit" on the cover, and inside, an interview with Cecilia Chiang).
For lunch, I get us takeout at Hawking Bird, James Syhabout's new place in Temescal, just a few blocks from our house. At home, I devour a chicken sandwich (dark meat, coated with rice-flour batter and fried super crisp, with slaw and fish-sauce-spiked chile jam on the bun). My husband eats khao man gai, the Thai version of Hainanese chicken rice, poached chicken with the skin on, served over chicken-fat rice. We eat tater tots dusted with James's approximation of the powdered seasoning that comes with Mee Mama instant noodles: salt, a little sugar, maybe garlic powder.
We fry grass-fed beef patties, sauté mushrooms, and caramelize an onion. We steam broccoli. My husband makes Calrose rice in the cooker. It's kind of an austere dinner, but before I ran out to the neighborhood wine shop I love, Oakland Yard. I open a Clos la Coutale Cahors: It's elegant like couture, fun like a velvety pink tracksuit from Juicy Couture.
After dinner: disaster. I walk to the backyard, the dog is running in front of me, and slips through the pet door. As I open the back door, I see her surrounded by two skunks, tails up. I scream. She runs back in the house, whimpering. Fuck! She got skunked! We get her in the tub and rinse her. The house smells intensely of skunk, a mix of hot boot sole, turpentine, and shit. We strip everything out of the bathroom — rug, towels, shower curtain — and throw them in the wash. Strip our clothes off. Open the windows and light candles, though it's freezing. Thank God the wine was good.
Sunday, January 21
My husband's still sleeping. I steel myself for the line at Beauty's Bagel Shop, at the other end of my neighborhood. Blake Joffe and Amy Remsen opened this place in 2012. They make Montreal-style bagels, baked in a wood-fueled oven, but there's nothing precious about them. I get an egg and cheddar on a sesame bagel: thick, sturdy egg and a shiny molten plug of tangy cheese. For me, Beauty's is an example of a place that can move into a neighborhood and feel that it fits, immediately, like it's always been here. I grab half a dozen bagels to go.
We go out with the dog to César Chávez Park, hopefully to air her out.
For lunch, we have sandwiches of farmer's bread with black-forest ham from the fridge, slices of white American cheese, and avocado. They're chunky sandwiches: not totally mined for excellence, but fast and easy. We crunch more La Finca chips. Over our sandwiches (we're standing in the kitchen), I ask what we should have for dinner.
"I don't know," my husband says. "Something really stinky, to cover up the skunk smell in here?" Sort of as a joke, I suggest we fry chicken. And he (this is one of about a hundred reasons why I love him) says, "Let's do it."
I climb on a stool to get the spices on the top shelf of the cupboard, things to add to the fried-chicken flour: dry mustard, garlic powder, sweet Calabrian chile, black pepper. I cut up the chicken we ran out to buy at Piedmont Grocery. My husband does the rest, except when it comes time to flour, and egg, and flour the pieces. He shallow-fries them in peanut oil in the skillet; I open the window and the back door (our ventilation system). We have more Calrose rice and heat frozen corn in the microwave. Fried chicken, rice, and frozen corn is a thing my husband grew up with.
Less skunky now, the dog curls up under the table as we eat. The house smells less terrible, we think, more like browned flour, and cooked oil teetering on the brink of acridness. We drink a $15 Chianti from Fattoria di Petrognano in Lucca. It has brightness, sweet potting-soil smells, and a tonic sort of woodiness. It's just the solvent we need for the vileness of skunk, which still lurks.
Monday, January 22
Breakfast is more farmer's bread, warmed (not toasted), spread with butter and apricot jam. The coffee's better; a new bag of Blue Bottle's Honduras Guaimaca Miravalle.
We start to deal with the fried-chicken leftovers. I dice carrots and cebollitas that we'd picked up at Mi Tierra. I skive the meat off the drumsticks and dice it, along with the breading, which is now limp. My husband beats up eggs with a drop of sesame oil, adds the green onions, and makes a quick flat omelette in the wok. He puts it aside, adds peanut oil, and fries leftover rice with the carrots and chopped-up omelette. It's delicious. He takes seconds; I take the rest, a portion as big as my first.
It's the eve of publication day for my book with James Syhabout, and I say we should go out to celebrate. My husband asks, "How many times can we celebrate?" He's kind of teasing; we celebrated when I signed the contract, and when James and I finished the manuscript.
We scroll our phones again. We end up at A16 in Oakland — it's quiet, only two other couples at the bar. We eat squid with deep-fried cranberry beans and lemon slices; strands of bucatini-like maccaronara pasta with Naples-style ragù, and shaved dry ricotta; and sautéed Brussels sprouts. I take a stab at ordering wine: a red from Campania that I can't exactly make out the name of in the dim of the place. It's delicious, supple and acidic enough to keep us from getting sleepy. We don't usually come here. My husband says, "Why don't we come here more often?" The check's right around a hundred bucks, which is fine for what we ate and drank, but it sort of answers his question. Anyway, we've got more leftover fried chicken at home.