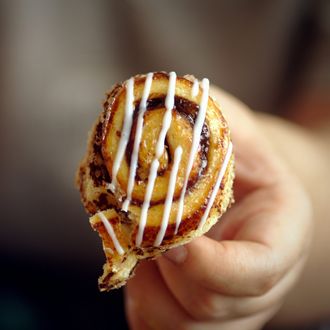 "Just skip the goddamn recipe," she concludes.
Photo: Luis Fernando Gramajo/Getty Images/EyeEm
Everybody who read Mario Batali's "I'm sorry" cinnamon-roll recipe thought it was untimely and gross, but no one captured why quite as devastatingly as Everywhereist blogger and baker Geraldine DeRuiter. She got nearly a million clicks for her "I Made the Pizza Cinnamon Rolls From Mario Batali's Sexual Misconduct Apology Letter," a step-by-step examination of the chef's absurdist pizza-dough pastries. (Her dough was from scratch, however, "because I'm a woman, and for us there are no fucking shortcuts.") Proving no good deed goes unpunished, on Sunday morning hackers took over her Twitter account.
She'd spent the past week tweeting the not-very-nice responses that commenters (let's be honest: men) were leaving on her site — pretty vicious stuff like that she's a "hateful, glass-half-empty, no this wasn't good writing, ungrateful bitch."
On Sunday, the payback escalated when hackers got into DeRuiter's account. They changed her pinned tweet — to one that used the N-word and said "HackeD By 3rr0r404 #reef." She got Twitter to make the account private, but also spent the better part of two days locked out of it. She tells Seattle's alt-weekly the Stranger that customer service has been maddening because Twitter's system seems like it "cannot handle actual human interactions." They told her she had to email them from the address associated with the account — but hackers had of course changed that, too. "I haven't talked to a single human," DeRuiter complained yesterday. "Basically all my technology is making me very paranoid right now, so I've spent the last two days changing all my passwords. And my husband is telling me it looks like it was a targeted attack." Her husband runs the software company Moz, and apparently feels the attack was the work of a bot.
Good news is Twitter finally restored her account late yesterday, and she's already back to tweeting: