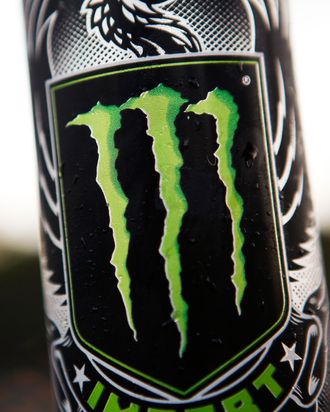 The stories reportedly paint a "detailed and disturbing picture."
Photo: Patrick T. Fallon/Bloomberg via Getty Images
The energy-drink industry is getting its first taste of #MeToo: Monster, whose shtick never seemed particularly female-friendly, has been accused by former employees of allowing male bosses to discriminate against and even abuse women, sometimes violently. HuffPost says five women have filed lawsuits alleging that Monster's workplace is filled with bullying, humiliation, and sexual harassment, and a sixth has come forward with separate claims of mistreatment. Worse still, according to them, they were forced out of the company, but "egregious behavior" by Monster's executives has so far gone "without consequence."
HuffPost says their lawsuits and stories "paint a detailed and disturbing picture of what systemic sex discrimination does to women's lives and careers." Three of them accuse Monster's vice-president John Kenneally of bullying and harassing them. In texts, he reportedly called one a "bitch" and a "whore," and made racially charged remarks about black male genitalia. Another says Kenneally pursued a sexual relationship with her, then torpedoed her career once things went sour. She calls him abusive and so jealous that he'd break into her phone or email account to read her messages. As it turns out, music marketing head Brent Hamilton is also currently facing a criminal trial for allegedly strangling his girlfriend during a 2016 business trip.
Monster has long been marketed in a way that preys on male insecurity. (Having one helps dudes "Unleash the Beast," and they can sign up for a weekly newsletter to "discover" the Monster Energy Girls.) Its executives are all men, and just one of the board of directors' members is female: Coca-Cola's CFO Kathy Waller.
One of the women, a beverage-industry vet, says casual sexism was nothing new, but the hostility at Monster "was on a whole new level." She says she was paid less than male colleagues, not offered stock options like they were, and called things like a "poor excuse for an employee" in front of peers. Many of the women claim they eventually suffered from anxiety or depression.
Monster tells HuffPost that all the cases were filed by "disgruntled employees." These women have "band[ed] together to litigate their cases in the media" and suck money from the company, Monster reps say, adding that the suits "are diverse, unrelated, and do not remotely suggest a systemic environment of harassment or discrimination."
However, it appears Kenneally was put on leave last week, after HuffPost reached out to Monster. The company says this decision is totally "unrelated" to the site's story, but can't elaborate any more due to "privacy concerns."