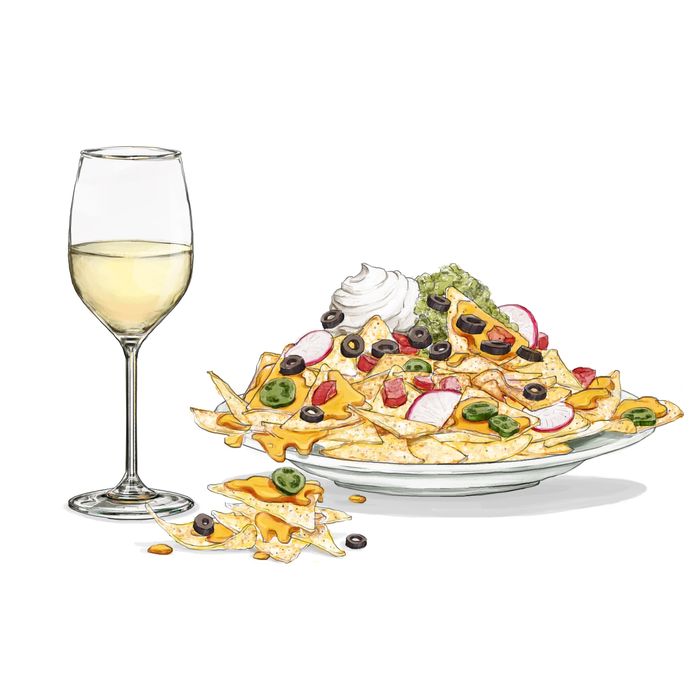 You're going to need some Chardonnay for this.
Illustration: The Ellaphant In The Room
Super Bowl Sunday is divisive. Are you rooting for the Eagles, or for the Patriots to win yet again? Are you more interested in the game, Justin Timberlake's halftime concert, or the ads? Do you even care about football? In fact, there is really only one aspect of Super Bowl Sunday upon which all Americans can agree: You must eat nachos because they are among the best food ever invented by man. Unfortunately, this also presents something of an existential drinking crisis for wine lovers (like me), since beer is usually the go-to Super Bowl drink. I, however, plan to reach for a glass of good old-fashioned California Chardonnay.
Think of California Chardonnay as the Ace of Base of the wine world: big in the '90s, largely ignored now, but when you encounter it, it's possibly even better than you remember. ("The Sign" is still great, by the way.) In reality, California Chardonnay was one of the first wines to prove America's wine-making prowess, but by the mid-'90s, producers had adopted a heavy, buttery, super-oaked style. It rode that fashion for a while, but many wine drinkers moved on to other, more interesting things. The thing is that many California Chardonnays today are much more balanced, opting for a profile that's brighter and fruitier.
These lighter styles, however, also tend to maintain the higher alcohol content that is another hallmark of Cali Chard. In the same way that acidity can help amplify foods' flavors and textures, so can alcohol. So, when it's mixed with the fatty, cheese-and guacamole-covered chips, the wine amps up the entire umami experience. Additionally, Chardonnay's natural salinity is a perfect match for the chips, and a process called malolactic fermentation — which makes the wine seem … creamier — means it's a perfect match for cheese and sour cream. The wine will also have enough tannic grip and subtle spice to hold its own against any pork or beef you add to your 'chos.
Luckily, some really good bottles are also shockingly affordable. Grab one of these and enjoy:
Benziger Chardonnay ($15)
This is the best California Chardonnay you'll find for less than $20, from a pioneer of biodynamic farming in Sonoma.
Au Bon Climat "Los Alamos" Chardonnay ($30)
This wine is an American classic, from Jim Clendenen, a winemaker who's long been adored by the industry.
Chateau Montelena Chardonnay ($60)
This bottle may be too pricey for the Super Bowl, but it's got serious pedigree: It comes from a Napa Valley winery that beat French winemakers in the famed Judgment of Paris in 1976, helping establish the seriousness of California's wine making.