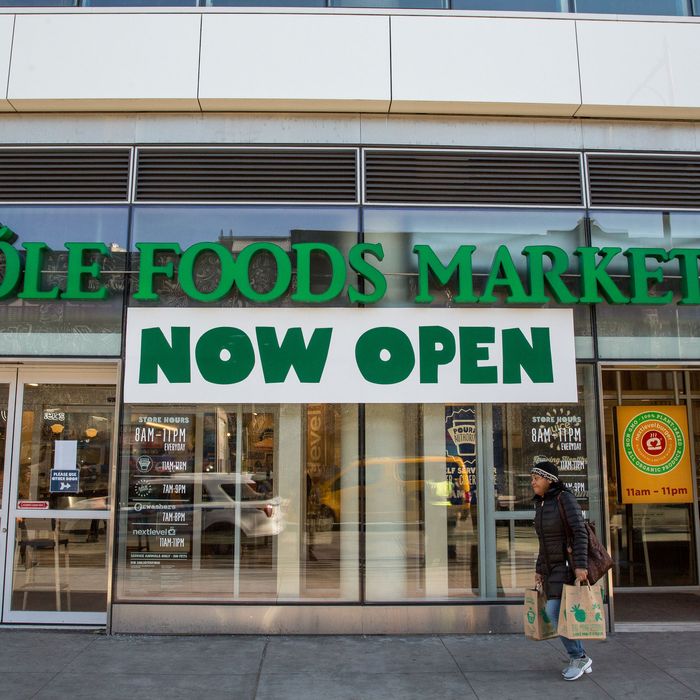 It sure is.
Photo: Scott Heins
At 8:48 this morning, it was 17 degrees in Brooklyn. People were hurrying to the subway to get to work, and generally doing what they could to stay warm. Most people, anyway. On a stretch of Flatbush Avenue that reaches from BAM to the LIRR station, a line of people extended down the block, shivering, but overall pretty happy. The occasion: They were waiting to be the first customers to try a new grocery store, scheduled to open at 9 a.m.
Granted, it is not just any grocery store. It is the first location of Whole Foods' more budget-friendly 365 stores in New York, and on the entire East Coast. The anticipation was palpable. Kristen Perez, who lives in Canarsie, had been standing outside since 5:30 a.m. "I guess you could say I'm a professional at this," she said. She is an accomplished first-in-liner, leading so many queues that, she says, she's lost track of them all.
There were, it's worth noting, incentives for showing up early. "My wife told me about this three days ago, that they were having a grand opening, giving out gift cards, so I figured I'd get out here early and try to win," says a man, who's been here since "about 6:05." The first 100 people get between $5 and $365 on gift cards (everyone else just gets to brag that they were among the first to survey Fort Greene's new discount avocados). "It's the best thing ever," says Jane, who is also among the self-described "Original Five," who pioneered the line. "It really is a great idea to bring it to this neighborhood."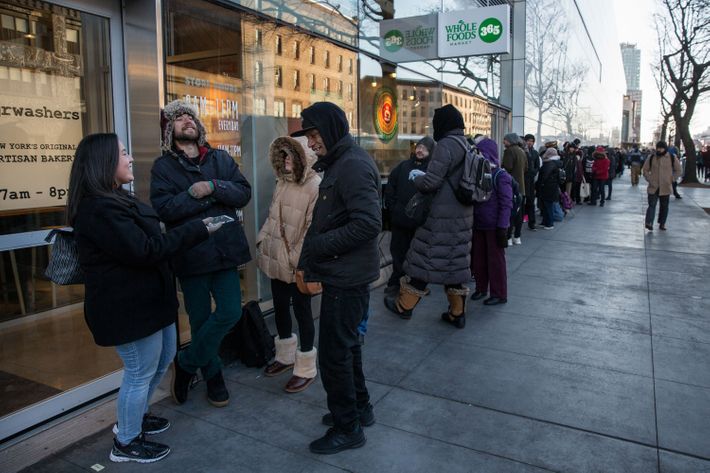 Down the line, a group of 7:30 arrivals compared gift cards. They all got $25 ("Better than nothing!"), but the feeling seemed to be less about the cash and more about the solidarity. We had just begun to discuss what everyone learned about each other while waiting — how one couple met, how one guy is from Missouri — but the conversation was suddenly cut short because at exactly 9 a.m., the store opened.
Since there are only six other Whole Foods 365 locations in existence, I will assume that you have likely never entered one on opening day. Let me tell you: It is something. Walking into the store was like finishing a marathon (I'm guessing). The staff — an endless sea of smiling faces and wide eyes — line the entrance, cheering and clapping and high-fiving, and oh my god, are they all clanging cowbells? (They are.) It is a show of naked good cheer and craven corporate greed all at once, and it is overwhelming. It also spoils me: I had never before been applauded for merely entering a grocery store, but now that I have, I don't see how I can ever go back to the way things were.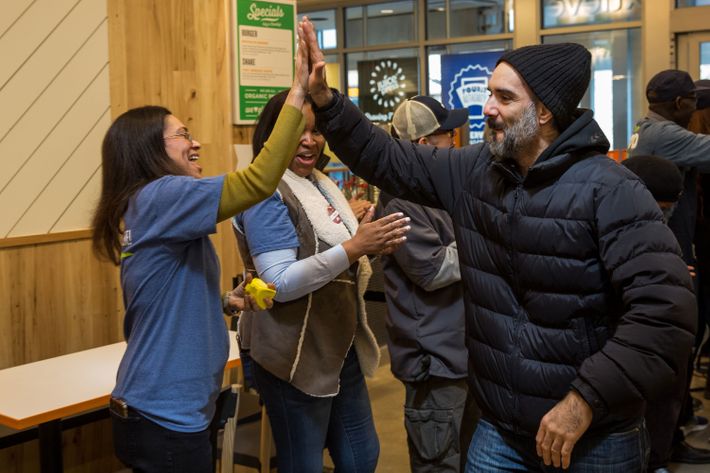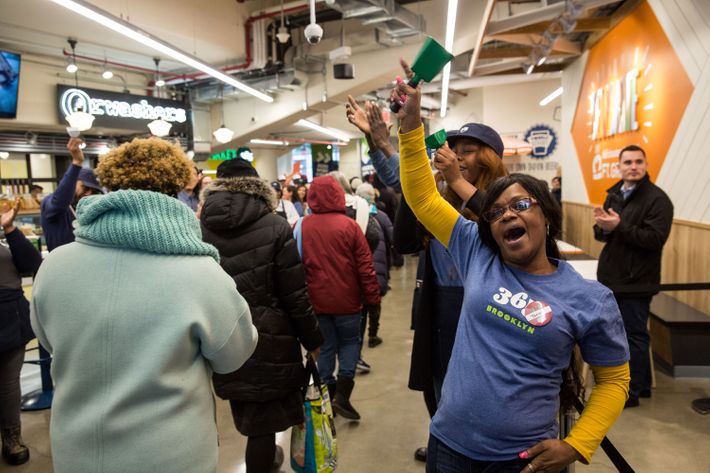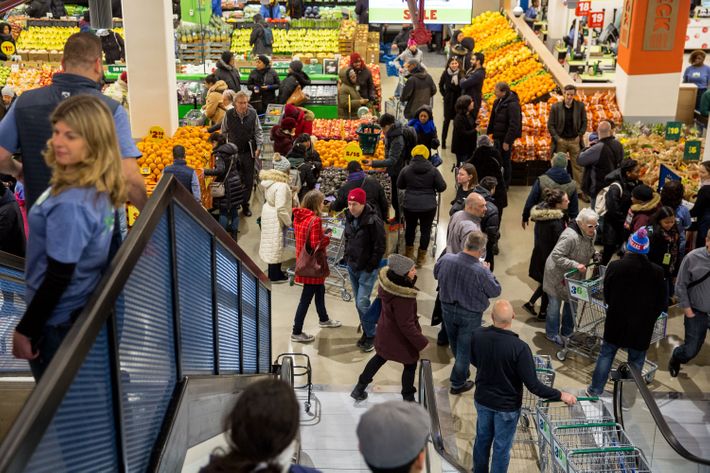 "It's absolutely amazing," says Nakia, who lives on the block. "It's incredible. Honestly, it's better than all of the Whole Foods stores in Manhattan." She likes the wider aisles, which are easy to maneuver, and the fact that, counter to expectations, they do, in fact, stock non-365 brands. She is excited about the price of salmon (currently 30 percent off). Her daughter is equally impressed. "She's walking around like she's in wonderland, and she's 4. Even a 4-year-old notices how amazing the space is."
"Aesthetically, it's more beautiful than all the other Whole Foods I've been to," a man named Ron agrees, as we mutually inspect pre-chopped cups of pineapple. Avocados — which look "pretty good," according to another customer — are five for $5. But not everyone is happy with the prices. "It's a lot more expensive than I was expecting," Ron tells me. "I thought they'd be competing with Trader Joe's."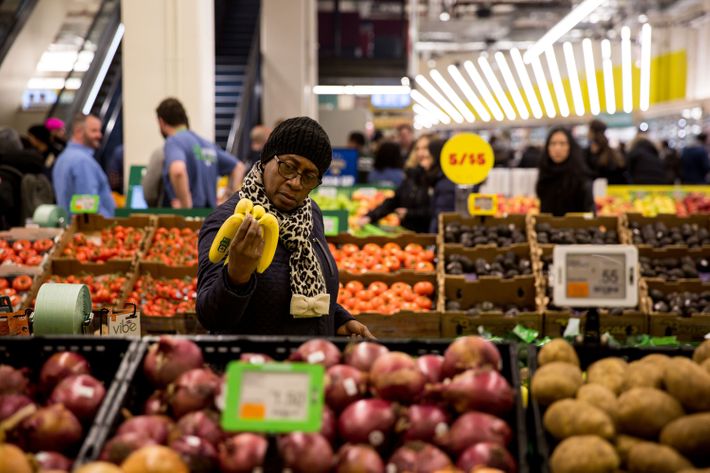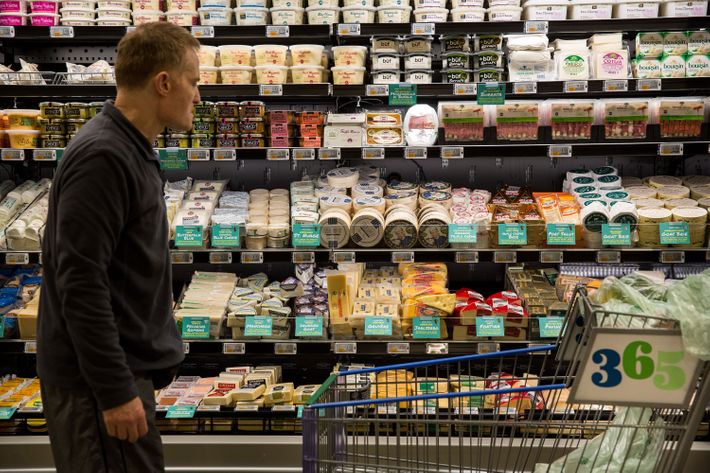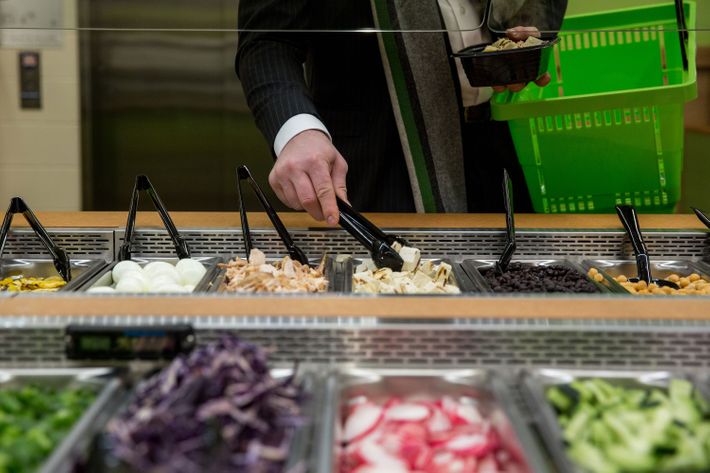 Amid the olive oils (there are 12), I meet Cindy and Valerie, who are friends, and they also make the Whole Foods versus T.J.'s comparison. Valerie loves Whole Foods; Cindy is pro–Trader Joe's. "But I wanted to see," Cindy admits, open-mindedly. "I was just going to show up and see if the prices are comparable. I'm like, 'I'm not buying anything.'" But then she, too, saw the salmon: "30 percent off at the register! That's what made me get a cart."
It isn't enough to win her over from Trader Joe's, at least for the basics, but Valerie, by her own admission, is in love. "Baby kale is on sale," she laughs. "Do you want to see it? It's actually really amazing."