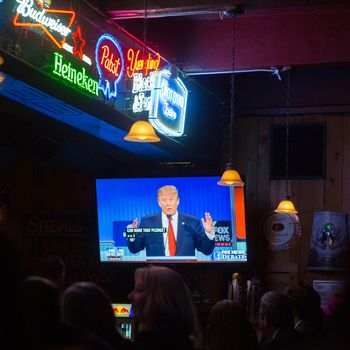 It will be a little like this.
Photo: Andrew Harrer/Bloomberg via Getty Images
Tonight marks President Trump's first State of the Union address, but for some of us — say, just maybe, the 56 percent of Americans that are not having him — it may be too much to handle by ourselves. Theoretically, you could sit home and eat three pints of Ben & Jerry's (tonight is not a night for Halo Top). But, why go it alone when there are so many other New Yorkers who will no doubt also share your feelings? Below, five spots in New York to watch the speech, all of them serving alcohol.
Fancy Nancy
The retro Brooklyn diner and cocktail bar will serve a few boozy specials to aid the speech viewing. Try an $8 flaming "Fire and Fury" cocktail with overproof rum and homemade cola, or a $7 Vladimir Poutine. The comfort food will no doubt also be welcome.
Caveat
Downtown's newest venue for thinking folks is the place to catch Dire States: A Live Podcast Recording and State of the Union Watch Party, hosted by the Brooklyn Institute for Social Research. First, they'll discuss the state of the union for a live taping, which will be followed by a livestream of our commander-in-chief's version. The event has an $8 suggested donation, and RSVP is required.
Guyer's
The laid-back UWS neighborhood spot sees your need for booze and doubles it, offering two-for-one red- and white-wine specials during the speech, which will be shown on the big screen for maximum effect (and so you can clearly see the size of Trump's hands).
Clinton Hall
All three sprawling beer-hall locations (Seaport, Fidi, and the Bronx) will offer $5 beers and shots while President Trump has the floor. Come hungry and try the Clinton Hall Challenge: a special our president would love, with a triple-patty burger with American cheese, two buns, bacon, and onion rings, served with a half-platter of fries and a pint of beer. Finish it in 25 minutes and eat for free.
NYC Political Forum Party at the Black Sheep
The NYC Political Forum enhances its nonpartisan watch party with drinking games and "political bingo" during the address, with gold, silver, and bronze medals for the winners. At the end, they're also allowing time for a rebuttal from the Democrats, or, we're guessing, anyone who may have had too much during those drinking games. So, you.