"Where should I be eating these days?!" is the question your humble critic always hears this time of year, echoing incessantly from colleagues and family members and even from dimly known acquaintances, as I stagger down the winds­wept avenues on the way to my next meal. The answer, as always in the roiling, ever-evolving cosmos of New York dining, is everywhere, including that perpetually challenged, overpriced region known as midtown, which lately has undergone a renaissance, replete with freshly renovated seafood palaces, futuristic cocktail bars, and even a new upscale destination taco joint. Elsewhere around town, venerable dining establishments are receiving all sorts of wild and modish makeovers, breakfast has suddenly become the new "It" meal among even the most ambitious superstar chefs, and inspired little establishments serving specialties from far-off places like Tel Aviv, Hanoi, and even Yunnan, China, have been popping up at a dizzying clip. In the city's ever-expanding beefsteak circles, this has been another bumper year for burgers, Korean barbecue, and that timeless fat-cat delicacy thick-cut prime rib, and in the realm of drinks and spirits, New York's barkeeps, bless their souls, keep coming up with ever-more-ingenious ways to get seriously blotto in the alarming Age of Donald Trump.
Where does one obtain the finest selection of Middle Eastern dumplings in the Greater New York City dining universe, or a New Age version of that Victorian breakfast specialty kedgeree? Is it actually possible, in this increasingly stratified dining era, to get your monthly sushi fix for a reasonable price? We endeavor to answer these ageless questions for you, too, along with many, many more, including where to experience the finest example of "flame forward" cooking, which is suddenly all the rage in certain adventurous kitchens out in Brooklyn, and where to go in Flushing, or down in Chinatown, for the perfect platter of kung pao chicken, or Peking duck. In accordance with what has now become settled New Year's custom, we've also compiled the usual collection of random, highly subjective listicles laying out our favorite new restaurants of the past year and all of the foibles and trends in this mannered, reliably snooty, fashion-conscious world that are driving your increasingly dyspeptic critic slowly insane. And while we're at it, let's say a quiet prayer as we mercifully close the books on one eventful, star-crossed dining year and open the first pages of 2018, for the end of boorish behavior in kitchens and dining rooms everywhere and the beginnings of a kinder, more equitable, more truly hospitable restaurant era.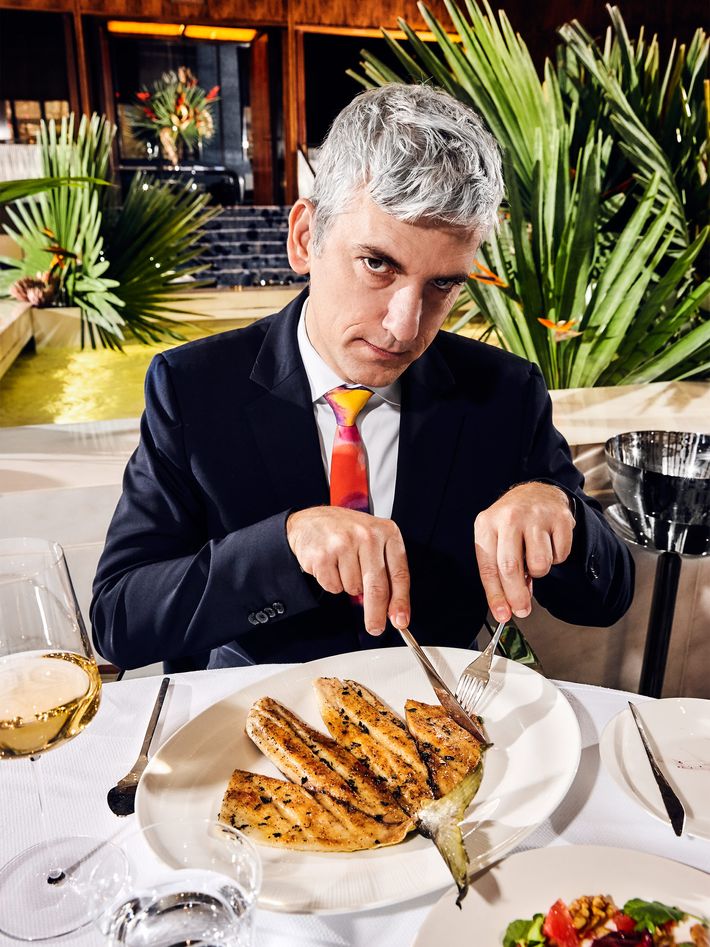 1. Midtown Renaissance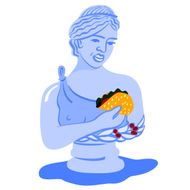 Some of us remember the days — say, ten or 12 months ago — when midtown Manhattan was a no-go zone on the great gourmet heat map of the city, a forbidding region clogged with tourist chain restaurants, moldering expense-account steak joints, and the usual lunchtime jumble of salad bars and heavily trafficked halal trucks. But thanks to a sudden influx of high-profile downtown chefs (and prodigious amounts of local capital), this previously challenged dining neighborhood has morphed overnight into a multi-star destination filled with a variety of interesting, if predictably pricey, places to eat. Exhibit A in this unexpected little boomlet is Alex Stupak's posh new taco emporium Empellón on East 53rd Street, where the bar was jammed, the last time I dropped in, with crowds of local burghers dressed in sensible business attire, snacking on nachos dressed with pats of gourmet sea urchin and fresh crab while merrily knocking back frosty after-work margaritas touched with apricot nectar and saffron-infused tequila cocktails. There's an excellent version of that old midtown favorite steak tartare on the menu, served under a layer of melted queso, and a delicious confit of short rib chopped into little cubes and tossed with a tangy picadillo garnish. Be sure to enhance your feast with bowls of fresh guacamole (it's served with seven different kinds of salsa) and to save room for Stupak's desserts, which include the former award-winning pastry chef's famous, uncannily accurate avocado parfait, one of the year's few made-for-Instagram creations that actually live up to the hype.
Similarly enticing creations are on display high over Columbus Circle in the sky lobby of the Mandarin Oriental hotel, where Grant Achatz and his itinerant troupe of herbalogists, "drink-makers," and madcap cooks have opened the New York branch of his famous Chicago bar The Aviary. Yes, the lobby setting feels a little impersonal, and if you're familiar with the famous chef's experiments back in Chicago, purchasing one of the many booking options on the restaurant website might feel a little like buying tickets to the performance of a traveling production of Cats, say, or a long-running Vegas magic show. But for grizzled, no-nonsense New Yorkers who're used to taking their ritual martinis straight up, and who've endured enough comfort-food manias over the past decade or so to last a lifetime, there's a certain pleasurable release in sitting back and enjoying, at least for one boozy evening, Achatz's carefully staged culinary creations, which include pork rinds as big as palm fronds, weirdly reimagined gin-and-tonics that look like the green contents of lava lamps, and painstakingly deconstructed Bloody Marys, which are reassembled tableside, like a magic trick.
If you can afford the extravagant prices, an antic sense of occasion pervades the diverse, cruise-ship-style portfolio of restaurants that the ever-expanding Major Food Group empire, and its various fat-cat investors, have opened on the ground floor of the Seagram Building on Park Avenue. I'm not sure midtown Manhattan really needs a Japanese-themed surf-and-turf establishment, but if you have a few hundred dollars to drop on giant "to share" platters of tomahawk rib-eye chops rubbed with cumin and Sichuan pepper, along with a whole array of sushi and fusion treats dreamed up by the decorated downtown sushi master Tasuku Murakami, then I suggest you join the revelers below decks at The Lobster Club, which used to be called Brasserie but has been redone in swank, tastefully glowing fashion by the architect Peter Marino, with coral-colored, Jetsons-like café chairs and roomy, slightly raised leather banquettes covered in shades of nautical light green. The original pool upstairs in the former Four Seasons Pool Room remains intact, although the new proprietors have hung a slowly spinning Calder mobile above it and turned the famous cathedral space into a high-end seafood concept called The Pool, complete with acres of blue carpet on the floor, a selection of cocktails, and a million-dollar collection of that favorite hedge-fund libation of yesteryear Château d'Yquem. Rich Torrisi's diligent, connect-the-dots seafood has its admirable qualities (the oysters, the uni toast, the Meyer-lemon meringue for dessert), but if it's real fin de siècle fireworks you're after, head across the hall to The Grill, where his chef-partner, Mario Carbone, has hijacked Philip Johnson's famous old Grill Room and turned it into a kind of raucous homage to the dining specialties of Gilded Age, robber-baron New York. With its booming, exuberant soundtrack and multitudes of tuxedo-wearing wait staff perambulating trolleys filled with haunches of prime rib and great flaming desserts, the mid-century-modern space can resemble a fever dream straight out of the show Billions during the crowded dinnertime service. So go at lunch, when the decibel level drops to a civilized murmur, and it's a pleasure, especially if someone else is paying, to graze on postmillennial spins on old American classics like cool, gold-rimmed bowls of vichyssoise dressed with spoonfuls of caviar, generous crab cakes made with flattened wafers of golden crisped potato and chunks of real blue crab, and slices of the fine grasshopper Charlotte for dessert, which combines the minty, chocolaty qualities of grasshopper pie with a delicate Continental wisp of sophistication and disappears to nothing on the tip of your tongue.
2. Beefeater-palooza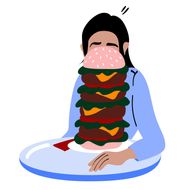 Food enthusiasms come and go in this fickle town, but lately your overfed critic has noticed an uptick in that most durable big-city dining trend of all: the untrammeled consumption of messy cheeseburgers, rib platters, and great haunches of beef. Our favorite new lunchtime burger is the ingenious Gorgonzola, anchovy, and radicchio-topped umami bomb that Ignacio Mattos and his team of cooks serve at their ever-improving West Soho establishment Café Altro Paradiso. If you find yourself marooned down on the Lower East Side and feel the need for a chef'd-up version of the classic American burger with frizzled onions and Russian-dressing-style "secret sauce," all squeezed between a toasty sesame-seed bun, you could do worse than the one Jean-Georges Vongerichten serves at his star-crossed operation Public Kitchen, off the lobby of Ian Schrager's strange new L.A.-style hotel on Chrystie Street. The sturdy, tomato-confit-topped Piedmontese burger is one of the better things I tasted on a recent visit to the noted vegetable-forward chef John Fraser's new, decidedly non-vegetarian Bleecker Street brasserie, The Loyal, where the menu includes numerous beefy, non-vegan cuts, the best of which is a thick bone-in rib eye that the kitchen piles, in classic trencherman style, with baked mushroom caps. For the ultimate in burger pleasure, however, this year's blue ribbon goes to the fabled double-decker monster that the red-meat aficionados of Chicago's Hogsalt restaurant group are serving up in their tiny, lavishly appointed new West Village outpost, 4 Charles Prime Rib. Sure, the narrow, streetcar-size faux-speakeasy space is impossible to get into, and once inside, you'll find the brown leather banquettes filled largely with leather-lunged Wall Street hucksters of the most insufferable kind. But if you're a discerning burger snob, it's worth the hassle to get a taste of this perfectly weighted creation, which is constructed, like its fabled Au Cheval sibling back in Chicago, with two four-ounce patties of prime beef and a classic topping of pickles, onions, and Kraft-like American cheese, all squeezed between a shiny-topped brioche bun.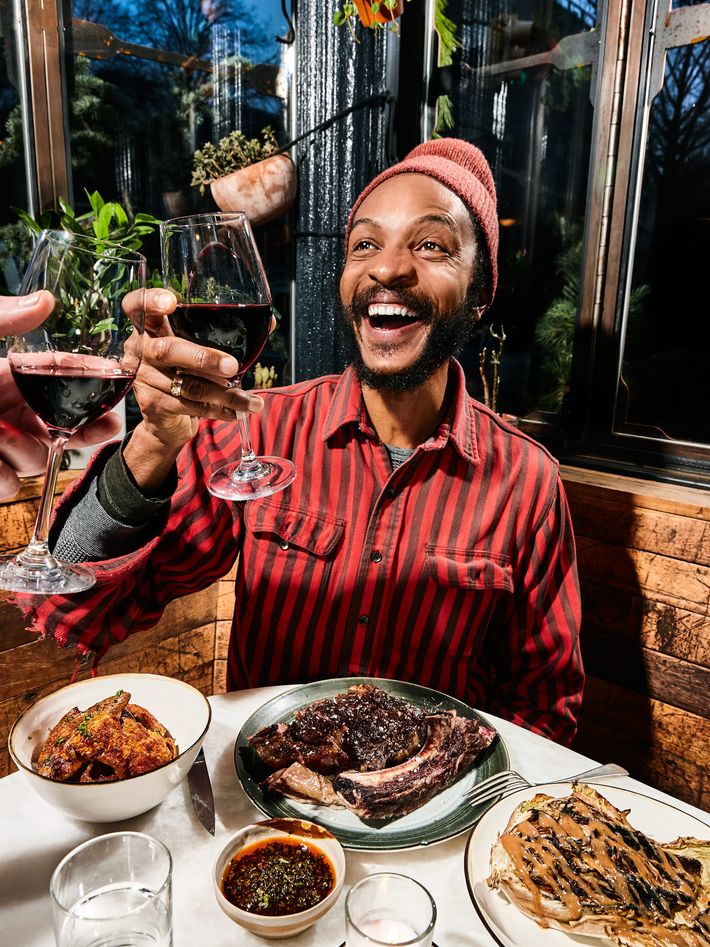 As the name indicates, 4 Charles also serves several tender, properly thick, gently bleeding cuts of prime rib (if you have room after the burger, order the trimmer Chicago Cut with a side of horseradish cream), although our favorite edition of this suddenly trendy ye olde chop of beef is the beautifully aged, two-pound monster that Angie Mar roasts and serves on Sundays only, with cherry Bordelaise sauce and all the trimmings, for the crowds of downtown swells who've been filling the tables lately at her beef-centric reimagining of that old West Village standby The Beatrice Inn. The best new rib chop in midtown is the spit-roasted beauty Mario Carbone and his army of well-trained meat cooks serve out of their shiny, state-of-the-art "Prime Rib Trolley" at the aforementioned Grill on Park Avenue, although if a slightly more rusticated rib-eye cut is your particular thing, then I suggest you hop a train to Norberto Piattoni's popular new restaurant Metta, which opened last spring on a leafy corner of Fort Greene. Piattoni is a disciple of the famous Argentine asado barbecue master Francis Mallmann, and he turns out all manner of "flame forward" specialties on his Rube Goldberg network of wood and charcoal grills in the back, including bowls of shredded "crispy" lamb and a beautifully charred market-special rib eye. If it's on the menu, order that steak, which you can wash down with what's undoubtedly the most sophisticated selection of magnums and jeroboams of venerable French wines in the entire neighborhood.
If spicy sausage is your particular addiction, the best version I tasted during the course of my gastronomic travels this year is the housemade merguez that the talented White Gold Butchers alum Christina Lecki has been serving over a toasted sourdough flatbread at Andrew Tarlow's Williamsburg dining destination Reynard, in the Wythe Hotel, although for the ultimate in all-around meat-eating pleasure, Mrs. Platt suggests you reserve one of the large banquettes in the back of her favorite restaurant of the year, Cote, which has been mobbed by members of the city's haute-Korean-barbecue community ever since it opened its doors several months back in a boxy, utilitarian space on 22nd Street in the Flatiron District. After toiling for years in the rarefied, increasingly challenged, white-tablecloth-restaurant world, the proprietor, Simon Kim, had the ingenious idea of combining the quality of prime corn-fed American beef with the traditional communal comforts of classic, high-end Korean barbecue, and the result is that rare fusion experiment that manages to feel entirely new, complete with a daiquiri riff made with soju instead of rum (the excellent Seoul-Side), sizzling cuts of prime-cut Miyazaki beef and 45-day-aged rib eye on the grill, and home-style favorites like marinated galbi, generously sized bowls of dolsot bibimbap, and a delicately fluffy example of the Korean egg soufflé called gyeran-jjim, which is better than anything you'll find in the old-warhorse establishments along 32nd Street.
3. Revivals and Second Acts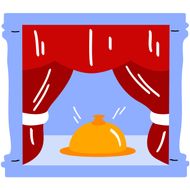 In the hothouse, high-pressure, ever-theatrical world of New York dining, chefs and restaurateurs are in a constant state of reinvention, but with tastes changing (and leases expiring) at lightning speed, 2017 was a bumper year for new venues, second acts, and grandly staged restaurant revivals. Down in Danny Meyer's famous culinary Yoknapatawpha County around Union Square, bereft regulars of the original flagship establishment on 16th Street have been eagerly jostling for tables at the larger, spiffier, slightly more impersonal version of Union Square Cafe that the maestro and his ever-growing team of hospitality experts opened in the great, double-height former City Crab space on lower Park Avenue. Revivals are a tricky business in restaurant land, where star chefs come and go, and it's difficult to re-create that certain organic sense of intimacy that makes a long-running hit special in the first place. But as I've written before, Meyer and his team do a deft job of sprinkling some of the old magic fairy dust around this barn-size production especially behind the scenes, in the kitchen, where the chef, Carmen Quagliata, manages to preserve the sensibility of the original menu while reworking it in a variety of inventive, updated ways. Many of the familiar old favorites, like the pastas and the fried calamari, have been enlivened with an extra ingredient or two, a first-ever Union Square Cafe house baker is now on staff to supply a steady stream of warm, fresh goodies to the new, much larger, more populist crowd of regulars, and when I bellied up to the bar not long ago and called for my usual lunchtime tuna burger, I was shocked to find that, thanks to a few subtle improvements — the bun is fresh baked, the yellowfin is now molded together in strips, instead of ground — it was actually better than the fabled original.
On the evening I visited Majorelle — the former La Grenouille front-of-the-house man Charles Masson's predictably baroque, very pricey Upper East Side homage to old-fashioned haute-French cooking — Alec Baldwin himself was wandering among the tables of elderly gentlemen and bejeweled ladies from the neighborhood, dressed in a very presidential-looking dark-blue suit. It wasn't clear if the great man stayed for dinner, but there was nothing technically wrong with my slightly miserly serving of "oxtail braisé au vin de Bourgogne," or the well-turned baba au rhum dessert, which the kitchen decorates with racy slices of kumquat. If you're in the mood for a more au courant, farm-to-table bistro feast and don't feel like spending $110 or thereabouts on three courses of food, I suggest you hop a cab down to the snug little pub-style dining room at the oddly named Ferris, in Nomad, where the talented former chef at Le Turtle, Greg Proechel, serves up crumbles of boudin noir scattered with grilled dates and toasted kernels of rice, boozy spoonfuls of chicken-liver mousse designed to be scooped up with light curls of pork crackling, and a royally plated 60-day aged côte de boeuf, dressed in grand locavore style with housemade black-garlic jam and with a weirdly delicious bowl of whipped buttermilk sweetened with cippolini onions on the side. If you wish to relive that magical time long, long ago when you tasted your first crispy scallion pancake or that first miraculous bite of sesame noodles, there's no better venue than the sprawling new three-floor Chinatown establishment Hwa Yuan, down on East Broadway, where the family of the great sesame-noodle pioneer Shorty Tang is reviving deliciously faithful versions of all sorts of durable favorites from the city's Chinese-food past, like tasty helpings of fat, sticky baby-back ribs sweetened with honey; crunchy little stacks of crispy orange beef flavored with bits of orange peel; and a first-rate example of the most magical Chinese dish of all, Peking duck, cooked to order in a giant, state-of-the-art silver oven imported directly from the home country.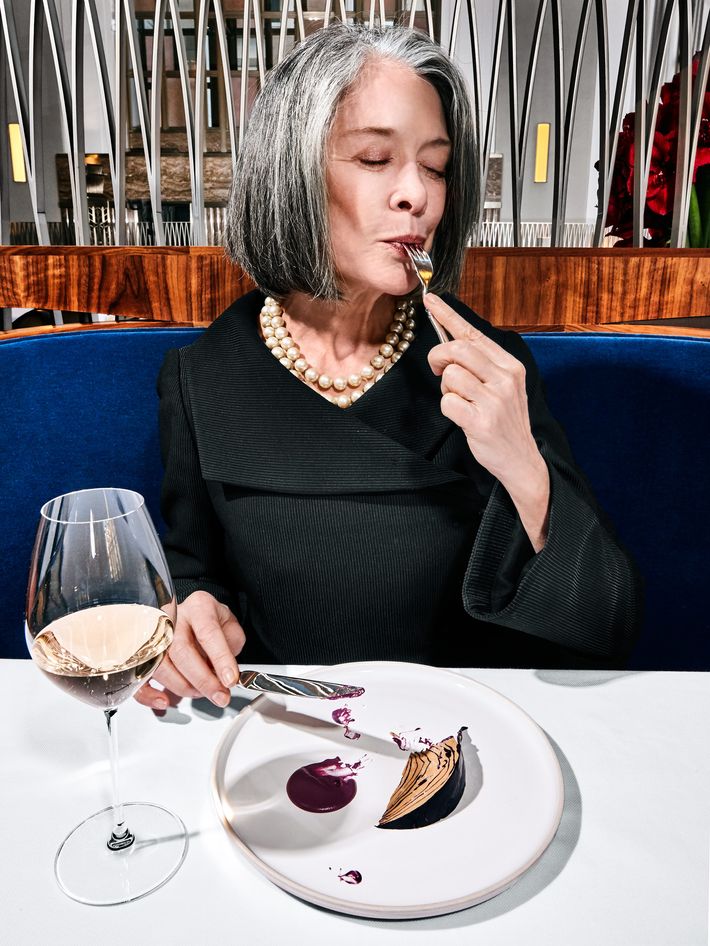 If you're a fan of the kind of elaborate, early-aughts brand of gourmet Italian cuisine popularized by the talented neo-rustico chef Scott Conant, I suggest you pay a visit to his pricey but polished new comeback establishment, Fusco, on East 20th Street, and if you want to glimpse David Chang's particular vision of what a forward-thinking Italian restaurant might be, you'll find it at his clean, surprisingly posh makeover of Momofuku Nishi, on lower Eighth Avenue, where the highlights of our recent pasta feast included generous tangles of noodles folded with the silky, Changian chickpea creation called hozon (in the ceci e pepe) and flakes of chile and spoonfuls of uni (the spaghetti alla chitarra), which we mopped up with chunks of fresh-baked sourdough focaccia from the kitchen. In other breathless restaurant-makeover news, Jean-Georges Vongerichten has finally pulled back the curtain on the rebooted, postmillennial version of his first, seminal New York restaurant, JoJo, on East 64th Street, where the old Continental bric-a-brac has been cleared out of the pocket-size townhouse dining room in favor of clean white walls and tidy rows of modish café tables, and the duck breast on the retooled, farm-forward menu is sweetened by honey-glazed pumpkin instead of the usual thick gouts of sauce à l'orange. In case you haven't heard, the restless brain trust that runs the world's (and therefore the city's) official No. 1 restaurant, Eleven Madison Park, has instituted similar, if slightly less radical, changes to its famously cavernous dining room, which after several months of renovation looks sleeker but also a bit more generic than it did before. When I crept in not long ago for a preliminary taste of the new menu and a stiff drink, I was a little sad to see that the woodsy, slightly idiosyncratic bar area had been replaced by the kind of sleek, gray-toned furniture you usually find in the lobby bars of grand, recently constructed international hotels, although there was nothing wrong at all with the stately procession of snacks we tasted from Daniel Humm's minimalist, crisply edited new menu, which included tiny canisters of foie gras spread with the faintest scrim of caramel, curls of peach-colored lobster tail plated with chanterelle mushrooms and a half-moon of perfectly constructed potato tart, and a fiendishly delicious wintertime cheese-course creation that combines the warming pleasures of stodgy bread pudding, classically light cheese soufflé, and a faintly boozy, New Age beer fondue in a single bite.
4. Breakfast Fever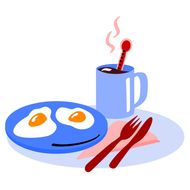 Not so very long ago, breakfast was an afterthought in the city's never-ending merry-go-round of food obsessions, but these days, the opposite appears to be true. Having busied themselves for years desperately perfecting burgers, fried chicken, and all manner of other wildly popular comfort foods, talented big-name chefs all over town are turning their attentions to every aspect of the morning-meal experience, from egg sandwiches to high-angle designer doughnuts to that great line-cook staple the all-day diner breakfast. New York's resident culinary genius and noted short-order breakfast freak Wylie Dufresne has been experimenting with "science-driven" doughnut flavors at his new Williamsburg venture, Du's Donuts and Coffee, although the innovation I can't stop thinking about is the tidy, weirdly addictive scrambled-egg sandwich, which the master infuses with bits of bacon and two kinds of cheese and griddles to a melting, buttery crisp on both sides. For an equally satisfying if slightly more conventional interpretation of this suddenly chic breakfast classic, my breakfast-loving daughter, Penelope, suggests you run, don't walk, to Danny Meyer's fast-casual Daily Provisions, next door to the new Union Square Cafe, where the excellent egg sandwiches are constructed with fat strips of Berkshire bacon or round breakfast sausages in the classic lumberjack style, or, if you're in a healthier frame of mind, deposits of egg whites dressed with spinach, avocado, and spoonfuls of tangy-sweet tomato jam. For a more dainty, Parisian-style omelet, my Francophile daughter, Jane, prefers to visit the latest addition to Gabriel Stulman's durable West Village dining empire, Fairfax, on West 4th Street, where breakfast begins every morning at eight in the comfortable little potted-plant-filled room and runs on weekends until three in the afternoon. The slim, perfectly textured house omelet is creamy yellow and sprinkled with clippings of baby chives, and if it doesn't fill you up, you can always do what Dad does and call for a side of bacon and the soft-boiled eggs, which are brought to the table in a little teacup with a neatly cut slab of toast soldiers spread with butter and a thin crust of baked Parmesan.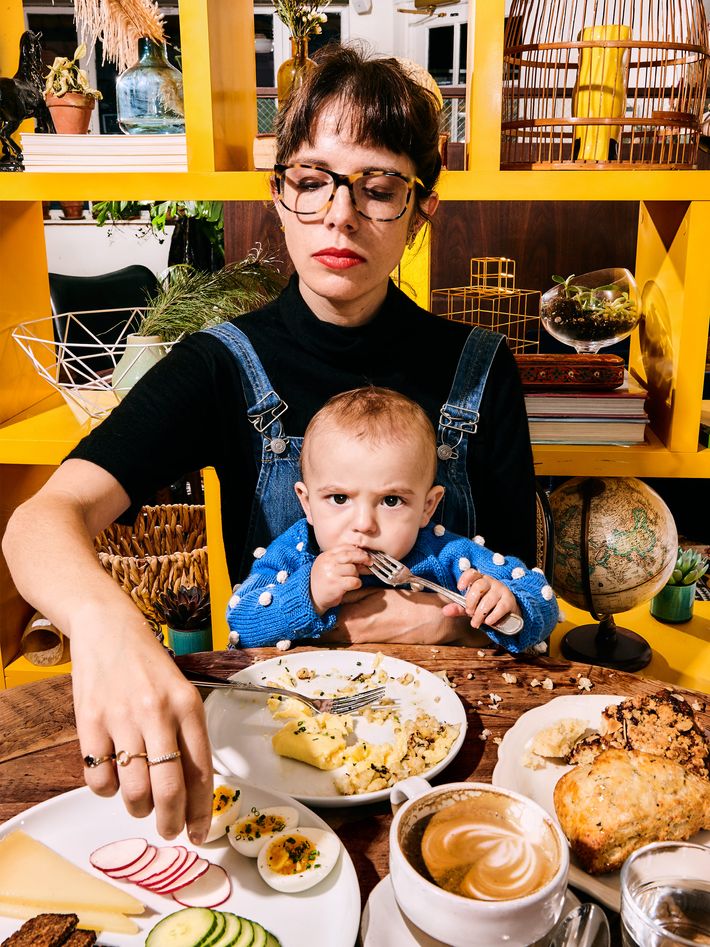 I'm not normally a member of the breakfast pancake club, but the lightly fluffy flapjacks served during the weekend daylight hours at the excellent bistro Chez Ma Tante are worth a special pilgrimage out to the wilds of Greenpoint, and so are the other artfully rendered afternoon snacks, like wedges of tortilla española plated with scoops of stiff, garlicky aïoli; generous helpings of boozy chicken-liver pâté buttressed with country toast; and an admirable, postmodern version of that old Victorian breakfast dish kedgeree, which the kitchen makes with flakes of cod and soft-boiled eggs, all tossed together with plenty of greenery in a bowl of faintly curried jasmine rice. Closer to home, the Platt family's favorite new venue for a proper weekend brunch feed is former ABC Kitchen chef Dan Kluger's solo venture, Loring Place, on 8th Street in Greenwich Village, where we like to dine on frittatas piled with crispy fried oysters, great hubcap-size stacks of Cheddar-laced waffles garnished with smoked ham, and wheels of Kluger's signature whole-wheat pizza topped with sweet dates and squares of sizzling bacon set in pools of melted mozzarella. Similar gut-busting pleasures are available every day until four in the afternoon at John DeLucie's spiffed-up remake of the famous Empire Diner on Tenth Avenue in Chelsea, where I repaired with a grizzled fresser of my acquaintance, not long ago, to graze on a light noonday snack of soft scrambled eggs folded in the cacio e pepe style with Parmesan, black pepper, and bits of speck; several pieces of weirdly excellent fried chicken encrusted in crushed sourdough pretzels; and a bite or two of the egg sandwich, composed of sausages, a fresh buttermilk biscuit the size of a small grapefruit, and a whole fried egg.
Enrique Olvera's wildly popular new restaurant Atla serves a similarly sturdy selection of casual, diner-style Mexican cooking around the clock, but my favorite time to visit the clean, tastefully designed little room on Lafayette Street is in the morning, before the adoring crowds arrive, when sunlight streams through the tall windows, the room smells of freshly brewed coffee, and it's possible to enjoy those great totems of the Mexican breakfast experience — huevos rancheros with steamy tortillas on the side, the superb scrambled eggs "a la Mexicana" — in relative peace. For the ultimate in high-minded, New Age breakfast bliss, however, there's no more eclectic morning menu in town these days than the one Jean-Georges Vongerichten and his team of juicers, protein-shake technicians, and vegan cooks have put together at the new vegetable-only establishment abcV, which opened last summer among the clutch of other JGV-branded restaurants on the ground floor of the ABC Carpet & Home department store. You won't find a more artful selection of eggs to go with your hemp-chia shake anywhere in this breakfast-saturated town (try them poached, with mushrooms, or folded, over easy, in giant South Indian dosas), and Jean-Georges's farm-to-table, veggie-only take on that rice-porridge Cantonese breakfast staple congee is one even a bilious, meat-loving restaurant critic can love.
5. Capital of the World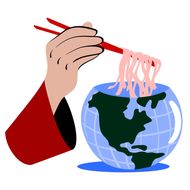 Maybe the whispers we keep hearing are true: that, thanks to all sorts of insidious forces (high rents; ridiculous top-50 restaurant lists; the relentless, leveling democracy of the internet), New York really is no longer the dining capital of the Free World. During the course of our bleary gastronomic wanderings, however, we couldn't help noticing that, in quality, variety, and quantity, this has been a bumper year for new restaurants specializing in delicious food from across the globe. Or so I thought to myself, not long ago, as I slurped down the layered, two-fisted version of that great Vietnamese street classic pho, which the talented young chef John Nguyen serves up every evening at his excellent new restaurant, Hanoi House, in the East Village. The stock for the chef's famous beef soup is simmered for hours using a veritable butcher's bag of ingredients (neck bones, shin bones, oxtail), and the green-papaya salad served here happens to be actually green (it's topped with ribbons of fried pig's ear for an extra umami crunch), but be sure to save room for the festive Southeast Asian sundae-style dessert called chè, which is supplemented, in big-city style, with scoops of tropical–flavored gelato (call for mango, if they have it) instead of the usual crushed ice.
If you want a taste of cutting-edge Israeli cooking without hopping a flight to Tel Aviv, you could do an awful lot worse than Meir Adoni's bustling new Flatiron establishment Nur, where the young Israeli chef turns out a whole cavalcade of flamboyant Middle Eastern recipes, like foie gras parfaits designed to be spread over challah toast with rosewater gelée; and a beefy, hand-cut "Palestinian Tartare" mixed not with capers and egg yolk but smoked eggplant, sheep's yogurt, and a radical dash of raw tahini. Some of these experiments work better than others, but nothing on the menu is boring, and if rosewater gelée isn't your thing, it's possible to make a fine dinner out of the exotic breads alone, especially the sesame-speckled Jerusalem bagel served with za'atar, and the puffy, crown-shaped loaf of Yemeni kubaneh, which Adoni also serves in Tel Aviv, with a cooling bowl of grated tomato and olive oil and a bracing Yemeni hot sauce called zhug on the side. My contacts among the city's growing rabble of Thai-food connoisseurs can't stop nattering about the return of the former Kao Soy co-chef, Sirichai Sreparplarn, whose excellently named new Carroll Gardens restaurant, Ugly Baby, serves faithfully rendered dishes from all over that venerable dining country, including fiery bowls of egg noodles and beef-shank curry from the north, skewers of generously sized "southern-style" chicken thighs, and a properly melting version of the great Thai feast dish five-spice pork leg, which is garnished with handfuls of garlic and fresh coriander and was soft enough on the afternoon I enjoyed it to eat with a spoon.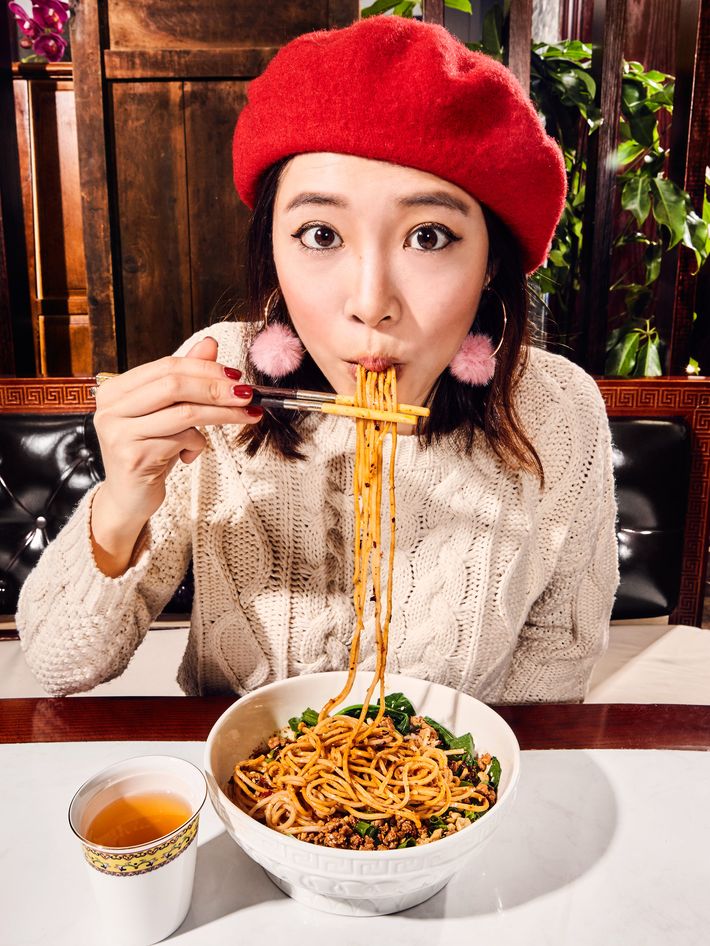 If you're a fan of first-class Mexican barbacoa, then I suggest you proceed to the fine new Oaxacan-themed establishment Claro, which opened a while back on a bumpy stretch of Third Avenue in Brooklyn, not far from the Barclays Center, where the kitchen was serving what my waitperson merrily described as an "all-goat menu" on the evening I dropped by. It consisted of delicious forkfuls of roasted, mole-rubbed whole goat piled over a bed of wet, crinkly blue-corn tortillas, which my fellow barflies and I washed down with flights of Oaxacan mezcal poured in little earthenware cups, along with bottle after frosty bottle of Tecate beer. If you wish to experience, for a brief, Proustian second or two, the ancient, comforting pleasures of Kurdish beef dumplings, or Syrian lamb dumplings, or Iraqi vegetable dumplings stuffed with mushrooms, you'll find them at Melanie Shurka's new Pan–Middle Eastern comfort-food establishment, Kubeh, on Sixth Avenue in Greenwich Village, and if you have a passion for braised chicken feet, or fried turnip cake, or pearly, translucent-skinned shrimp siu mai that taste like they've been transported directly from the crowded kitchens of Kowloon, I recommend you elbow for a spot (yes, the three-hour line is ridiculous) at the small standing counter at the front of the house of the New York outlet of the famous Hong Kong dim-sum chain Tim Ho Wan, which opened last winter on the corner of 10th Street and Fourth Avenue, blissfully close to the Platt residence. If you're one of legions of desperate Peking-duck loons who have been unable to obtain a table in the glamorous multistory Bryant Park satellite of the famous Michelin-starred duck palace from China, DaDong, my dumpling-and-noodle-addled daughters recommend you hop the 6 train downtown to Simone Tong's breezy, satisfying East Village establishment, Little Tong Noodle Shop, and console yourself with a bowl or two of light, soupy mixian rice noodles from the far-southern Chinese province of Yunnan, followed by several steaming bamboo towers of the perfectly shaped, delicately small Shanghai soup dumplings at the new Soho dumpling destination Pinch Chinese, whose head chef, Charlie Chen, can trace his lineage all the way back to the famous Taiwanese establishment Din Tai Fung, which helped begin the great xiao long bao craze nearly half a century ago. For the ultimate in contemporary, out-of-body Chinese dining, however, the train to take, as usual, is the 7, out to the spiffy, marble-and-lacquer-appointed dining room at Guan Fu Sichuan, which two former New York–area grad students from China, Xu Wei and Li Boru, opened several months back in a small subterranean-mall space under the Hyatt Place hotel in Flushing. The glossy, impressively photographed menu is filled with intricately prepared old specialties like twice-cooked pork smothered in fresh leeks and a deliciously subtle kung pao chicken tossed with fermented bits of soybean. Unlike at many monochromatic, fire-breathing Sichuan joints around town, however, the sauces here are made in house and vary in spice and heat levels from dish to dish, and if you really want to feel like you're dining on the streets of Chengdu, there's an abundance of forbidden pleasures to choose from, ranging from "hot stone" boiled sea cucumbers, to several varieties of finely seasoned pig's trotter and braised turtle, to a generous helping of boiled bullfrog, which was chopped into palatable little pieces on the evening our small band of thrill-seekers enjoyed it and served in a large, ceremonial terrine floating with cucumbers, giant bulbs of garlic, and great waves of chile oil.
6. New Age Omakase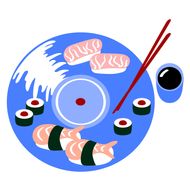 As usual in this oversaturated omakase era, there are plenty of flashy new venues at which to drop several of your hard-earned paychecks on a ritual, multicourse extravaganza featuring morsels of tuna belly, caviar, and rare slivers of Japanese needle fish. But this year, we've noticed that there are plenty of other new places around the city — in food halls, in the West Village, and even, miracles of miracles, on the Upper West Side — where it's possible to get your sushi or tasting-menu fix while actually saving a few bucks. Exhibit A in this welcome phenomenon is Sushi Kaito on West 72nd Street, where the cost of my well-procured 12-piece sushi dinner was $75 before tip, a price that included a place card with my reserved name scripted on it at the bar and a fine example of king salmon carefully folded in a fresh shiso leaf, with useful instructions from the loquacious chef to place the fish first on the tongue instead of the rice, "in order to enjoy the full flavor of the sushi experience." I've managed to employ this technique with some success during my visits to Sushi by Bou, where, on one occasion, the friendly tourist couple next to me, who were visiting from London, couldn't stop raving about the surprisingly excellent quality of the pearly shrimp and the wet, generous helpings of fresh Santa Barbara uni, which are offered at lunch and dinner as part of the $50, 12-piece omakase. If you're in the market for a slightly more salubrious, classically Japanese setting for a relatively economical sit-down, set-course dinner, you'll find it at the new lower Sixth Avenue branch of the beloved Park Slope institution Sushi Katsuei, where, for a cool $60, the nine-piece meal included slices of medium-fatty hagashi tuna, vividly orange uni from the chilly waters of Hokkaido, and soft pats of freshwater eel flown in from Nagasaki, which the bespectacled chef behind the bar presented in the purist Brooklyn style, with just a sprinkle of sea salt.
Whenever I'm ambling around midtown with a few extra dollars in my pocket and feel the urge for a slightly more upmarket, old-school Jiro-style omakase experience, I like to descend the twisting black-marble staircase to Toshio Suzuki's discreet new ten-seat dining counter called Satsuki, on 47th Street off Sixth Avenue, where it's a pleasure, early in the evening or after the lunchtime rush, to listen to one of the godfathers of the city's original sushi scene discourse in his friendly, dignified way on the traditional style of doing things ("There are too many tricks today; too much sauce masks bad fish!") while dining on classic delicacies like slices of clam sprinkled chastely with sea salt and squirts of udashi lime; tangy bits of gizzard shad dressed, in the old Edomae style, with bits of kelp marinated in vinegar; and the chef's signature eggy tamago, which he mixes the way the sushi masters in the old country taught him to do, with dashes of tofu and yam, because eggs were a scarce commodity back in wartime Tokyo. If you're in the market for a festive, updated taste of modern Tokyo, you'll find it in another snug, subterranean space on Macdougal Street, where that practiced sake and Champagne connoisseur Ariel Arce convenes a twice-nightly seating in honor of the famous vinyl bars of Japan at Tokyo Record Bar. Unlike at the real vinyl bars, there's no smoking in this boisterous spot, which Arce and her friends have decorated with Technicolor paintings of Japanese mountains and tiny pink silk cherry blossoms, although the turntable spins out an endless, reliably funky stream of nostalgic '70s-era reggae and disco hits, and if you can't secure a spot at the $50-per-head set-course dinner, do what I did and show up at 10:30 p.m., when the reasonably priced à la carte menu included, on the evening I visited, iced oysters tipped with shiso, $8 plates of mushrooms seized in a tempura batter, and fat caviar sandwiches squeezed between crunchy slices of toasted brioche. William Shen's neighborly, deceptively excellent little Soho atelier, Ato, is the place to go for an inventive, slightly more upmarket taste of modern Japan. The menu options range from classic lunchtime helpings of plump, expertly grilled unaju (eel on rice), to the young Masa-and-Jean-Georges-trained chef's elaborate dinnertime omakase, which, on the evening I sampled it, included tiny bowls of bouillabaisse dressed with seabream and crispy potatoes; large, plum-sweet scallops wrapped in barely toasted slips of seaweed; and some of the best nigiri sushi (sardines, silvery pike, finely carved pieces of gizzard shad) I've tasted all year.
If money is no object, however, this year's trophy for most opulently crafted omakase feast goes to the Manhattan re-creation of César Ramirez's famous, now-shuttered Brooklyn tasting room, Chef's Table at Brooklyn Fare, which you will find next to the pasta and virgin-olive-oil display at the back of the Brooklyn Fare grocery store on the far-western fringes of 37th Street. Sure, the multi-hour, multicourse extravaganza costs a small fortune before you even crack a bottle of wine, and when I showed up for my appointed reservation without a jacket, the stern gentleman guarding the door by the pasta rack loaned me one that was a size or two too small for my giant frame. But if you're feeling nostalgic for the olden days of haute cuisine, when chefs conjured up magical recipes by pairing a variety of reductions and sauces with a whole grab bag of ingredients flown in from around the globe, it's a pleasure to take a seat at the wide, 18-seat counter and watch Ramirez and his team turn out dish after dish of the chef's classically informed, Japanese-influenced creations (pay attention to the seafood and the squares of beer-fattened beef from Miyazaki Prefecture, in Japan), like practiced actors on an intimate, beautifully lit stage.
7. The Booze Patrol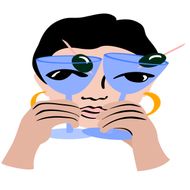 If you're like me, you could probably use a stiff drink (or three) as you scroll, with mounting horror, through the ceaseless stream of sex-creep scandals, nuclear scares, and assorted other grim bits of flotsam that emanate ceaselessly from the Twitter feed during the demoralizing Age of Trump. Luckily, there are plenty of lively new venues around this great boozing city where you can forget about the cares of the world for a minute or two and get completely blotto while inhaling all sorts of exceptional things to eat. The new Gotham branch of Grant Achatz's Chicago speakeasy bar The Office is as good a place as any to begin this epic pub crawl, although serious drinkers should make an effort to secure one of the plush, swiveling chairs at the actual six-seat bar, which is the best place to quiz the knowledgeable barkeeps about the contents of antic, labor-intensive mixology creations like the Amaretto sour (containing Amaretto, Cynar artichoke liqueur, and a hint of black truffle, among other things) and the frothy, curiously refreshing Gran Classico, which manages to taste like a breezy summer cocktail despite the presence of coconuts, egg white, togarashi powder, and a healthy dose of peat-heavy Scotch. Like at the Aviary in the Mandarin Oriental lobby next door, it's possible to run up a frighteningly large tab after just a round or two (the "Dusty Bottle Cocktails" section of the menu features a $600 martini made with ancient Tanqueray gin), so save some of your cash for the chef's bar-food creations like flower-and-egg-yolk-decked steak tartare, or the superb steamed mussels, which are bubbled in a creamy, herbaceous sauce filled with lemons, bulbs of garlic, and bits of bacon and brought to the table with a fresh-baked baguette for dipping. The best patty melt I've inhaled recently was the one grilled up by the well-traveled comfort-food savant PJ Calapa at his popular new West Village watering hole, The Spaniard, although the classic double "smash" cheeseburger isn't too shabby either, especially if you visit the commodious, high-ceilinged room at lunchtime, when the roiling crowd pressing around the great double-sided bar space isn't quite as thick as it is during the evening drinking hours, and it's possible to peruse the well-curated house selection of more than 100 whiskeys with proper scholarly care. The industrious Chinatown restaurateur Wilson Tang doesn't technically call the remake of his former gourmet Orchard Street establishment, Fung Tu, a bar, although with its expanded counter space and limited new small-plates menu, that's exactly what Nom Wah Tu feels like, especially if you chase your little helpings of spring rolls and pan-fried chicken dumplings, like I did on a jolly evening not long ago, with happy swigs of an excellent cocktail called "Medicine Woman," which the local barmen pour with rye whiskey, a spicing of ginger, lemons, Thai chile honey, and a lethal float of dark rum. This year's winner in the ever-competitive best-new-faux-Japanese-bar category goes to Bar Moga, which opened on a hectic corner of West Houston Street last summer, where the signature rum-and-whiskey Moga cocktail bears an uncanny resemblance to the Medicine Woman at Nom Wah Tu (it's mixed with smoky Japanese whiskey instead of rye, plum liqueur, rhum, and a splash of bitters), and the best of the modestly priced, surprisingly accomplished drinking dishes (the tempura-quality prawn ebi fry; creamy kani potato croquettes; the milky, vegetable rich kari kari ramen) have as much polish as anything you'd encounter during an evening of boozing in Osaka or Tokyo.
The Iberian love affair with gin-and-vermouth cocktails stretches back almost to the dawn of cocktail history, which may be why one of the better, more economically priced martinis I enjoyed all year is the one served straight up, with a proverbial twist, at Cervo's, which the Brooklyn owners of the much-praised Bedford-Stuyvesant establishment Hart's opened not long ago down among the rapidly gentrifying storefronts along eastern Canal Street. You can get a smooth Portuguese version of a whiskey sour touched with Madeira in the snug, railroad-car space, along with shots of vermouth poured over the rocks or spritzed with simple splashes of soda, just like in the bars of Lisbon, but be sure to linger for a little while over dishes like the grilled head-on prawns, spiced with a sour-sweet combination of chile and oranges; plates of Manila clams tossed in garlic and white wine; and slices of chocolate olive-oil cake, for dessert, which I enjoyed, after my martini, with a warming glass of port. The cozy, blonde-toned dining counter at Hemlock on Rivington Street is my favorite new place to peruse the latest offerings in the trendy, ever-expanding world of natural and biodynamic wines, and if you have a stronger head for Champagne than I do, you'll find all sorts of fizzy pleasures at Ariel Arce's other new Macdougal Street drinking establishment, Air's Champagne Parlor, where you can dine on a revolving selection of oysters on ice, three varieties of caviar, and one of the better grilled cheese sandwiches in town while perusing the entertaining, informative menu that, the last time we checked, numbered over 120 bottles of bubbly and non-bubbly wines. I hear from my reputable frozen-drink sources that the perfect antidote to cold winter's night is the slushy-style, Scotch-based "Penichillin," which the proprietors of the great Lower East Side watering hole Attaboy are serving in their new tiki-style bar on Atlantic Avenue, Diamond Reef, although if you feel the urge for a classic, slightly more eclectic, dive-bar bender, I recommend you stagger down to Alphabet City and rope yourself into one of the comfortable captain's chairs that line the bar at The Lost Lady, which the team behind the great East Village bar the Wayland opened not long ago among the riotous saloons that now run up and down Avenue C. All of the libations I sampled on a recent mind-numbing visit to this nautically themed establishment were well worth the relatively reasonable $12 price tag, although if you're pining for an early taste of the warm weather, call for a plate or two of the house fish tacos for ballast, followed by several rounds of the cheery, Creamsicle-colored Capsized Colada, which the chatty, competent bartenders pour with light, summery draughts of gin, instead of rum, and mix with pineapple, Aperol, and generous flagons of sweet coconut cream.
*A version of this article appears in the January 8, 2018, issue of New York Magazine.
Casting for Eleven Madison Park by Impossible Casting