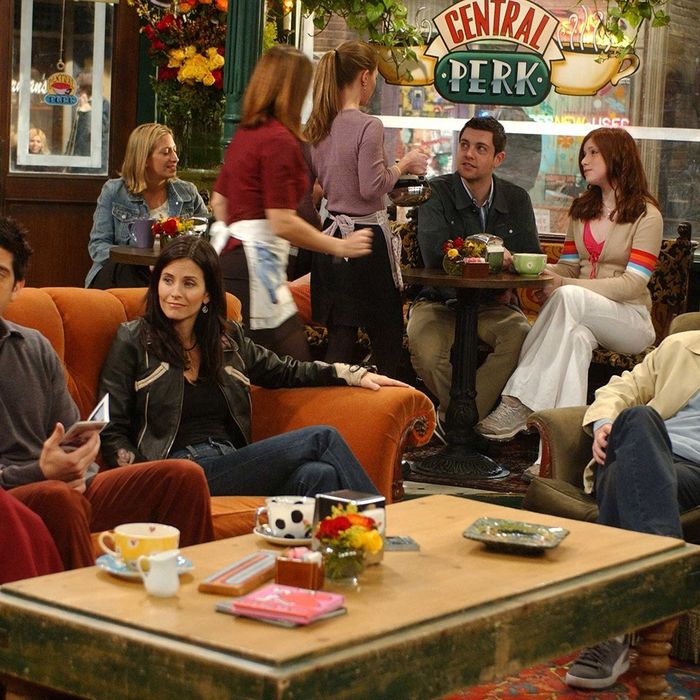 Hopefully, baristas are required to wear Gunther-style ties.
Photo: NBC
Since Friends debuted in 1994, there has been exactly one real Central Perk café — a monthlong pop-up in New York for the show's 20th anniversary. But now, it seems Warner Bros., which owns the rights, may be ready to give caffeine-addicted superfans what they demand: The entertainment giant just secured the legal right to turn the Friends friends' favorite hangout into actual brick-and-mortar businesses, if it wants.
Celebrity-gossip site the Blast discovered that Warner Bros. has trademarked the Central Perk logo for use on what the government calls "coffee shop and café services; coffee bars; tea bars; snack bars." (In case you're wondering how one describes the iconic window sign, apparently it's like this: "a banner above a shaded oval flanked by coffee cups with steam rising above them.")
Owning the trademark doesn't mean Warner Bros. has a Central Perk franchise plan drafted, and there's no clue what, if anything, the company has up its sleeve. But signs suggest something: Past attempts at parody cafés have been swiftly shuttered by Warner Bros.'s legal team, and according to the Blast, the studio also applied to slap the name on a variety of other products — "toys, board games, and slot machines" — so it may be ready to make something happen.