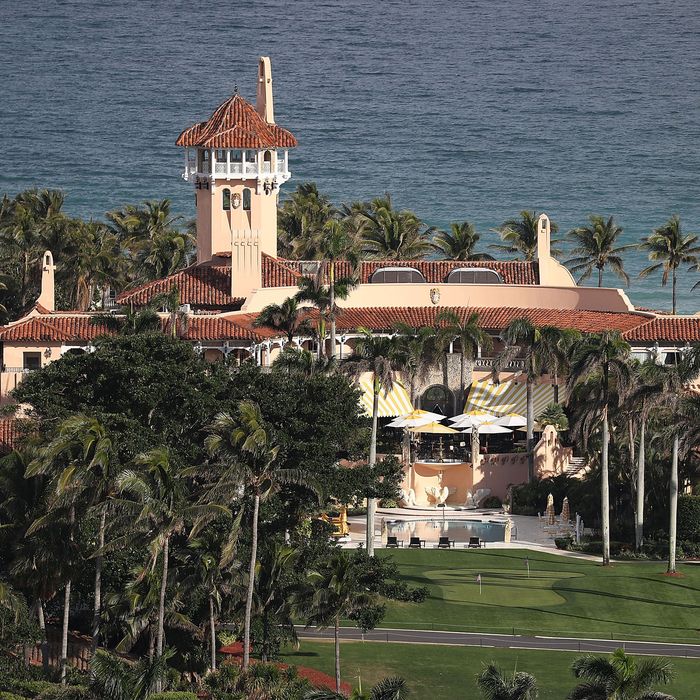 Your winter White House at its best.
Photo: Joe Raedle/Getty Images
For the second time in ten months, President Trump's Florida resort has been hit with health-code violations. The Miami Herald reports that his Mar-a-Lago Club — where the fee to join is a hefty $200,000 — was slapped with several "high priority lodging violations" during a November health inspection.
The paper says officials cited the club for actual safety hazards, like rebar sticking out of a staircase and malfunctioning smoke detectors. They also found 15 violations in Mar-a-Lago's two main kitchens. Among them: milk stored at 49 degrees (8 degrees above what's allowed by law), an 18-day-old curry sauce, and cases of hot dogs stored on the ground of a walk-in freezer.
Last January, Mar-a-Lago was cited for 13 health violations just days before Japanese prime minister Shinzo Abe visited. Per the Herald, despite the myriad problems discovered this time, the club still passed. The so-called "high priority" issues — steel reinforcements protruding from stairs, and so forth — were reportedly fixed right before Trump flew in for Thanksgiving, according to the report, though it's unclear what measures Mar-a-Lago took to bring the kitchens up to code.