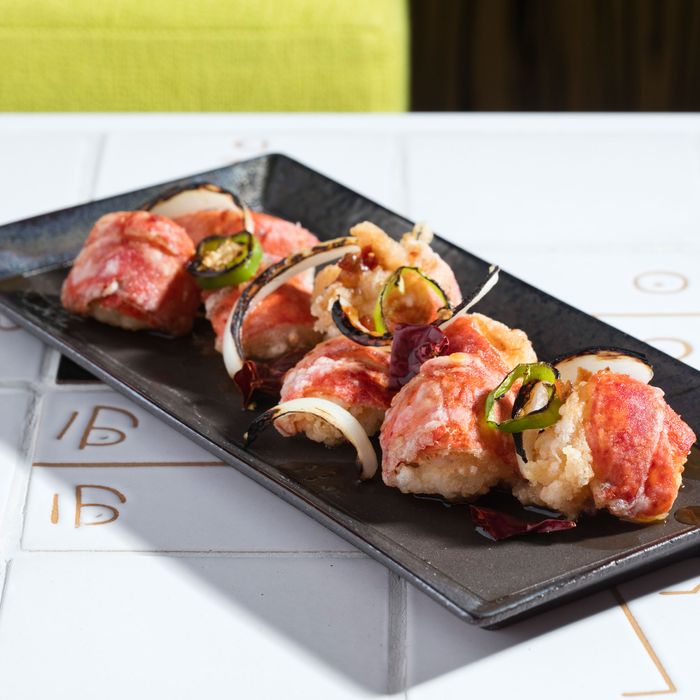 Wok lobster.
Photo: Melissa Hom
Like the last volume of a madcap fantasy series, or a trio of glitzy, newly revived operas, the Lobster Club, which opened a few months ago in midtown, represents the third and final installment of what future restaurant historians may well call "the Seagram Saga." As anyone who's followed the Major Food Group's rapid-fire launching of the Grill (last spring) and the Pool (last summer) in the former Four Seasons space in the Seagram Building knows, the saga has been filled with endless drama (the tossing to the curb of the old regime by the building's landlord, Aby Rosen) and pageantry (those $2,000 tuxedos at the Grill). The cost has been insane ($32 million and counting), the cast of thousands entertaining (at one point, even Picasso was involved), and like lots of grandiose, ambitiously creative projects, no matter what you think of the end result, it seems like a bit of a miracle that it ever happened at all.
The Lobster Club is the most expensive of the three projects, and like many operatic grand finales, it has a colorful, helter-skelter quality that feels by turns exciting and also a little unhinged. The venerable Grill and Pool rooms upstairs are city landmarks, which limited their redesign, but in this unregulated, subterranean space (formerly home to Brasserie), Rosen and his partners have clearly let their imaginations run wild. Architect to the stars Peter Marino has covered the floor in tiles decorated with a Jackson Pollock–inspired splatter design. The pink and green designer chairs in the bar area look like they've been heisted from the set of a vintage Bond film. The glimmering, supersize bar is as long as a fashion runway, and the wall behind it is tastefully decorated with porcelain plates painted by Picasso.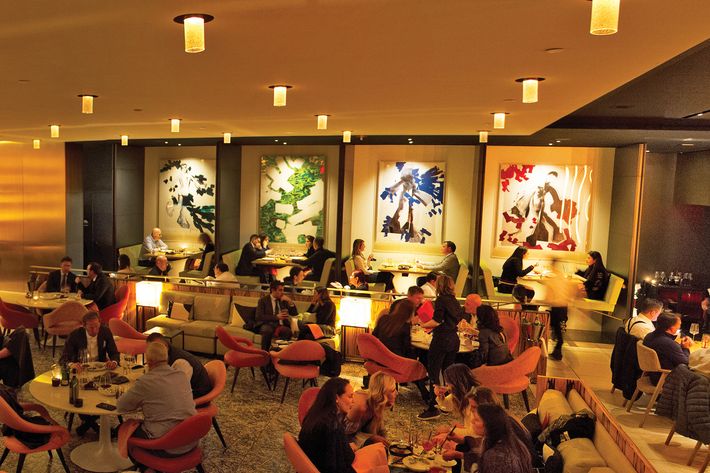 The improbable captain of this operation is the former Sushi Azabu chef Tasuku Murakami. As anyone who's visited that discreetly tiny Tribeca establishment knows, hiring Murakami is a little like tapping a refined, semi-obscure indie aesthete to direct your sprawling studio film. The Lobster Club is described as a "Japanese brasserie," but the template has clearly been lifted from Asian-fusion megahits like Nobu and Tao, which are the equivalent of bankable, big-money action movies in the upper realms of restaurant land these days. There are lobster-stuffed dumplings on the menu, and Nobu-esque helpings of crispy rock shrimp flecked with coconut. The house sushi rolls have names like "Scallop Dragon" and "Tuna Rossini," and if the $185 teppanyaki porterhouse isn't enough steak for the table, you can order slabs of massaged, beer-fed Japanese beef "upon request."
I'm not a big fan of this kind of formulaic, genre-mixing, high-roller dining, but like the chefs at the restaurants upstairs, Murakami has the finest ingredients money can buy at his disposal, and he and his cooks do a decent job of holding your attention, especially early in the meal. There were sticky segments of tender, wok-fried lobster tail in our first wave of dishes, and a crowd-pleasing version of curry-dusted chicken wings that was so good I ended up ordering it twice. Instead of the usual tired tuna-avocado combination, Murakami's dragon roll turned out to be a subtle disquisition on the textural similarities between scallops and avocado, and although I would've preferred to enjoy the rest of the expertly sourced sushi in less hectic surroundings, nothing we tasted — hamachi belly, fresh uni from Hokkaido, esoteric pressed herring roe — would have been out of place in one of the city's smaller, more effete omakase joints.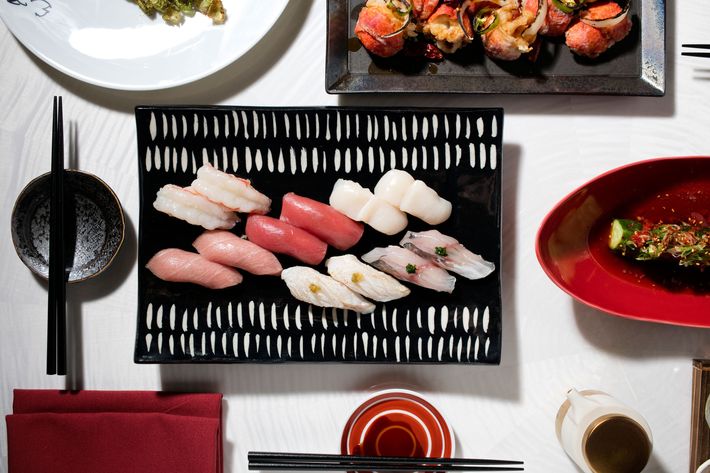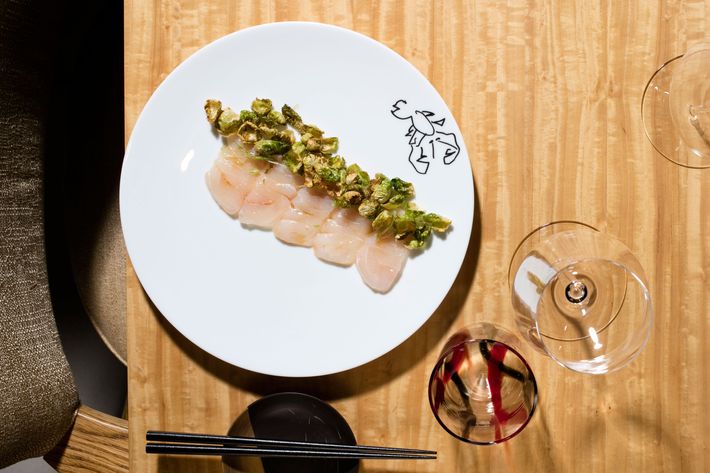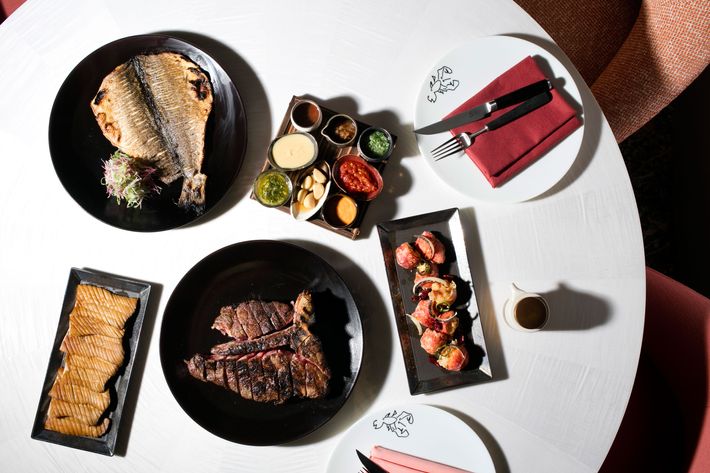 The teppanyaki portion of the Lobster Club menu has clearly been designed with a more populist, surf-and-turf audience in mind, although like all the new dining options onboard the good ship Seagram, you'll probably enjoy it more if someone else is paying. Unlike classic Japanese teppanyaki, the trophy-size steaks and lobster tails are sizzled in the kitchen before being portaged out to the tables, and most of the proteins are finished with gouts of yuzu butter and a uniform speckling of sesame seeds. The aforementioned porterhouse was an impressive cut of meat, but if you're on a relative budget, call for the Wagyu skirt, which is a comparative bargain at $44. The market-price whole lobster was mostly shells (and $68) on the evening I grappled with it, but the diver scallops cost a relatively modest $11 each and are big enough to nibble on politely until it's time for dessert.
Not that the hordes of gossip girls and middle-aged finance swingers who were roiling around the Lobster Club on the evenings I dropped in seemed overly concerned with the quality of their scallops or what they would be ordering for dessert. Volume, variety, and glitz are the foundations of the Asian-fusion megahit experience, after all, and although Murakami executes this time-honored formula in a dutiful, even inspired way, you get the nagging feeling that, over time, his talents will be lost on this midtown party crowd. That sobering thought didn't prevent us from enjoying our desserts, mind you, which arrived after the blizzard of half-empty platters had been cleared away. These included a dense little wheel of sticky-toffee pudding and a delicious, arrestingly photogenic version of one of the most Instagrammed Japanese dishes of all, shaved-ice kakigori, which here is a vivid ruby pink, thanks to an infusion of blood orange, and crowned with a candied slice of that fruit.
The Lobster Club
98 E. 53rd St., nr. Park Ave.; 212-375-9001; thelobsterclub.com
Open: Dinner, Monday to Saturday.
Prices: Sushi, sashimi, and appetizers, $6 to $36; entrées, $31 to $79.
Ideal Meal: Sushi, Wagyu skirt steak with garlic or shiso fried rice, blood-orange kakigori.
Note: I confess, a little sheepishly, to enjoying my Soba Rob Roy, made with Japanese whiskey, Grand Marnier, and a dash of buckwheat-soba water.
Scratchpad: Three stars for the steak, sushi, and the space. Minus a star for the prices and the vibe.
*This article appears in the February 5, 2018, issue of New York Magazine.