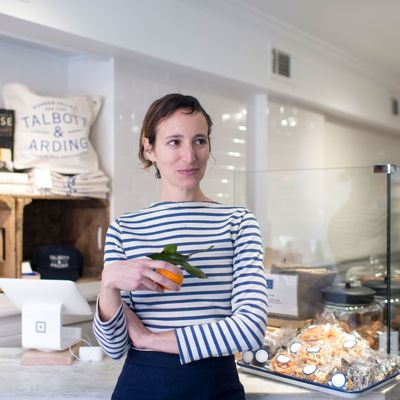 At Talbott & Arding in Hudson.
Photo: Jersey Walz
Tamar Adler started her food career as a cook (she's part of the storied history of successful Chez Panisse alums), but she found her groove as a writer, her work regularly appearing in Vogue and The New York Times Magazine. In her first book, An Everlasting Meal, she explored how to creatively repurpose leftovers; in her follow-up, Something Old, Something New (available in April), she unearths and modernizes culinary classics. It's no surprise, then, that Adler is frequently in her kitchen at home in Hudson, New York, making recipes like shrimp pâté, a tuna omelette, and lamb stew. Read all about her life upstate in this week's Grub Street Diet.
Thursday, January 11
I wake up at 6 a.m. and immediately enter into a pitched battle with my toddler over how long I must wait for tea or coffee. I have almost total indifference to the quality of either — this makes me a good road-trip companion — but I go from being in a perfectly fine mood to being crabby if I have to wait more than half an hour. And yet, I cannot say no to a book. (Can anyone say no to I Am a Bunny, or Goodnight Moon? They are good, and very soothing when you are being denied coffee and tea.)
My son wields this over me with a keenness I am certain is part of a larger strategy. We read six books upstairs. It is 7 before I fill a kettle. I argue with the full force of my conviction that I should be allowed to make coffee or tea before playing Spoons, a game that involves sitting on the living room floor and moving things with spoons. My son is disappointed with me while I produce the elixir I need to have the spirit of a good Spoons player. I emerge onto the field of sport at around 7:05 with a quart-size Mason jar half-full of black tea and half-full of organic lactose-free whole milk and maple syrup. I am renewed. The world looks bright. Just before heading to day care, my son requests a satsuma mandarin, but in fact, he only wants to see me peel it, not eat it himself. I eat it in his stead.
After spending an hour with the dishwasher repairman and doing some housekeeping, I am about to head to my office in our carriage house to work on a review for The Art of Eating and an essay for Vogue, when I stop at my computer indoors and start reading the most recent developments in the "Shitty Men in Media" story. I find myself unable to leave my computer until I've made it through the list, especially since I know some of the men, and agree with at least two. As I am agreeing, I eat several spoonfuls of Koeze crunchy peanut butter. This delays my lighting the woodstove that heats my office — the carriage house is uninsulated and drafty. When I finish with my peanut butter, I carry wood, light a raging fire, then come back indoors to cook two bunches of broccoli rabe, which I'm planning to serve for dinner and use for a recipe test tomorrow. I do this with a lot of garlic and an unholy (or holy?) amount of olive oil. I bring some to the carriage house for lunch and leave the remainder in its pan.
The reward for having to build a fire every morning in order not to get frostbitten while typing is that the fire is just smoldering around noon. It is good for cooking. This often means just warming a leftover hamburger patty or beans in a cast-iron pan. But today it means cooking an egg in an egg spoon on the coals. Though I cringe to admit it, I not only own, but love, a hand-forged egg spoon. Before my husband and I were given it as a wedding present, we used little campfire pie irons, which you can buy at any hardware store, and they worked just as well. The key is to have your olive oil, herbs, salt, and a little bowl into which to crack the egg at hand. Then, put the iron spoon or pie iron onto coals to get hot. Immediately add a little olive oil and a sprinkle of herbs — I use rosemary, today, because we moved our rosemary, sage, marjoram, and thyme indoors for the winter, and they're right in the window — then an egg, previously cracked into a bowl, so you don't have to maneuver a fragile egg and smoking-hot spoon. Then salt and place on the coals until done. When mine is frizzled on the bottom and just cooked on top, I wiggle it out onto the broccoli rabe, add a dollop of broccoli-rabe pesto I seem to have left in the carriage-house refrigerator some time in the past, and eat a good deal of Bru-XL aged Gouda on the side. I eat another satsuma.
The dinner of champions — this must be what was eaten by gladiators before fights, by gods on Olympus, revelers in Valhalla: a bowl of polenta, topped with more Gouda (very culturally transgressive and very good), broccoli rabe, reheated in a good deal more olive oil, and a large rocks glass full of ice and Yankee Rye. My son eats a few bites of broccoli rabe, a few bites of polenta, and then begs for the ice in my glass. I prevaricate about why he can't have it, then offer him a conciliatory satsuma, which I eat in its entirety.
Friday, January 12
Hallelujah! I don't get out of bed till the sun has risen. My husband, Pete, works from home on Fridays, so I cover my head with a pillow at early morning stirrings from down the hall, and when I'm up, proceed straight to the kettle, which is already full of boiling water and ready for me to make tea. I make a pot, which my husband and I share — he gets a little espresso cup of tea; I get the rest. I put mine in a Mason jar with milk and maple syrup. He and I join forces in forestalling my participation in Spoons, and I am half-caffeinated before I use a two-ounce ladle to lift my first block.
I'm not really hungry, but I have a 10:30 conference call with my agent, book editor, and publicist about the release of my second book, Something Old, Something New, in April, and I worry I won't be clear or bright enough on the phone. I eat Koeze crunchy peanut butter on a large soup spoon. I'm not sure that I'm either clear or bright, but I love peanut butter.
I'm behind schedule and won't be able to do the recipe test I'd hoped to with leftover broccoli rabe — I want to develop a really fast, no-resting-needed tart dough for individual tarts. What I'm behind on is cooking dinner for my friend, Colu Henry. We met here in Hudson, and I immediately recognized her as someone who can cook well, eat well, and drink well. I want to practice cooking what I've included in Something Old, Something New, so that when time comes for demonstrations and classes, I won't have to refer constantly to the recipes I wrote, but cook my favorite things instinctively. I have to go find wild shrimp for shrimp pâté. I also have to poach a chicken and make tarragon mayonnaise. (The book is an updating of classic recipes I loved the sound of, but didn't ever want to make quite as they were written.) I also want to make pan-roasted mushrooms and a vinaigrette from the book, but I'll have to see where I am time-wise.
In any case, I'm inside for lunch, preparing to run errands and cook. So no woodstove-cooked eggs, but eggs are fast and I love them. I'm drawn to the three glass jars containing a quarter each of various vintages of olive oil–marinated tuna in the fridge. I scoop them all into the cast-iron pan sitting on my stove and heat them until they begin to fry, then add two beaten eggs and salt. I then turn this into a rolled French omelette, half in the mind of Brillat-Savarin's beloved Tuna Omelette for a Curate. I turn it onto a shallow bowl of Sparrowbush Farm tatsoi, which was in my CSA share. They advised members to eat it raw, like salad, and it was good advice. It is sweet, and dressed with olive oil and salt, needs nothing but a tuna omelette. This gets dotted with slices of a very old, unidentifiable soft-cheese round that is slowly solidifying from soft to demi-sec in the cheese drawer. My husband never eats these, so it is my job to cut off the blue or green mold or fuzzy bits and do what I will. It tastes fine, if a bit acidic, and is a nice addition to my omelette and salad.
I notice a bottle of Sangiovese sitting on the counter and think how well it would go with my omelette. But there is too much to do, so I drink water like a virtuous curate. Oh, and I eat six dried apricots. Counting them seems bizarre. I only do it for this diary. It makes me contemplate how different it would feel to eat six apricots if they weren't dried. Food for thought.
Colu comes early to help me finish herb-chopping and mushroom-cutting. At 5:45 or so, we sit down the shrimp pâté on Belgian endive leaves and crackers. I love this pâté more each time I taste it. It's incredibly simple, and takes probably ten minutes, but ends up tasting boozy and old-fashioned and a bit exotic. We continue on to dinner —chicken with mayonnaise, pan-roasted mushrooms with herbs and lemon zest, and radicchio salad with shallot vinaigrette. Colu isn't drinking because it's January, but my husband and I are, so we drink a Provençal rosé, even though it's mid-midwinter, because we had a one-day thaw, and it's 55 degrees out, plus we're eating shrimp pâté and poached chicken. Our son eats chicken and mushrooms, but won't touch the mayonnaise. For dessert, we eat Medjool dates and Marcona almonds. It's a lovely meal.
Saturday, January 13
My husband takes the early shift with our son, and I rise with the dignified childless at 7:30. I drink a Mason jar full of sweet milky tea and then at around 10, the three of us go for a walk. Our first stop is Talbott & Arding, our friends Mona Talbott and Kate Arding's cheese-and-prepared-food store, a block from our house. They've created a place where it's impossible not to want everything, and from which you might, if you could afford it, cater your entire diet. My favorite thing, though, is the hot chicken bouillon — spicy with cilantro and ginger — that sits beside the coffee. The urn containing it is often empty by 1 p.m. So I immediately fill a coffee cup with bouillon for my husband and me to share. I taste a few cheeses and buy Stilton and a New York goat cheese called Barkeater Buche that Kate says is perfectly ripe.
By the door is an old wooden crate full of light-khaki Samascott Farm Suncrisp apples. We buy an apple to share, too. Today is below freezing, so we all walk down Warren Street, slipping on ice and sipping broth and sharing a cold apple. At noon, the only one of us who doesn't want to go home is the toddler, but he is outnumbered. We go home for lunch.
Maybe an even better thing than shrimp pâté is leftover shrimp pâté. It's wonderful for turning into Hong Kong–style shrimp toast — essentially: Spread it thickly on triangles of white bread, press sesame seeds into the pâté, and deep-fry — but it's completely transformative in polenta, too. I have a ramekin and a half of pâté left, and I warm about three cups of cooked polenta with a cup of shrimp pâté and more olive oil and water, and we all eat bowls of hot shrimpy polenta, which are delicious.
We meet up with our friends Jane Smith and Jules Anderson, who were our neighbors until a few weeks ago, and now live just outside of town. We used to eat dinner with them once every couple of weeks, and then sit around for hours, since our monitor reached to their house. Now we're having our first reunion, appropriately, at a beautiful new distillery called Olde York Farm. It's right on the Claverack Creek. It's made up of an old refurbished home, a farmhouse divided between a cooperage, a distilling room holding a copper still, and a tasting room that is really a warm, rustic little bar serving only New York State wine, beer, and liquor. I drink housemade maple bourbon with a single large ice cube, while my husband has a beer from Chatham. I love bar snacks, and truly believe it should be a law that every bar supply them. I can't explain my happiness at the fact that Olde York puts bowls of sesame sticks — that salty staple of bulk sections at health-food stores everywhere — on every barrel-table, and lining the bar. Over the two hours we're there, we eat three bowls of sesame sticks. I drink a second bourbon. Sesame sticks make one thirsty!
The Philadelphia Eagles are playing the … oh, god, I don't even know. But our friends Sarah and James Hearne, whose pets, a bulldog named Bug and a thousand-year-old cat named Albert whom our son adores, watch the Eagles religiously. They are among our favorite people to eat and drink with, so we stop home to pick up a few supplies then head to their house ostensibly to watch football, but really to sit together in front of a fire on a cold night. I've brought Stilton and crackers and leftover poached chicken — which I tear into big pieces; dip in beaten egg, then seasoned flour, then panko; and fry in peanut oil. Sarah has stopped at a gas station and bought two large bags of Tater Tots — precisely the right quantity for four adults and a toddler. Once her tots are crisp and my fried chicken is cool enough to eat, we gather everything on low tables by the dog bed, fire, Christmas tree, and television, and eat with our hands.
We drink the traditional accompaniments to such a meal: a Martini — actually two — for me, for my husband Barbera d'Alba, and bourbon for Sarah and James. All of this by 6:45, when we have to leave for our youngest member's bedtime.
Sunday, January 14
A Mason jar of sweet, milky coffee for me, granola for my husband and son, then we hustle to the car for a morning adventure at a Vanderbilt mansion that's now a national park, with big rolling grounds, old oak, pine trees, and formal gardens that seem like they'll be fun to play in, even in snow and ice. Our son asks for banana repeatedly on the way there, as we walk around, and as we head to the car. He rejects every piece I offer him. I, his reliable understudy eater, eat half a banana, in small, almost frozen pieces.
We stop at Buns Burgers in Rhinebeck. Buns is great because it serves local grass-fed meat, but as fast food–style burgers. The whole menu is: a cheeseburger with Buns sauce — so good, sort of like horseradishy Thousand Island? — a plain burger, a lamb burger, a chicken burger, a stack of vegetables, and French fries. There is also a salad that sounds good, containing arugula and pomegranate. Had I not had two glasses of bourbon and two Martinis — and tasted my husband's Barbera — last night, I might have been interested in the salad. As it stands, we both get cheeseburgers and share a bucket of French fries. The burgers are McDonald's-esque — cooked fast and fairly flat — and the fries are thin and crispy. It is a perfect meal.
I resisted ordering a beer at Buns, but enough is enough. I drink a Chatham Brewery pilsner at home.
My mother is visiting from Charleston, so we go out to dinner at Lil' Deb's Oasis, a wonderful, small, somewhat tropical restaurant at the other end of Hudson. We sit at the counter, on the stools closest to the open kitchen. We've learned that as long as our son can see what T. — the chef who manages to fry fish and grill shrimp and heat beans and rice, and sauce and slice and toast and sauté all at once, mostly while smiling — is doing, we can have a calm dinner. He shares my affection for the whole fried fish, which we eat, along with a plate of stewed lentils, rice, and garlicky greens, and a cabbage salad. I drink two glasses of a Cacique Maravilla Gutiflower, which is slightly effervescent, a little murky, smells like perfume, and tastes like spring.
Monday, January 15
It's Martin Luther King Jr. Day. We're all home. There are ample people to distract our son from his endeavors to keep me from my coffee — and milk and maple syrup in a Mason jar.
My mother is babysitting. My husband is building a desk in the garage. I'm finishing a piece for The Art of Eating and snacking on Sicilian almonds.
My mother eats exclusively salads at lunchtime, and gets flummoxed if you try to feed her anything else. I make us salads of sugarloaf chicory and radicchio from Sparrowbush Farm. I add Marcona almonds, warmed pan-roasted mushrooms from Friday, slices of Barkeater Buche, from Talbott & Arding, and after adding olive oil and flaky salt, dollop leftover tarragon mayonnaise over them both. I also toast slices of my father-in-law's 100 percent rye bread, which he bakes in a wood-burning oven he built himself, and which lasts for eternity in the refrigerator — we've had this loaf for almost a year. For dessert, we have Medjool dates and chamomile tea.
Talbott & Arding's Mona and Kate are not only coming to dinner, but have offered to bring dinner. This is iced cake — metaphorically. They arrive promptly at 5:30 bearing freshly fried tortilla chips, ripe avocados, limes, cilantro, turkey-black-bean chili, and mango for dessert. I've made garlicky broccoli rabe, even though it doesn't go with the meal, to have something green, and my mother, who left earlier in the afternoon, baked three kinds of biscotti — Sicilian sesame, rosemary cornmeal, and dark chocolate — for an even less traditional second dessert.
Kate and I drink Sangiovese. Mona and my husband drink Chatham pilsner. We finish the evening — at 7 p.m. — by all reading Richard Scarry's What Do People Do All Day? With a Sharpie, I take notes on the pages that demand editing — such as "Mother's Work Is Never Done," and any page on which women are exclusively mothers, stewardesses, or nurses — which is half the book. I want to cut out the pages on coal-mining with scissors, but Kate says I'm becoming a censor, and she is probably right. Coal stays, and only racism and sexism go.
I've had Saltie focaccia proofing in various stages all day, and bake it once our son is asleep so that my husband has sandwich bread for the week. It goes in at 7:40 and comes out at 8. We taste it and establish that it proofed too quickly at too high a temperature, and could have baked longer. Still, it's good, and fun to have for the coming week.
Tuesday, January 16
The regular workweek has begun in earnest. I turn off the monitor and make the bed, take a shower, and generally hope my son will go back to sleep. He doesn't. At 6:30, the book-reading begins. At 7:15, after several books and hammering at a wooden box with a toy hammer, I'm finally ushered downstairs and commanded to drive a truck. I stand my ground and drink one-and-a-half Mason jars full of coffee, milk, and maple syrup inside of ten minutes.
I've spent the last hour and a half with the dishwasher repairman, handing him dish towels to mop up leaks and floods. We haven't had a working dishwasher since late December, but today is meant to be the day of its full revival, and praise be, it is! I bid the repairman farewell and make myself a celebratory lunch. It is a Treviso-and-tardivo salad — some came in my last CSA share, some I bought — with leftover shallot vinaigrette; the last few roast mushrooms; the last of the tarragon mayonnaise; half an avocado, thinly sliced and salted; the end of the shrimp pâté; lime juice; and some chervil that had been languishing in an odd corner of a drawer and needed picking through and using.
I'm feeling truly festive — I have a hard time imagining what I will do with the hours I've dedicated to dishes these last weeks — and finish lunch with a handful of dried apricots, realizing that I'm eating 12 apricots. I have never knowingly eaten 12 fresh apricots. I wonder how many apricots I could actually eat, if my supply were unlimited. It is hard to say, and it's so cold outside, the idea of fruits on trees seems almost laughable.
I thawed two lamb shanks last night and salt them this morning without a plan. It starts snowing in early afternoon and a plan crystallizes. I put them in a pot just big enough to fit them and add two cups of chicken broth left from the chicken I poached on Friday. I add water to make up enough liquid to just barely cover the shanks, some thyme sprigs, and a whole unpeeled garlic clove. Once it comes to a boil, I lower it to a bare simmer, and realizing I haven't done exercise in ages, I decide it would be fine unattended for an hour or so, tell day care I'll be late, and drive to the gym to run on a treadmill.
Alas, after 20 minutes on a treadmill, I become overcome with worry that my house is about to burn down, and an obviously fallacious report of Donald Trump's health is monopolizing every news channel. I give up on exercise and drive to day care, convinced I'll momentarily be passed by fire trucks en route to try to save my house. Muttering, "Was it worth it?" to myself in between singing rounds of "The Wheels on the Bus," I arrive home, child in tow, to a house unaffected, and tender, delicious shanks.
I remove them from the broth, submit a piece for approval to my son, and then, with him banging a carrot against his high chair, chop a potato, two carrots, a branch of celery, and a head of Napa cabbage. The first three I cook all together at a vigorous simmer directly in the broth. The cabbage I sauté in a lot of olive oil with a small handful of fresh rosemary and lemon zest. When everything is done, I combine it in a little pot and let it sit until just now when, without reheating, because these ingredients taste so good lukewarm, I serve us lamb stew. My son eats three pieces of lamb and two potatoes, and spends the rest of the meal trying to drive his spoon like a car. I know it is snowing, and likely to snow for the next 24 hours, but there is something ineluctably bright and pure about our soup — maybe it is the simple lamb, or the lemon, or the white cabbage. I drink water instead of wine.
There are only five dried apricots left, and we share them in front of a heating vent in our living room, and I feel very much like Nicholas the bunny who, on a very snowy day in a very snowy winter, curls up in his hollow tree and dreams about spring.