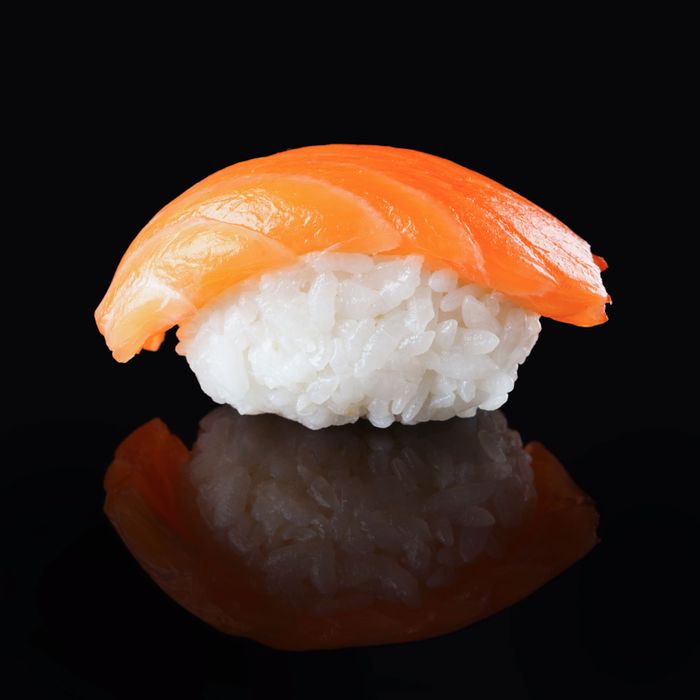 Maybe time for that juice cleanse?
Photo: Konstantin Postumitenko/Getty Images/iStockphoto
Happy Friday. Our government appears headed for a shutdown, and it seems like comforting news stories are at a minimum these days. And this report from California will probably not do anything to change your mind: A Fresno man so obsessed with raw salmon that he ate it "almost every day" says he has now sworn off sushi for good after suffering an experience that you might call, at the very least, traumatizing. Really, there's just no delicate way to phrase this, so here it is: He witnessed a five-foot, six-inch tapeworm "wiggle out" of his body.
Since 2017, the CDC has warned that wild-caught Pacific salmon in both North America and Asia could carry tapeworm larvae. The working theory is that one of those is what worked its way into the salmon man's stomach. Sacramento's CBS affiliate lays out, in unnecessarily excruciating detail, the scenario that resulted:
According to the man's doctor, the self-proclaimed sushi lover pulled a massive tapeworm from his own body before arriving for treatment.
Oh dear. And, yes, the scene played out just the way you might think:
The tapeworm reportedly began to leave the man's body while he was sitting on the toilet. Shocked by the terrifying scene, Bahn says the man kept pulling until the invader was all the way out.
Clearly, the sushi lover in question is nothing if not a quick thinker, and so it may not surprise you to learn that he also kept the tapeworm, so he could take it to the hospital. And what happened after that?
"He grabs it, and he pulls on it, and it keeps coming out. He picks it up and looks at it. And what does it do? It starts moving," Dr. Bahn said.
Have a nice weekend, everyone!