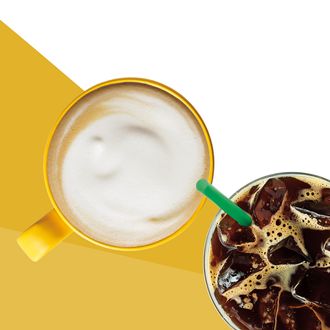 The lighter espresso in action.
Trying again to show it can hang with the third wave's cool kids, Starbucks is giving customers a second espresso option. A "blonde" roast, following its tried-and-true nomenclature for drip coffee, the new option rolls out nationwide today. For years latte drinkers have had a variety of milks and sweeteners at their disposal, but this is the first time in Starbucks' 47-year history that they'll have a say over the taste of the coffee going into their drink.
Something else that's been happening for years: Third-wave cafés hawking lighter-roast espressos that highlight coffee's delicious acidity and fruitiness. Starbucks hopes to somewhat belatedly wedge its way in with Blonde, a permanent menu option it's calling a "gateway" for wimpy Americans who think espresso is overly bitter unless drowned first in soy milk and a half-dozen pumps of sugar-free vanilla syrup. For Blonde, Starbucks says it picked a blend of "Latin America and East Africa" beans (not terribly descriptive, but okay), giving it a "subtly sweet" flavor that customers should find smoother than its "bold" regular espresso — which is now redubbed "Signature."
Blonde got a full rollout, so it should be available today at all 8,000 company-run U.S. stores. But while a fancy Reserve bar will have no problem switching between the two espressos on its manual espresso machines, it's less clear how locations that still have the super-automatic kind that auto-loads beans for baristas will easily toggle between them.
This of course will not stop customers from adding it to their laundry list of drink instructions, and there's also no upcharge for it, Starbucks says. (Helps that it's not single-origin.) The company notes that Blonde went through a round of tests in Canada, Austin, and Tampa, and was reportedly a big hit in all three locations.