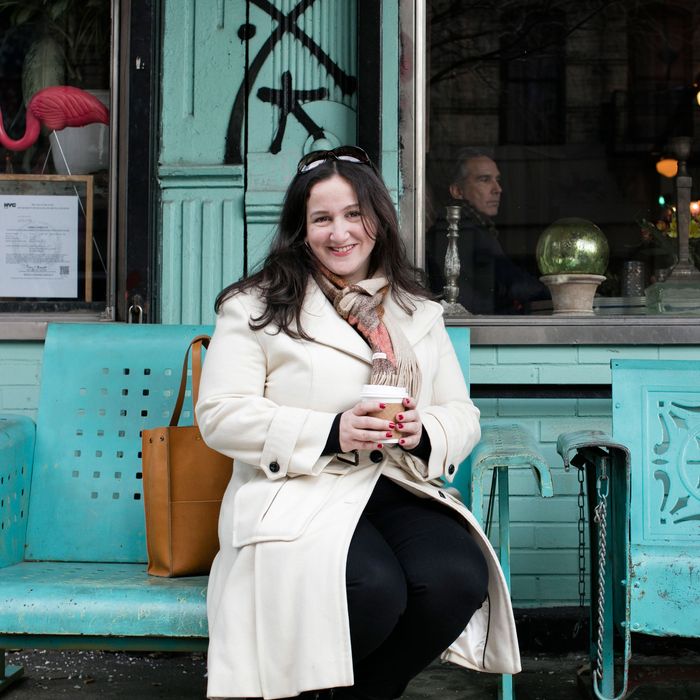 At Ciao for Now, "an adorable café in my neighborhood that I think looks exactly the way you thought your local café would when you moved to NYC."
Photo: Melissa Hom
"When you write about cooking and create recipes for a living, people understandably assume you cook all day, every day, and delight in every moment of it," says Deb Perelman, the creator of Smitten Kitchen — a food blog that turned into two best-selling cookbooks. This was not one of those joyful kitchen weeks for her. With the holidays and a broken dishwasher ("truly a first-world problem that encouraged my laziness"), Perelman barely cooked or ate at home. Instead, she went out in New York for soup dumplings, schnitzel, and ramen. Read all about it in this week's Grub Street Diet.
Thursday, December 28
My website has 122 breakfast recipes to date, so this is probably a weird time to tell you that I've been off of breakfast for a few months. I was finding that I'd be eating breakfast at 11 a.m. and hungry for lunch an hour later. Can you brunch on a weekday? I realized that all I really need is a big cup of coffee in the morning with cream.
My kids, understandably, are not off of breakfast. My husband does a lot of the heavy lifting most mornings, so when I take over, I overcompensate — yogurt parfaits with fruit and granola, homemade biscuits, Dutch baby pancakes, or in this case, a quick oat-whole-wheat-pancake recipe that I'd anticipated would make exactly four, but made ten. I am very, very good at this. I then washed dishes for a hundred years and wondered how we lived without a dishwasher until relatively recently.
I then made myself an Americano — this is my sole coffee trick at home, and it involves one of those old-school stove-top espresso makers, perfect for small kitchens with limited outlets and counter space — and went to the gym. When I came home, I was (predictably) famished and ate a pancake and half of one that my 2-year-old daughter (who mostly subsists on air) had left behind, because being a mom is all about living a life with dignity, plus three strawberry-looking berries that didn't actually taste like strawberries because it was December.
A repairman arrived and said the dishwasher was fully broken, but that he could order a new one and it would "definitely be here before next weekend." Next weekend was eight days from then. I bought dishwashing gloves and ate a pear from a Harry & David gift box.
I had a hard-boiled egg (my preference: Always cook the egg 60 to 90 seconds less than recommended) and toasted walnuts while trying to get a recipe for pão de queijo (Brazilian cheese bread or puffs) right, snacking on Parmesan along the way. It seemed so simple, but nothing went right at all, and then I badly cut my finger and decided to quit while I was behind, and the dishes had piled up. I had one-and-a-half cheese puffs — they weren't bad, but not what I wanted — and a salted-butter chocolate-chunk shortbread that I'd made the day before from Alison Roman's Dining In book. They are so, so good and seem to get better with age.
For dinner, we met friends at M Shanghai in Williamsburg. We've been going there for almost 17 years, since it was down the block and friends lived upstairs. Between the ten of us at the table, we ordered all of our favorites: scallion pancakes, pea shoots, string beans, sliced beef with scallions and onions in "awesome" sauce, and many orders of soup dumplings (theirs are the best in New York, and I will fight anyone who disagrees with me). It was 15 degrees out and a couple of people, including my husband, ordered the (perfect) hot-and-sour soup, so I had a bit of that, plus my favorite dish, their vegetable wontons in spicy peanut sauce. The kids had chicken lo mein, and I had to have a bite or two of that, too, for quality control.
I waited until I got home to have a drink and made us boulevardiers, which is basically a Negroni made with bourbon instead of gin, and I made it the first time a month ago, and it's my current favorite everything, especially with a background of Peaky Blinders. Fact: Drinks taste much better after your kids are asleep.
Friday, December 29
Another Americano in the morning and then the gym — I didn't see the inside of a gym for seven weeks while book-touring and am catching up — and then half an apple and half an oatmeal pancake that I really should be too ashamed to admit were kid breakfast leftovers, but am not.
I revisited the cheese-bread batter from the day before and baked some, but again wasn't happy with the results. I did a tremendous amount of research and watched a million videos, but I was just not in the mood to work it out. Still, my husband, home early from work, and I ate two because even subpar warm, stretchy cheese bread is good. I had another hard-boiled egg and raspberries, and debated whether I should be eating a "proper" lunch, but we were going out for dinner, and I planned to eat all the things, so decided to keep it light. Read: I had another salted-butter chocolate-chunk cookie. Can someone come take them away?
A week or so ago, Pete Wells rereviewed Wallsé and sent my husband and me into a fit of nostalgia over when we used to live closer and go there a couple of times a year, which led to us returning for a date night. I had the chanterelles with a semolina dumpling (it's like a matzo ball that tastes nothing like the bread of affliction) in a creamy broth studded with chives, and the schnitzel, and we split a side of the braised red cabbage. There was also a boulevardier at the bar before, a glass and a half of wine, and their Salzburger Nockerl, a toasted marshmallowlike meringue on top of a slip of caramelish jam and a bite of my husband's Sacher torte. I never, ever needed to eat again.
Saturday, December 30
We were up half the night with a sick kid, which made it really easy to fulfill that vow. I am not sure where the line is between hygge (Danish coziness that's having a moment) and sloth (this sleep-deprived mom of two in old sweats), but I planned to exist solely on it that day. It was 11:59 a.m. before I made us coffee. We had bagels that my husband picked up at Tompkins Square Bagels that managed to make it home still warm — sesame with plain cream cheese is my too-tired-can't-even-deal (with attempts at vegetable or protein inclusion) bagel choice, and it hit the spot.
That morning, my son noted, "We've sure been eating out a lot," and I was like, "Shush, you." It was actually part of my master plan. When I'm going through a week when I don't feel like cooking, I believe in riding it out because it always leads to getting my cooking mojo back. For example, it was 21 degrees and snowing, and the urge to make a pot of soup and a loaf of bread was (finally) stronger than our lack of desire to take a freezing walk to the store and then wash an hour of dishes. Success!
While I was cooking, and my husband and my daughter were napping, my son and I decided that we'd gone long enough into the day without a salted-butter chocolate-chunk cookie. I also snacked on celery and carrots, some cheddar, and also some Bamba (a puffy peanut-butter snack that's like toddler catnip), which I'd put out to bait our sick kid to eat, but (spoiler) she did not. Is the hygge 10-15 a thing?
I made two loaves of Russian black bread from a recipe from Beth Hensperger that's been on my site for a million years and has a million ingredients, some that are positively weird, but the net result is unparalleled deliciousness, should you be someone into homemade bread or really robust pumpernickels. I also made a new recipe that I'm fiddling with for split-pea soup. I have never cared for ham in soup, so I made it vegetarian, but we did eat it for dinner with some crumbled, crisp bacon on top and a tiny dollop of sour cream. Plus, a slice of the freshly baked, still-warm bread with a pat of salted butter. We were very glad that my cooking impasse had lifted.
After we got the kids to bed, a friend and I tried to find a cozy bar with a fireplace. We started at Employees Only, but it was a zoo, so we went up to Art Bar instead. We had a boulevardier, okay, two; I'm sorry I sound like a broken record by now.
Sunday, December 31
My husband picked up hot coffee and croissants from Fresco, a gelateria near us that I want you to know makes their own croissants throughout the morning, and the air is a wall of sheer buttery bliss when you walk in, if you're into that kind of thing. He got his with Nutella because he runs like 20 miles a week and can get away with stuff like that. Mine was plain, and I ate half.
For a party that night, I made my two most-requested party treats: a baked Camembert with herbs and garlic from my new book, which I prepped at home and warmed when we got there, and salted brown-butter crispy treats, which are classic Rice Krispies Treats, but with brown butter, a lot of it, and flaky sea salt, and they're very, very addictive. The edges are uneven and need to be trimmed and snacked on.
We had more split-pea soup and black bread for lunch.
Friends got us an air popcorn-popper for Christmas, and I made some for the kids (with a little butter and salt) while they watched a movie, which means I ate some, too.
Went to a friend's party for New Year's Eve, but the early shift, the one with kids. They always make amazing brisket tacos (which, um, are from a recipe of mine, but I think they make them way better than I do). Her husband had avocados FedEx-ed (he said it still worked out cheaper and a million times better) from California to make this shrimp salsa that's amazing. There were many formats of cheese (queso with chorizo, my baked Camembert, a cheese plate), plus blood-orange margaritas served from a crystal keg, and I had it all.
Back home at 10 p.m., we put the kids to bed and were going to open Champagne that we'd chilled, but didn't have it in us, and instead made a single cocktail, which I'm going to lie and say was a gin-and-tonic because I sound like a broken record by now. It gets blurry here, but I'm pretty sure that we each had another salted-butter shortbread cookie, the last two, good riddance. We stayed up way too late because … New Year's!
Monday, January 1
I was woken up too early (I blamed the toddler) and headachy (I blamed myself), and although not the resolution type, my current state made it really easy to vow to reorient my life with kale-chia smoothies, bone broth, and green tea. Maybe tomorrow, though, because today we were going to a friend's for brunch. She made a chilaquiles-ish breakfast casserole layered with crispy tortillas, black beans, cheese, and runny eggs (basically all of my favorite things), and I made cinnamon buns and brought them over warm. We also brought over the Champagne that we hadn't got to the night before and … got to it.
We ordered forgettable sushi for dinner. I had some edamame, an avocado-cucumber roll, a piece of tamago, and one of those side salads with the carrot-ginger dressing that even makes a stack of wan iceberg leaves taste amazing.
After dinner, we had small wedges of E. Wedel Torcik Wedlowski, which is like a large, round Polish Kit Kat. I didn't grow up with these, but understand that it's normal to be retroactively disappointed that you had to wait so long to try one when you finally do. And not one single boulevardier — look at me, repenting or something.
Tuesday, January 2
Back to school for my older kid, and I got coffee after school drop-off at Ciao for Now, an adorable café in my neighborhood that I think looks exactly the way you thought your local café would when you moved to NYC. Everything they make is good and unfussy — scones, muffins, egg wraps, salads, and their pancakes make my pancakes feel inadequate. But I just got a coffee (okay, plus a few bites of the vegan banana-crunch muffin my daughter was eating), and then it was back to the gym, where everyone else in the world was already doing holiday repentance, and I managed to score the last open treadmill.
When I got home, there was a man in my apartment installing a new dishwasher, and I resisted the urge to hug him. Best day ever. I ate a slice of that pumpernickel toasted with butter.
I had lunch plans with a friend, and I was so excited because I almost never go out for lunch on weekdays because it really messes up my work-from-home day, but is utterly perfect if (sotto voce) one doesn't feel like working that hard that day anyway. We were both feeling the holiday sludge setting in and went to abcV.
It was our first time there and we ordered too much — the seared baby artichokes were unbelievable, as was the whole-roasted cauliflower (we ordered half). We also tried a bite of the sauerkraut, mostly out of curiosity, and the wok-fried ramen noodles. I signed a few books at Fishs Eddy after and took a much-needed walk home, my outdoor time having been severely curtailed over the last ten days of freezing weather. I was full and happy, and would have been completely okay with that being the last meal of my day (or maybe just a salad for dinner), but I'm pretty sure we're contractually obligated to feed the kids we put on this earth, so I picked up groceries on the way home.
By the way, being too full to eat doesn't include Williams-Sonoma Peppermint Bark, so I had a few bites when I discovered that I had a piece left at home, and then snacked on carrots and a few salted peanuts I'd bought for a different recipe, but found addictive, while making a chicken salad with crispy rice and green beans for dinner from Bon Appétit. This was the first time in my life that I had successfully pulled off crispy rice (tahdig- or pilaf-style), and we could not stop eating the crunchy edges. I love it when a day ends on a triumphant note.