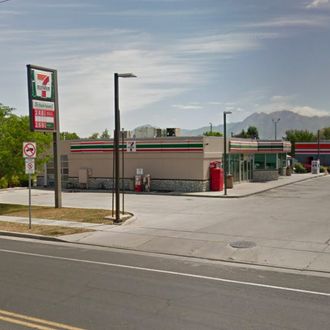 Hope you didn't eat this location's taquitos.
Photo: Google Maps
7-Eleven customers in Utah are probably taking big gulps right now. Health authorities warn that a location in the Salt Lake City suburbs could have exposed as many as 2,000 people to hepatitis A. The county's health department says that people who visited a West Jordan store between December 26 and January 3 might be at risk if they used the bathroom, ate fresh fruit or hot food items "such as pizza, hot dogs, chicken wings, or taquitos," or got any self-serve soda fountain drink or Slurpee — so, to summarize, more or less the only reasons people go to 7-Eleven.
Officials do add that bottled drinks and prepackaged foods don't pose a threat. They've traced the scare to an employee who "worked while ill and potentially handled certain items in the store," and add that this person probably got it from the wider hep A outbreak that's sickened more than 150 people statewide since January 1.
For what it's worth, the disease is serious and highly contagious. Unlike Chipotle's foodborne nemesis — gram-negative bacteria like E. coli and salmonella that mostly affect the elderly — the hepatitis A virus isn't ageist. Per the CDC, it's also capable of living "for months" outside of the body, you can acquire it from a sick person who simply forgot to wash their hands, and symptoms (nausea, fever, fatigue, jaundice, etc.) sometimes take over a month to appear, then last up to eight weeks.
Health officials say that Utahans who fear exposure should see a doctor and get vaccinated, but add that the ship's sailing fast on that: The last day that anyone who enjoyed a December 26 Slurpee could benefit from the injection was unfortunately yesterday.