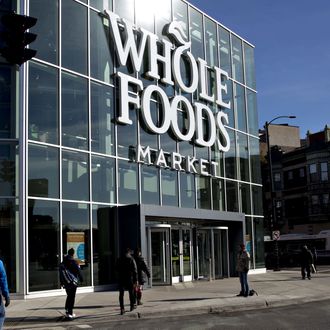 Customers say the quality of stores has "started to deteriorate."
Photo: Daniel Acker/Bloomberg via Getty Images
Shoppers are once again giving Jeff Bezos a piece of their mind about his Whole Foods management style. After Amazon started calling the shots in August, complaints soon followed that store shelves were suddenly having trouble staying full. It was easy to dismiss this as the result of Whole Foods becoming the overnight "It" place to shop, but the hype surrounding the merger has by now worn off, and yet empty shelves persist.
It's bad enough to have popped up on industry analysts' radar: Business Insider caught a Barclays note published yesterday that lists the result of spot-checks its analysts conducted at Whole Foods stores. The findings are not great: They report observing "entirely empty" shelves, and walking through produce sections that appear "to have deteriorated." At one midwestern store last week, every department reportedly had at least one thing out of stock, and they say inventory problems grew more "extraordinary" when they visited an East Coast location hit by the snowy weather. (No bananas, hardly any eggs, and the hot bar was "entirely empty.")
A glass-half-full manager could argue that this just means that Whole Foods can't keep all of those great, newly price-reduced items in stock. But Barclays analysts suggest that an "execution issue resulting in lost sales" is just as likely. Shoppers keep noticing shortages in their stores either way, and they're not happy about it. Here's a sampling of angry tweets just since the start of 2018:
By happenstance, this coincides with new measures to actually streamline store inventory. Whole Foods teased months ago that these changes were coming, but a recent email from corporate informed local vendors that moving forward, they'd have to pay a third-party firm to handle everything floor-related — from inventory checks and shelf displays to in-store samples (a critical part of selling unusual or creative items). Whole Foods is reportedly also cutting the shelf space it gives to the very same one-off products that originally won shoppers over, to make way for more national brands.