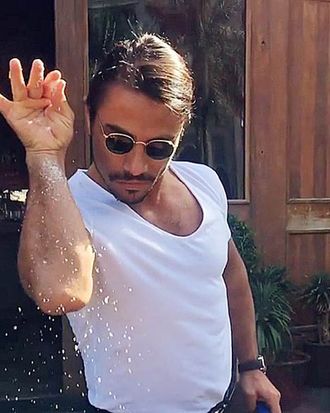 Salt Bae is here.
Photo: nusr_et/Instagram
Salt Bae has descended from his saline perch to grace New York with his meats. On Thursday, the Turkish chef and living meme, born Nusret Gökçe, will open the New York location of his steakhouse Nusr-Et. This is his second United States location (and 13th overall) of the restaurant, described on its website as "meatlovers" favorite address. Bae already has plans to open another in this city, as well as in London.
The New York restaurant is located in the former China Grill in midtown's CBS Black Rock building, with seating for 150 people inside and an additional 80 outside once the weather warms up. According to the Times, the kitchen serves steaks like rib eye and a thin fillet called lokum, racks of lamb and veal over charcoal, kofta stuffed with kasseri cheese, and steak tartare. There will also be salads and seafood, as well as Turkish coffee and tea and baklava.
Salt Bae became an internet sensation after posting a video a little over a year ago in which he flashed the dramatic, sexy seasoning technique that would earn his moniker. He's since parlayed his over-the-elbow salting into international notoriety; taking advantage of his standing as an already successful restaurateur to expand further, as well as friendships with DJ Khaled and an appearance in an ad for Cîroc French Vanilla with Diddy and French Montana. The chef also claims to the New York Times, through a translator, to have transformed butchering from a looked-down-upon job into a hot career in Turkey, saying, "Now, thanks to me, all the kids want to become butchers."
Nusr-Et, 60 W. 53rd St., nr. Sixth Ave.; 212-315-3660
This post has been updated to reflect that the restaurant will open on January 18 and did not open January 15 as originally reported.