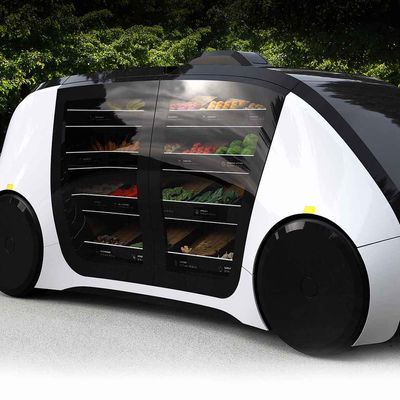 The assault on the corner store continues.
Photo: Robomart
The trailer for Silicon Valley's fifth season is finally out, which means you might mistake Robomart for a parody start-up you'll see on HBO. Don't: The Santa Clara company behind "the world's first self-driving mini mart" is very real, and founder Ali Ahmed seems to have learned very little from Bodega, the company that got eaten alive four months ago for proposing to replace the corner store with a West Elm–style vending machine in your building's lobby. Robomart also wants to one-up the bodega — as well as delivery services like Postmates — and this week it gave CES attendees a sneak peak at the bold plan: Send the goofy-looking driverless vehicle shown above, which it debuted at the tech conference, to your curbside to sell you small groceries.
Ahmed told TechCrunch that building the first eponymous Robomart was a ten-year labor. It's essentially a "man with a van"–size vehicle. Users hail it with an app; the nearest one arrives, and the doors unlock, giving access to an assortment of fresh produce, baked goods, and other groceries. The compartment can be heated or refrigerated. An "array of cameras" monitors what people take, then the bot calculates what to charge them, before puttering off to the next customer.
Ahmed believes that they've created "a new category" in the grocery industry — one that will compete with Amazon, Instacart, Kroger, and everyone else who's trying on-demand food delivery. Seeing the futility of fighting against him, supermarket chains will just rent their own Robomarts to offer customers easy curbside grocery shopping, he believes.
Besides suffering from many of Bodega's flaws, Robomart adds an additional handicap of having to bring the "bodega" to customers via a fleet of autonomous robots. It's applied for one of the California DMV's autonomous-vehicle testing permits, and claims that the first 100 percent autonomous vehicle will be ready later this year. Their work's cut out for them: While it's true that no delivery bot so far has, say, hauled a customer's order 4,126 miles to the island of Arallon, autonomous food delivery isn't off to a great start in the Bay Area.