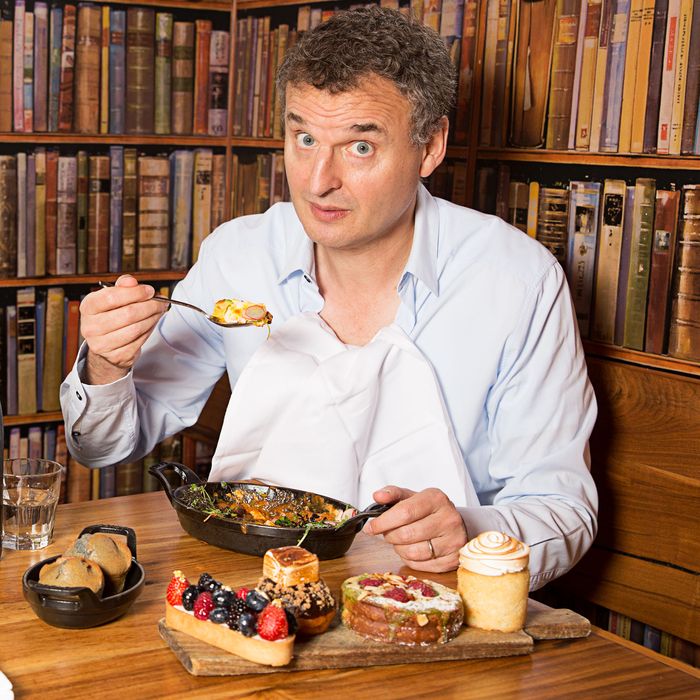 At République.
Photo: Bradley Meinz
For years, Phil Rosenthal worked behind the scenes in television (he created Everybody Loves Raymond), and his passion for eating was a mere hobby. Then in 2015, he premiered a food-travel show with PBS, I'll Have What Phil's Having, and now he's made the jump to Netflix. Somebody Feed Phil premieres today, showing Rosenthal in places like Bangkok, Lisbon, and Mexico City. This week, in his home of Los Angeles, Rosenthal shared short-rib hash with Norman Lear, discovered a fantastic $50 omakase, and ate multiple bánh mìs.
Thursday, January 4
Breakfast for me is usually the same every day: some yogurt, fruit, and cereal, plus coffee at Go Get Em Tiger. It's some of the best coffee I've ever had in my life, and it happens to be in my neighborhood.
I had lunch at Sycamore Kitchen. I love Sycamore Kitchen. I had a turkey bánh mì sandwich. It's kind of spicy, and they use fresh turkey and all of the ingredients you would find in a bánh mì, but it's on their thick-cut white bread and it's out of this world. They make some of the best sandwiches and pastries and salads in Los Angeles. It's one of my favorite places for lunch. I had a fattoush salad, too. When I go with you to lunch, I'm going to want to share, so I split both.
For dinner, I had sushi with my daughter at Sushi One, which is wonderful. They have a $25 special where you get a bowl of miso soup, then you get ten pieces of pristine, perfect sushi, and then a huge bowl of udon noodles in soup. And you leave as full as if you ate $100 worth of food.
L.A. has the best sushi restaurants in America. You can eat very, very great sushi for not a lot of money. Of course, if you do spend a lot of money, then the quality just goes up a little bit from there, and you know, it can be one of the best meals you've ever had in your life.
I try not to snack after dinner. I'm trying to, you know — I gotta be on television.
Friday, January 5
I went to lunch at République with Norman Lear. They brought out this toast with ricotta cheese, pomegranates, and little sliced kumquats, drizzled with honey. What a beautiful dish that was.
Plus, there was a short-rib hash with egg, and then a giant ravioli with an egg inside and hazelnuts on it and crispy sage. We had a writer with us, too, named Katie Dippold, who's from UCB. She's a great improviser. I brought her with me to meet Norman Lear. I like bringing people to meet Norman Lear because they feel like they're meeting God. I feel like when I go to see him, I shouldn't keep him all to myself. You gotta share Norman Lear.
That night, I got Indian delivery from a wonderful place that I like called Amar Desh. I always order way too much food. I don't know why. It must be a Jewish thing. I have to make sure there's enough for everybody. What if the delivery guy wants to eat with us? I don't know. So I order way too much. And then we have it in the refrigerator for the next day or so, and that's fun, too.
Saturday, January 6
I went to Vees for breakfast. It's just a local coffee shop that makes a wonderful breakfast burrito.
And then I went to a benefit! It was for relief for Haiti, for Sean Penn's charity. And I just kind of grazed at the little appetizer buffet that they had for the people coming in. I was backstage the whole time, so I didn't really eat. I did have some chips and guacamole. And I got to meet James Taylor, so I was very happy.
Sunday, January 7
Burgers Never Say Die is a secret backyard hamburger pop-up that's been going for a few months now, and you have to know somebody to get in there. And luckily I knew somebody, because it's one of the best burgers I've ever had in my life. Absolutely incredible. He smashes the burger … it looks like a meatball to start, like you would find in a meatballs and spaghetti. And then he smashes it onto the griddle so that it gets super thin and it gets almost, like — they call it a "meat lace." Crispy, crispy edges. And you get two of those, both covered with cheese, on a buttered, soft bun. Then they dress it very simply with just onions, ketchup, and mustard, and you've died and gone to burger heaven.
We have movie night at my house on Sundays and we have pizza. But I was so full from the burgers, I didn't eat the pizza.
Monday, January 8
Another trip to République, to take my photo for this story! It's one of my favorite restaurants, but there are two things you should know: It's very close to my house, and full disclosure, I'm an investor. But to be fair, I'm an investor in over 20 restaurants.
I saw something on the menu that I'd never seen before: a chili, but made with duck confit. With an egg on it. I don't know that if when you mix duck confit into chili it's technically chili anymore, but I guess it is. It tasted a lot like chili, with duck, and it was one of the best chilies I'd ever had.
There's a sushi bar on Larchmont that I had never tried, and I've lived here 11 years. My wife and I decided to try it; it's called Kiku Sushi. They have a $50 omakase that's so fantastic. You get so much food that we actually told them to stop. There's a deal!
Tuesday, January 9
We had our premiere of Somebody Feed Phil, at the Netflix building in Hollywood! We made sure that we were showing the Saigon episode so that we would have Vietnamese food. We did some research, and the Netflix folks really cared about this. They got food from the Golden Deli in the San Gabriel Valley — the best spring rolls, which they got pre-fried so that they could be fried on location and be hot and crispy when the audience was done with the episode.
And then we had Bahn Oui do the rest of the catering. Wonderful bánh mìs with pork. And then they had bánh mì with sweet potato. You'd think, How good could they be? But they were amazing.