Among his many interests and eccentricities, the French chef Paul Bocuse kept a collection of festive barrel organs at Abbaye de Collonges, a property he ran and maintained as an event space. The centerpiece is a rare Grand Limonaire, which is 18 feet tall and 32 feet wide. At its loudest, the organ sounds like a 110-piece orchestra, with dozens of humanlike automatons clanging cymbals, wringing accordions, and beating drums. During World War I, the Limonaire had been sealed behind a wall in Lyon. It was Bocuse who eventually unsealed it, like a tomb, spending untold amounts of cash to restore it. Emblazoned in red, capital letters across the organ were the words BOCUSE CIRCUS.
It was an apt description. If the restaurant — or indeed the entire dining world — is a circus, Bocuse, who died on Saturday at the age of 91, was for decades its ringleader, a chef who not only inspired generations of young cooks, but also helped turn chefs into public figures and even celebrities.
"Certainly, he did more than any other chef in the world that I can think of to bring the chefs in the dining room and to make the profession respectable and to make us who we are now," said Jacques Pépin, in 2011, at a gala honoring Bocuse. That same night, Daniel Boulud named his first meal at the chef's Lyon restaurant as "certainly" the most transformative of his life. He was not alone.
After dropping out of school, after getting caught in machine-gun fire during his time with the 1st Free French Division, Paul Bocuse learned to cook. Women chefs, Eugénie Brazier in particular, schooled him in technique and the endurance necessary for backbreaking kitchen work. Eventually, he would famously spend eight years in the kitchen of Fernand Point — considered to be a pioneer of "modern" French cooking.
The name "Bocuse" had been attached to French dining rooms since the 1700s, but had been licensed out in the 1920s, so when Bocuse struck out on his own, he first had to buy back his family name. While the world started to pay attention to his culinary exploits quickly, the chef often seemed just as shocked by his own improbable ascent. He loved to tell diners that at the time Michelin awarded its second star in 1962, the property's only bathroom was still in its courtyard.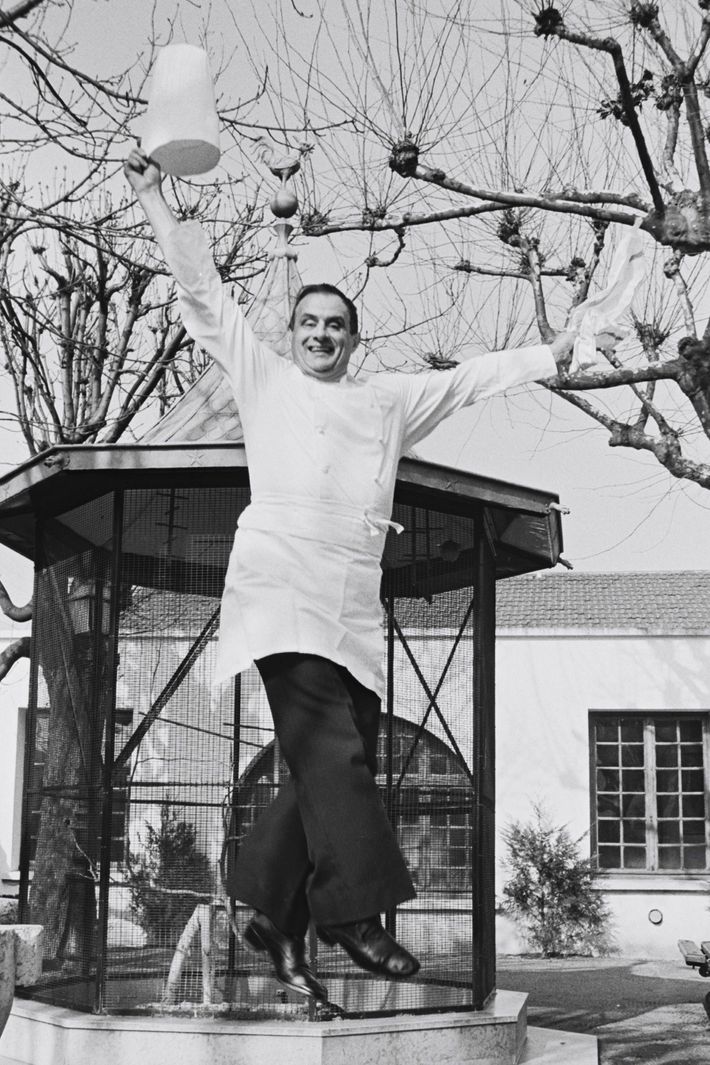 Though he would eventually try to divorce himself from the movement, Bocuse was integral to the spread of nouvelle cuisine, the style of cooking that concerned itself chiefly with showcasing the quality of ingredients used. When the teenage Jean-Georges Vongerichten started working in Bocuse's kitchen, he thought he was being pranked when asked to gather wild nettles for soup. Bocuse also had a flair for inventing entire worlds through his food: Elaborate backstories were attached to recipes for his lobster navarin and Saône River eel pâté. It was Brazier who taught Bocuse to make volaille demi-deuil, or chicken in "half-mourning," a whole truffled bird simmered in aromatics and served with gherkins and plums in good vinegar; the pairing later informed the buttery, salty, and sharp flavors of Bocuse's own chicken and vinegar.
But Bocuse's humbler dishes were offset by his penchant for luxury cooking. His most well-known dish was the V.G.E., a pastry-topped soup made of truffles and foie gras. When it was unveiled in 1975 at the Élysée Palace, each serving involved the equivalent of what would now be $425 worth of black truffles. He dialed it back a bit when he published the recipe in his 1977 cookbook French Cooking, calling for about $200 worth per person.
Alexander Cockburn, appraising the recipe tome in The New York Review of Books, was even prompted to coin the term "gastro-porn" in response to the excess and aspirational unattainability of ingredients like live crayfish and black truffles. Even though Bocuse didn't focus exclusively on luxury — a recipe for cabbage soup appears on the same page as the V.G.E. — the term stuck.
Food alone, however, was not what made Bocuse such a visible, influential figure in the cooking world. (For one thing, he put his name on everything from flatware to chocolate truffles to cast-iron pots to a restaurant at Disney World.) Many chefs excel at self-promotion, but Bocuse had a particular knack for it, tempering the boastfulness with an air of winking self-deprecation. He would often tell his guests that the Troisgros Brothers — whose nearby restaurant was Bocuse's most formidable competition — were better cooks than he was. In doing so, he was able to break up the once-feudal world of chefs, resulting in the so-called bande à Bocuse. "A lot of us recoiled in horror the first time we saw Paul doing the things he did," Pierre Troisgros once said, "but a little while later, we found that we were doing the same things ourselves."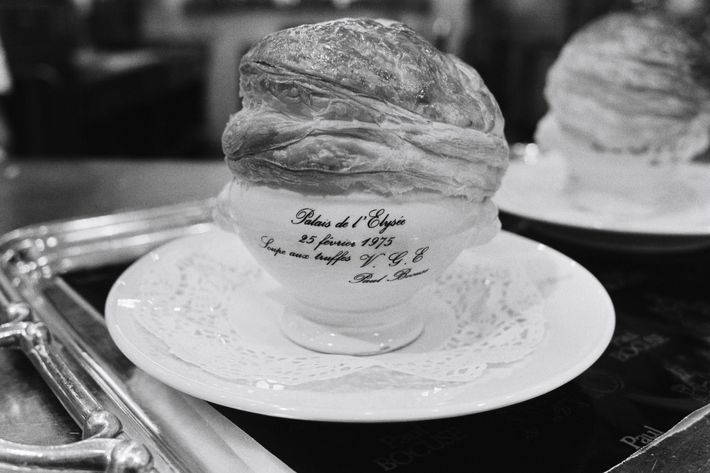 Perhaps more than any other chef, Bocuse realized that recipes were not the exclusive work of single-minded cooking geniuses; they were fluid, and inspiration often moved from one kitchen to another. Daniel Boulud looked to Bocuse's rouget with potato "scales," itself an update on a Fernand Point recipe, to create his famed sea-bass paupiette with red-wine sauce. In fact, many of the 1,150 recipes published in Bocuse's French Cooking belong to other chefs — Haeberlin, Guérard — and are advertised as such. In a book dedicated to the life of Eugénie Brazier, the chef wrote that "there would have been no success for any of us without her." Of course, he added a boast: "I never forget that I was one of her more remarkable pupils."
In fact, Bocuse was not without a long history of contradiction. The vast changes in food culture he pushed for did not extend to everyone. Brazier was clearly a valued teacher, and he credited her, along with Point, for his success, but he told the Times in 1975, "Women lack the instincts for great cooking. It follows in the same sense that there are so few great women architects and orchestra leaders." He lavished praise on restaurateur and culinary instructor Madeleine Kamman, then told Newsweek that women didn't belong in kitchens. Appearing on French TV, he tried to rip the wig off of then-disguised food critic Mimi Sheraton, which seemed squarely at odds with his own largesse.
Yet it was his belief in the entire enterprise of cooking that will be his legacy, and which led the chef, in 1987, to create the Bocuse d'Or, one of the world's most prestigious cooking competitions. "I believe that in cooking like in music, one doesn't invent much. One makes interpretations but the word 'invention' for me is a bit pretentious," Bocuse once said. It makes sense that the chef was equally comfortable in the kitchen as he was in the presence of his festive organ. He not only had an uncanny ability to hear the music before his peers did — he was able to pick out whole tunes no one thought could reasonably be played, and more often than not, he nailed them.