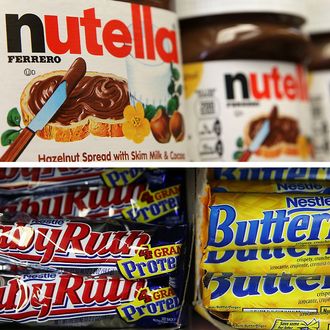 The soon-to-be-blended family.
Photo: Justin Sullivan/Getty Images
It looks like Nutella is about to get some American stepsiblings. Italian parent company Ferrero has reportedly struck a $2.8 billion deal to acquire all of Nestlé's U.S. candy brands. An insider tells Bloomberg News that the official announcement could come as soon as Sunday, and it'd put Nutella — a brand beloved partly for its distinct Europeanness — under the same roof as a bunch of all-American confectionery like Bart Simpson's Butterfingers, a chocolate bar named for Babe Ruth, and '90s-school-kids' lunch-box faves like SweeTarts and banana Laffy Taffy.
As Earth's largest food company, Nestlé has made bazillions off of candy, and still will for the foreseeable future. But its American candy arm has underperformed expectations for some time. Electric-colored sugar globs like Nerds, Wonka Fun Dip, and Runts aren't selling like they used to, and the Swiss food conglomerate warned last year that it was "exploring" a sale. When the U.S. business changes hands, it will mark Nestlé's first serious exodus from chocolate.
Ferrero, meanwhile, is justifiably feeling pretty pumped about its ability to sell Americans sugar, and apparently thus emboldened, would like to try its hand at hawking stuff besides jars of hazelnut spread. It technically already makes Tic Tacs, Kinder bars, and those little gold Ferrero Rocher chocolates, but their business is piddling compared to Nutella's, which almost amounts to enough each year to stretch around the planet twice.