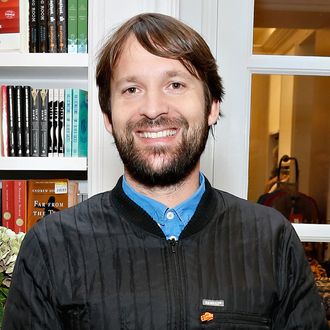 Them other chefs don't know how to act.
Photo: Cindy Ord/Getty Images
Though just weeks away from Noma's grand reopening, René Redzepi's team agreed to quit pickling octopus last night to cater a listening party for Justin Timberlake's new forest-themed album, Man of the Woods. The exclusive shindig brought music execs, media, and some lucky American Express cardholders to a Tribeca loft that Variety reports was "decorated with bushes and trees."
Guests there mostly to get J.T.'s autograph were in for a surprise when Noma chefs materialized. Music played as they prepared a menu that took Man of the Woods — which so far includes a song called "Flannel" and imagery featuring a solid number of horses — "a bit literally." In other words, Timberlake wanted Redzepi's famous ants.
Guests were "taken aback," according to Variety, and waitstaff could be overheard patiently saying things like, "Yes, ants." Event security confiscated phones while the album played, but a few shots from the dinner still emerged.
According to a tweeted pic of the menu, the six themed courses included a dish with crispy cabbage, watercress, and "wild beach plants"; another made from black garlic, rose oil, and ants; an uni-kelp "pie"; some black-truffle flatbread; aebleskiver, a Danish pancake that, for this event, included grasshoppers; and a pork crackling-chocolate-berry dessert of some kind.
The thought of music-industry executives laboring to grin while chewing on a mouthful of insects gave the party's few Noma fans a good laugh: