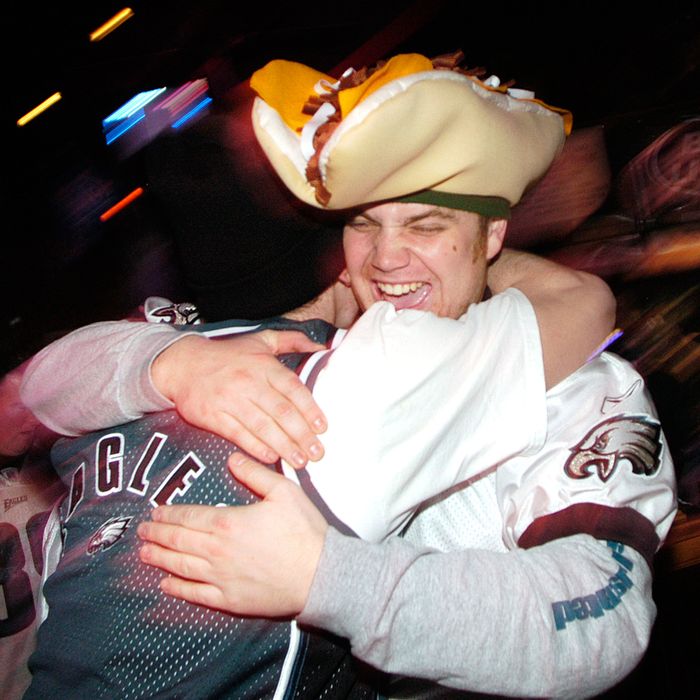 Pats fans want everything about this man banned.
Photo: William Thomas Cain/Getty Images
Now deep in their own Super Bowl fever pitches, residents of Boston and Philly have apparently decided that they must declare war on foods that come from the opposing city. According to Boston.com, bars in New England are banning Philly craft brews, and one bakery has, for the first time in its 70-year history, banned Philadelphia-brand cream cheese, explaining, "We want every edge we can get, OK?" Also prohibited from the public park along the Charles River are cheesesteaks, as well as anything midnight green. Also bald eagles.
To reciprocate, Dottie's Donuts in Philly has eighty-sixed its Boston cream variety and replaced it with a more fitting "Creamed Boston" flavor that involves matcha cream filling and chopped pistachios.
Co-owner Jeff Poleon is also taking a blanket approach to anything that even suggests New England: "No clam chowder donuts," he said by decree last week. "Or a glaze with those Boston baked bean candies on top. Definitely no Gronk Monster Energy–glazed donuts." Noted.
It's pretty easy to (temporarily) yank a doughnut from the menu, but what if your sign has the word Boston in it? At least two of Philadelphia's five Boston Market locations have worked out a solution:
This seems like the sort of thing Corporate would frown upon, mostly because it looks extremely DIY. But, official name notwithstanding, Boston Market isn't a de facto Pats fan (it's headquartered cross-country in Colorado now). A rep gave a statement saying that they "fully support the passion, enthusiasm, and hometown pride demonstrated by our team members in Philadelphia," because, you know, this is some great PR: "At the end of the day, we just hope there's only one bird that everyone in Philly, Boston, and across the country can agree on — farm fresh, never frozen, and naturally delicious rotisserie chicken."