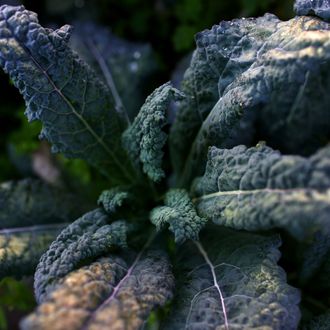 Is this even food?
Photo: Marianna Massey/Getty Images
Yesterday, The New York Times Magazine let food columnist Tejal Rao write 800 words about "seeing kale with new eyes." Her paean to lacinato (the "dinosaur" one) concludes with what's presumably a very good recipe — a blended-kale pasta sauce from Joshua McFadden.
One of the column's readers was Mimi Sheraton, legendary former Times restaurant critic. She did not like seeing yet another story praising the green:
As a journalist, Sheraton's almost made a beat out of kale-dragging. (See her 2016 Daily Beast article, which begins, "I know and hate kale when I see it.") In all seriousness, she says it's more a dislike of today's chefs than the green — or of their propensity to serve it year-round, roasted so it has "the texture of broken ceramic chips." But the shots fired ("Farm-to-Garbage Pail"!) look nearly unrecoverable. The trend can finally go the way of the dinosaurs.