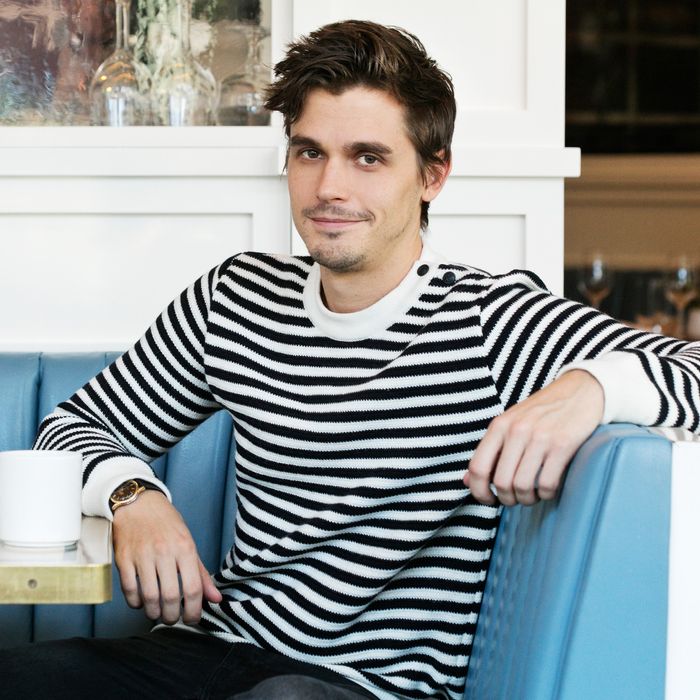 Antoni Porowski is here to help.
Photo: Melissa Hom
Leave it to Netflix to reboot the award-winning, early 2000's makeover show Queer Eye for the Straight Guy. The premiere is set for February 7, and along with the show's move from Bravo to the streaming service, there are a few other changes: The name is now officially just Queer Eye, the setting has moved from New York to Georgia, there's a stronger emphasis on self-care, and there is, as you may have guessed, a new Fab Five.
Enter Antoni Porowski, the new food and wine expert (as well as something of a protégé to former Queer Eye food authority Ted Allen). "I think we all want to be taken care of and loved," Porowski says of his approach to the new gig. "To give somebody that — it's a service job, is what I realized." Grub talked to Porowski about the new show, the new setting, the crushing disappointment of bad peaches, and whether the original cast members had any helpful advice.
Ted Allen was the original Queer Eye food expert — and you worked for him. How did you meet him?
So a good buddy of mine, who has actually always encouraged me to get more involved with food on the public level, told me, like, "Look this guy Ted Allen lives in your hood; he's someone that you should know." And this is right when his book came out, In My Kitchen, and he was hosting a book signing at Green Light on Fulton Street, so I decided to go and we chatted it up. We found out that we lived literally across the street from one another, and then eventually I started working for him and cooking for him.
You were his personal chef?
Yes. Was, but not anymore. When he was a little busier with Chopped, I would help with publications requesting recipes; he does a lot of public speaking, so I would help with talks about things that he was passionate about, mostly food-related, and doing that for him.
Did he give you any advice for this show?
We met the original Fab Five, and they were all super sweet. Ted was like, the stereotype — and it is a stereotype — is that gay guys have all these strong opinions about interior design and grooming and fashion, but not so much with food. He said that the good thing about that was that you have a bit of freedom to do what you want and figure out what's right for the person you're helping. He also told me to, like, take it easy. I like to complicate things, but it's not about me. It's about the person that we're helping.
So, how did you get into food?
Food has always been such an important part of growing up. Whenever we would travel with my parents, we'd always come back with recipes, cookbooks, and really weird ingredients from all these different places, so I've always been very passionate about cooking. When I was in college, and I wasn't as spoiled anymore, I had to fend for myself, and a good way to continue entertaining was to have dinner parties at my house, so I had to learn how to cook. I basically taught myself. A lot of Julia Child, a lot of PBS.
My kitchen is very tiny at the moment, but I still use Ted's kitchen a lot. He invites me for dinner where he demands that I cook, but not in a professional capacity. We actually still do a lot of dinners whenever we can. He likes to host. He has a gorgeous backyard with a massive outdoor grill, a full-on smoker, and a really professional kitchen that I get to play around with.
What are your food obsessions?
My favorite Italian restaurant is this classic Italian place called Da Ciro on Myrtle. They have this really thin focaccia with a robiola Lombardia and a little bit of prosciutto, arugula, and some sun-dried tomatoes. It's thin and crispy, with creamy cheese on the inside. My boyfriend and I go and just scarf one of those down. Since it's winter, I love a good ragù or a Bolognese, any type of a meaty sauce. I'm very meat-and-dairy. On the healthier side, I'm all about butternut squash during the winter. Or any squash, roasted with the skin, with miso. I love crispy lacinato kale.
How did you get involved with the show?
I have two people in my life — my best friend, P.J., and my boyfriend, Joey — who have always told me that I should pursue food in a more professional capacity, but food has always been something very sacred and personal and private for me. I never really wanted to share it, until the opportunity actually came about with the reboot of Queer Eye.
I was afraid when I first found out about it because you're not playing a character. Maybe it's a heightened version of myself, maybe I'm a little louder on the show than I am in real life, but essentially I'm asked to be myself. That part was really intimidating. While I am a very fearful person in life, I always tend to lean into fear, and it served me really well in the past. It did with this experience as well.
Were you a fan of the original show?
I used to watch Queer Eye along with shows like Will & Grace. I became interested in guys a lot later in life; it was never anything that I felt the need to explore until my 20s. I remember watching these shows and — my parents are pretty liberal people; there wasn't any homophobia growing up or anything like that — I still felt like I had to watch it secretly.
I remember Ted went somewhere in the Village where this guy was talking about mozzarella and cheeses, and talking about how the last thing that goes for immigrants when they move to a new country is food. Language disappears, the clothing we wear, all of these customs go, but food is the one constant. I remember being so excited by that and the way that Ted spoke about food. It just gave me chills! I think that was my favorite episode of the old series.
So how is the new Queer Eye different from the original?
Part of what was very attractive to me was the fact that it's a little more global now. The way that they set up this one is very documentary-like. We really get to know these guys. Some of these guys have never had somebody pay so much attention to them, to teach them how to care for themselves, or show up. It's super emotional, and I'm a very sentimental, supersensitive guy, so there was a lot of crying, ugly-snot crying that got edited out, thank goodness.
I have my favorite transformations, ones that really stuck to me. A guy who was super passionate about cooking who had just stopped for ten years — to see him find that spark again … he sends me photos of his dinner parties and these cheese and charcuterie platters that he does, and I get teary-eyed when I look at it. It just makes me so happy.
As much as I wanted to show off my skills and what I know about food, it's about showing up for that person and figuring out what their needs are.
The original show was set in New York, and now you're in Georgia. How does that change your approach?
I thought that it was going to be more of a culture shock, but it reminded me a lot of when I lived in West Virginia for a few years, like Appalachia, Bible Belt, right in the mountains. In the stores, especially, that part was definitely when I realized it's pretty incredible what we have available to us here in New York. Although sometimes we were able to take our heroes to the more international markets in the city, a lot of times that wasn't the case. It's just a reminder that it's difficult, but it's not impossible to eat right.
What were you working with?
There was one thing I was really disappointed about. We were going to Georgia, it was summer, and my favorite fruit is a peach. In a salad, or grilled, or in desert, it's so good. When it's perfectly ripe, a grilled peach with a little Maldon salt and, like, a basil leaf: That's poetry. Anyway, I wanted to cook with peaches, and it was, like, the worst crop in I don't know how many years. Like 80 percent of them were total garbage, which is really unfortunate!
How do you approach cooking with the guys you're trying to help?
Not everyone cares about cooking. I think most people don't, actually. But you can do it if you have a reason. If, say, you want to show your parents, you know what, I do know how to make that traditional dish that we had when we were growing up on Sundays with Grandma. Or if you're somebody who's dating and wants to know how to make the perfect risotto, just learn the basic rules and then you can learn how to make it your own.
It's different with everyone, and if there are future seasons, I hope I just get to continue doing that because it never gets old. Everyone is so different. At the end of the day, we all want the same thing.
This conversation has been edited for length and clarity.