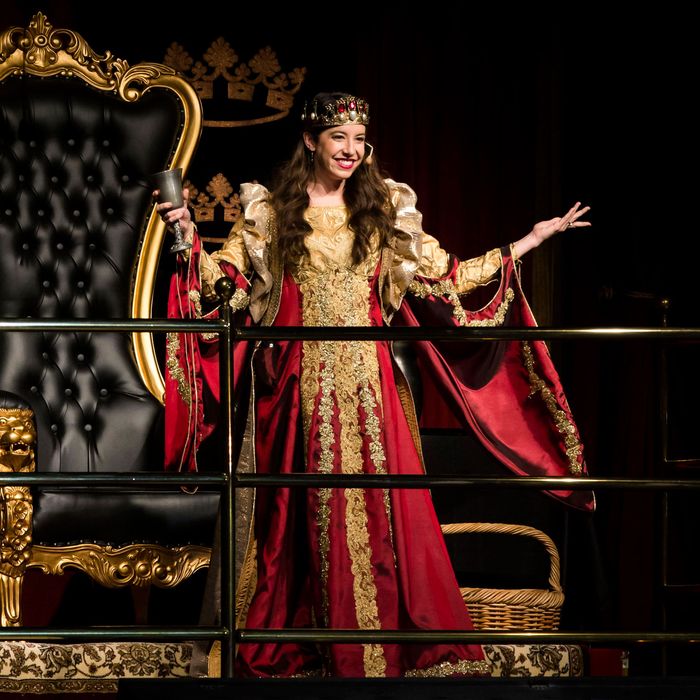 Queen Maria Isabella, at the chain's Chicago-area location.
Photo: Lou Foglia/Chicago Tribune via Getty Images
Medieval Times — yes, that Medieval Times — is, despite its name, making real effort to keep up with contemporary tastes. For anyone who hasn't been in awhile, the dinner theater where diners watch knights play-joust and eat whole chickens now tweets memes, posts horse Boomerangs, and serves vegetarian meals. It is also, according to a new report, a surprising, and welcome, champion of gender equality.
Per the New York Times, the chain has started dethroning all of its castles' male monarchs in recent weeks and replacing them with queens, making its "peculiar brand" of immersive dinner theater ("a sort of G-rated Game of Thrones," the Times says, pretty accurately) an unlikely trailblazer in the #MeToo and #TimesUp movements. The first performance under a woman's reign occurred in Dallas last fall; since then, a queen has taken over two other castles, and is supposed to rule all nine of them by year's end. The Times adds the development has confused guests, who are still supposed to call female servers "wenches," and who gave the paper quotes like "The king gives it a more powerful feeling" and "Just do not change the food."
The change all revolves around a new plot, which sees a queen who has taken over for her fallen father. As she seeks out the best knight in the land, "a knight who has been acting dishonorably challenges her authority."
Leigh Cordne, a director for the Dallas-based company, tells the Times that he started working on the new story long ago, and that the fact that this change is happening "at the same time the gender equality movement hit is a coincidence." For their part, customers at the new show seem split on the story change, but one diner tells Times reporter Kim Severson, his biggest concern is the long-established menu of half-a-chicken, a knob of corn, garlic bread, and a half potato: "Just do not change the food … Do not take my corn away. I love that corn."