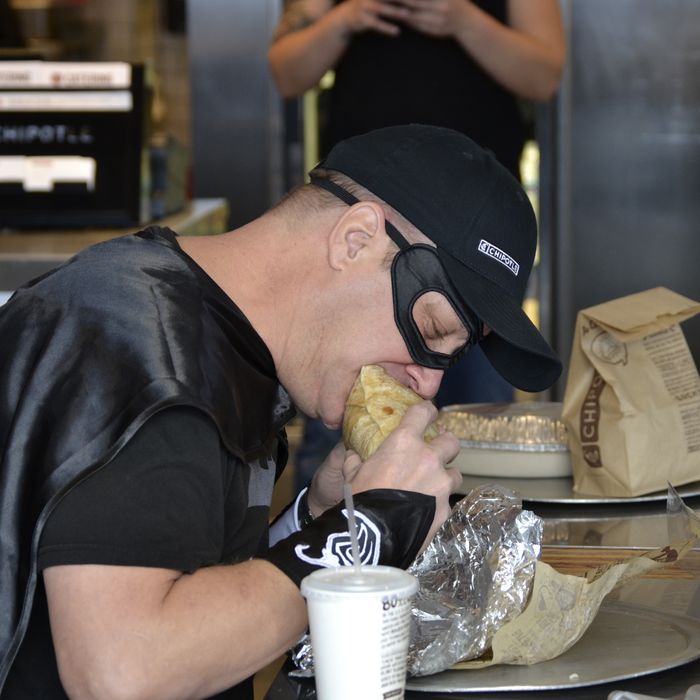 Holy guacamole, Batman.
Photo: Chipotle
Like plenty of hungry people, Ohio resident Bruce Wayne unremarkably consumed one of Chipotle's $3 "Booritos" for dinner on October 30, 2016. Unlike literally every other human on the planet, though, not only did Wayne return again the next day, but he's eaten the chain's food every single day since — enough times to officially set the world record for longest consecutive streak.
December 30 was his 426th day in a row. The last record holder–slash–crazy person to do this had somehow managed to order one Chipotle entrée for 425 days straight. After Chipotle announced a new location in his hometown of Tiffin, Wayne — who's honest-to-God first name is Bruce — "conducted research" on the current record. He didn't hear the number 425 and go, "Hard pass," and has documented his journey by posting each meal (with proof in the form of that day's receipt) on his personal Instagram account, @mrwaynethebat. Based on the account's name and its number of burrito and Batman posts, nobody can say that Wayne fails to make the most of things in front of him.
Chipotle presumably learned of Wayne's quest a while back, and the company marked the milestone by issuing an official press release. It notes that while a year and two months of burrito bowls and tacos "might not be everybody's New Year's Resolution for 2018," the fact that Wayne stuck with it this long "certainly shows that our menu of real and fresh ingredients offers something for everyone — even superheroes." The chain also presented Wayne with his own "custom-made Chipotle superhero cape and cufflinks — a nod to his love of both Batman and burritos."
He's still Instagramming photos of meals even now that it's 2018, and according to the presser, Chipotle's new walking PR gold mine has "no immediate plans to stop."