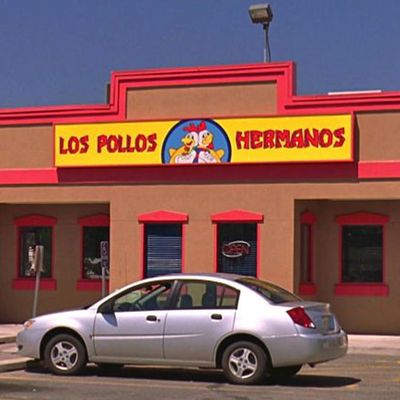 "One taste, and you'll know."
Photo: AMC
Ever since Los Pollos Hermanos started slow-cooking "ingredients" to perfection, pop-ups have paid homage to Gus Fring's front company everywhere from L.A. and Manhattan's Financial District to a random Austin parking lot. Nothing can do it like the original, though: The spot used in Breaking Bad still exists in south Albuquerque as a location of the New Mexico burrito chain Twisters, and to celebrate the series turning ten on January 20, that OG Los Pollos Hermanos is putting all of the chicken trappings back up.
Meaning if you swing by, you'll see the above instead of this: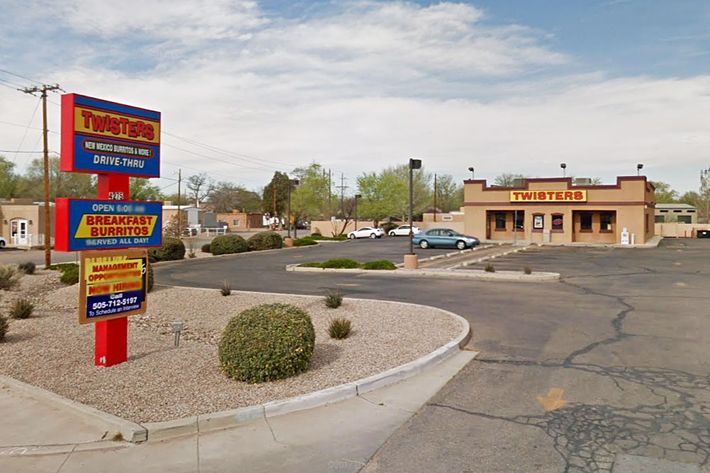 According to KRQE, it's being paid for by two locals, a couple of "super fans" named Edward Candelaria and Marq Smith. They assure the station that they have their Chicken Brothers costumes ready, and the store's general manager says that folks can expect the full enchilada, as it were — the sign, the yellow uniforms, the aprons and hats.
It's a bit unclear, however, if this pop-up is official? Unsanctioned copycats that sort of freeload off of famous shows do tend to get noticed pretty fast by attorneys, and that's rarely good for the creators. Something they should think about, because Candelaria's final comment to KRQE would suggest that maybe it's not: "Better Call Saul is in town filming," he said, "so if any of the cast members want to show up, hey, we'll buy you a burrito."