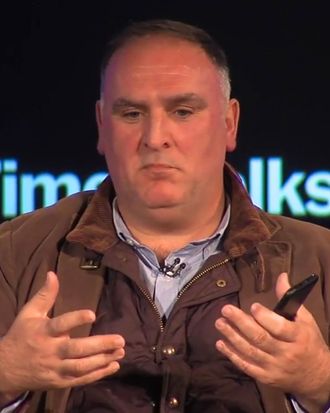 He says, "I didn't want to get out."
Photo: Times Talks
It's easy to think Donald Trump has no greater food-world nemesis than José Andrés, a foreign chef who routinely provokes Trump on Twitter and has essentially been celebrated by the left ever since clashing very publicly over POTUS's decision to call Mexican immigrants "rapists." While that original fight may have caused Andrés to pull the plug on the D.C. Trump Hotel's flagship restaurant and locked the restaurateur into a $10 million lawsuit with the sitting president, the full story is a little more complicated.
As the chef explained last night in a New York Times panel with Danny Meyer and D.C. chef Aaron Silverman, at first he actually begged Trump to give a speech walking back his disparaging remarks. Only when that went nowhere did Andrés finally feel that he had no choice but to bail from Trump's hotel.
"I didn't want to get out of the contract," he told the crowd. Rather, he encouraged Trump to make his immigration stump speech "more logical," to essentially speak in a way that wouldn't upset Andrés's daughters. "Sometimes you don't need to apologize," he went on, "but, yes, it's okay to change your speech. And I spoke to him. And his speech didn't change. And in the end, it was not only my decision, but was the decision of my board, that they supported simply that 'We cannot be part of this.'"
Andrés also clarified that for him, it's a much more specific issue than simple politics:
I have plenty of very good, smart people — friends — who are … Republican and I respect. And plenty of good, smart men and women who are Democrats [who] I do respect. And when I bring them together in a table, we respect each other, even when we come from different angles.

In many things, I see myself as more right-wing. In other things, I see myself as more left-wing. At the end, it's not that one is better than the other — it's the two sides that help you have a logical conversation of what may be the best outcome for every single American and every single person in the world.

So the decision I made was one that I'm only going to live once, as far as I know, and I want to make sure I am in that last second of my life … that I don't want to have any regrets that I didn't do what I thought was the right thing.
He went on to discuss a Washington Post op-ed that he'd written just a few hours before arguing that immigration reform must benefit workers here on temporary visas — people his acclaimed U.S. restaurants couldn't exist without: "Part of my success, part of the most successful restaurants that I have in America, is riding on the shoulders of people from Salvador and people from Haiti and many other immigrants, as well as many other born Americans."
You can listen to the full interview below. Just skip ahead to the 1:01:00 mark for Andrés's specific remarks: